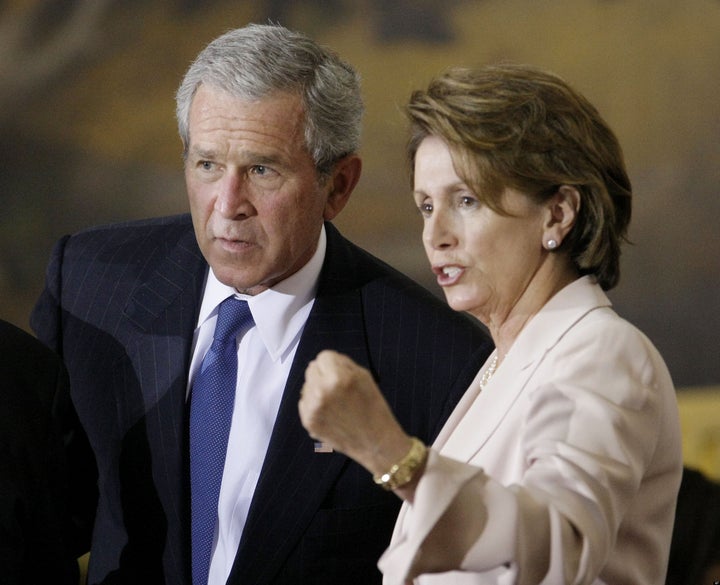 House Speaker Nancy Pelosi (D-Calif.) was extremely pleased with President Bush's latest revelation that his biggest failure in office was not passing Social Security reform, telling reporters on Friday that it was a great Democratic triumph that the party managed to block him.
"As one of the leaders who led the effort to disappoint him, I am very pleased that he is admitting he was trying to do that," she said during the call, joined by Rep. Rosa DeLauro (D-Conn.). "That it was his high priority. We defeated him then in his trying to privatize Social Security, we will do it again. Republicans are trying to do it in their budget. The three independent reports conclude that if Republicans succeeded in privatizing Social Security, benefits for America's seniors would be cut [and] Wall Street would have made billions."
The issue of Social Security has become a hot topic in the midterm elections, with conservative groups like the U.S. Chamber of Commerce and Republican candidates accusing Democrats of cutting benefits for the government-funded program through their votes for health care reform. Democrats are responding that the Patient Protection and Affordable Care Act did no such thing but that under a GOP majority, Social Security would be privatized.
When asked by The Huffington Post what lessons Democrats take from the fight during the Bush administration that would be carried over into a possible battle next year, Pelosi said that Democratic unity and strong public opposition was how they ultimately won.
"First of all, we showed the value, that this is a strong pillar of our society -- the Democrats did," she said. "We stayed unified. People said, at the time, why don't Democrats have a plan? They don't have a plan! We have a plan. It's called Social Security. So we let the President go out and talk about his change to the plan. So as not to confuse the issue, we just let people compare Social Security to what the President was going to say. ... We trusted each other, stayed firm, and said it's the President versus Social Security. And Social Security won."
The call came amidst a push by Democrats to get women voters -- who traditionally are strong backers of the party -- energized and out to vote in November. President Obama has been doing a series of events designed to reach out to women voters, including a campaign appearance for Sen. Patty Murray (D-Wash.). On Thursday, the White House put out a report making the case that Democrats have been the ones looking out for the economic prospects of women.
DeLauro said that women, who, on average, live longer than men, have the most to lose if Social Security is privatized. "Two-thirds of older Americans in this nation rely on Social Security for their income," she told reporters on Friday's call. "They understand what privatizing Social Security means to them better than some others because that is what this income is. They don't want it to be squandered, if it would have been, if we had moved in that direction. They're discerning. They get it, they understand it, and they know that it's the Democrats who have been the strong supporters."
Pelosi also tied in the influx of undisclosed outside spending in the midterm elections, stating the issue goes far beyond concerns about campaign finance laws. "There is an agenda attached to why this money is coming in, and it's not good news for America's working families," she said. "There is an agenda attached to it -- to return it to pre-Obama times, when special interests had a bigger strangle-hold. ... So whatever the subject, shipping jobs overseas, stopping clean energy jobs, preserving Social Security or privatizing it, having direct loans for students than having big interest going to the banks, consumer protection, the list goes on and on. And again, the unidentified donors are trying to reverse that. All we're saying to them is stand by your ad; tell us who you are, so the American people can connect that dot more clearly."
*************************
What's happening in your district? The Huffington Post wants to know about all the campaign ads, debates, town halls, mailings, shenanigans, and other interesting campaign news happening by you. E-mail us any tips, videos, audio files, and photos to election@huffingtonpost.com.
Popular in the Community