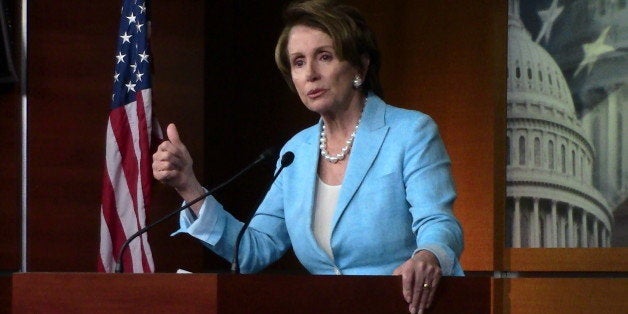 WASHINGTON -- CIA Director John Brennan may have treaded onto shaky ground with yet another important congressional defender of his: House Minority Leader Nancy Pelosi (D-Calif.), who on Thursday called the spy agency's snooping scandal "appalling" and Brennan's remarks "befuddling."
Pelosi was asked about Brennan at her weekly briefing with reporters, two days after Sen. Dianne Feinstein (D-Calif.) took to the Senate floor to detail allegations that Brennan's CIA searched through Senate computers and removed documents from an investigation of CIA interrogation and detention practices.
Such actions may violate the Constitution and the law, and have been referred to the Department of Justice, Feinstein said.
Brennan responded by saying that Feinstein's allegations were "just beyond the scope of reason," even as he said that if it turns out that he did do something wrong, he would go take it up with the president.
"To tell you the truth, I haven't really seen much of Director Brennan's statements on this, but what I have seen are befuddling to me," said Pelosi, who served many years on the House Intelligence Committee and defended the intelligence community amid the recent uproar over National Security Agency surveillance.
"From what I know, from what senators said and what you have written, it's pretty appalling what is being alleged or charged," Pelosi added. "Whatever it is, we have to remove all doubt."
Pelosi insisted she has "high regard" for Brennan, but she went out of her way to praise Feinstein for being brave enough to take her battle with the CIA public.
"I salute Sen. Feinstein. I tell you, you take on the intelligence community, you're a person of courage. And she does not do that lightly, not without evidence," Pelosi said.
At issue is a 6,300-page report produced by the Senate Intelligence Committee on the interrogation and detention practices used by the agency after 9/11, practices that even President Barack Obama has described as torture.
Although Obama called for the declassification and release of the report Wednesday, it was also revealed that his administration has withheld thousands of pages of documents relevant to the committee's probe.
Such behavior also seemed to disturb Pelosi.
"The administration is the custodian of intelligence information. It is not the owner," Pelosi said. "They're custodians, but it belongs to us as well, and we need to see the intelligence."
Calling all HuffPost superfans!
Sign up for membership to become a founding member and help shape HuffPost's next chapter
BEFORE YOU GO
PHOTO GALLERY
U.S. Capitol Photos