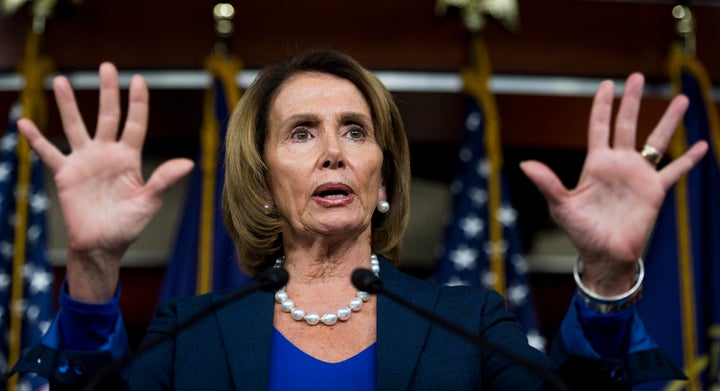 WASHINGTON -- Democrats pushing for the Democratic National Committee to support holding more than six presidential primary debates gained a powerful new supporter Friday, when House Minority Leader Nancy Pelosi (D-Calif.) said she thought Democrats "probably should" hold more. 
The Los Angeles Times asked Pelosi about the debate issue in an interview. She suggested that former Secretary of State Hillary Clinton "does well" in debates, as do her main rivals for the nomination, Sen. Bernie Sanders (I-Vt.) and former Maryland Gov. Martin O'Malley. While Sanders has said he thinks the DNC is "dead wrong" to limit the number of debates, O'Malley's campaign has vociferously pushed the issue since it has the most to gain from having more exposure. 
But the DNC is not budging, because Chairwoman Rep. Debbie Wasserman Schultz believes the 26 debates the candidates participated in during the 2008 primary damaged the party. (Two of her vice-chairs, on the other hand, have called for more debates.) 
"They thought 26 was too many, and I think it is, and you should probably have something in between," Pelosi said, according to the paper. "But I don't know that we're going to have more debates." 
The much larger Republican primary field held its first debate in August, and another earlier this week. But Democrats won't hold their first debate until Oct. 13, with only four of the six debates happening before the Iowa caucus on Feb. 1. One of those debates is on Deb. 19, a Saturday night when viewers are more likely to be looking forward to the holidays than watching the candidates slug it out. 
O'Malley's campaign has argued that the massive audiences that watched the Republican debates -- 24 million for the first, and 23 million for the second -- should justify adding more debates on their side so Democratic ideas can be disseminated to more people. 
When asked about adding to the schedule, Clinton has deferred to the DNC and said she would be happy to participate in more debates if the DNC were to add them. But Wasserman Schultz has repeatedly said that the number of debates isn't adjustable. The DNC also has a so-called "exclusivity clause" that promises repercussions for any candidate who participates in unsanctioned debates. 
Sanders' campaign has voiced the concern that debating about debates distracts from the issues. 
"When you get into these political debates about debates, you stop communicating about issues that affect the lives of people, and you begin to communicate about things that people in Washington obsess about," Tad Devine, Sanders' top strategist, told Politico. "It's nothing against O'Malley. We join him in calling for more debates. That's our position. But are we going to have a sit-down in the DNC lobby? No."
O'Malley's campaign came close to such a sit-down when its senior staff members and supporters held a rally outside the DNC headquarters before the Republican debate Wednesday evening. The candidate also called the process "rigged" at the DNC summer meeting in August, just steps from Wasserman Schultz: 
Calling all HuffPost superfans!
Sign up for membership to become a founding member and help shape HuffPost's next chapter