WASHINGTON -- House Minority Leader Nancy Pelosi (D-Calif.) forcefully defended the Affordable Care Act on Sunday and insisted Democrats will stand by the health care law in the 2014 midterm elections.
Pelosi was asked about the growing frustration among Democrats over the botched rollout of the Obamacare website. Healthcare.gov is still not fully functional, creating tremendous difficulties for consumers shopping for plans through the new health care exchanges. Millions of Americans have also received cancellation notices because their insurance plans didn't meet the Affordable Care Act's standards for benefits and financial protections, despite prior assurances from President Barack Obama and other Democrats that people who liked their plans could keep them.
"This is an issue that will have to be dealt with, but it doesn't mean, oh, this is a political issue so we're going to run away from it," Pelosi said on NBC's "Meet The Press." She added that the rollout of the national website had been "terrible," but would be fixed, and that in states such as Kentucky and California that set up their own websites, the exchanges were "working very well."
"You can't be knocked for a loop just because somebody is playing politics," Pelosi said.
The minority leader also downplayed Friday's vote on the proposal from Rep. Fred Upton (R-Mich.) to extend current plans into the next year even if they don't meet the new coverage standards. The bill passed the House 261-157, with the support of 39 Democrats, despite facing a veto threat from the White House.
"I have full confidence [in Obamacare], as do my members, however they voted on this," Pelosi said. "This is political; they respond politically."
Pelosi and other Democratic leaders slammed the Upton proposal, which they said would not only allow current enrollees to keep their health care plans but also enable insurance providers to continue selling "junk plans" to new customers. On Thursday, the president announced an administrative fix that would permit health insurance companies to renew for one year plans that had been canceled under Obamacare, but would bar them from enrolling new customers under these extended policies. Insurers would also be required to explain the alternatives available through Obamacare's exchanges and to disclose that the extended plans would not include new consumer protections provided by the health care law.
Rep. Greg Walden (R-Ore.), chairman of the National Republican Congressional Committee, said Friday that going into the midterm elections, Democrats were in "real trouble" over Obamacare. "Now that it has become a category 5 political hurricane, it is not just causing havoc in certain regions of the country," Walden said at a Christian Science Monitor breakfast with reporters. "It is ripping apart every region of the country."
On Sunday, Pelosi disputed the notion that Democrats might lose their seats over Obamacare in 2014 and were thus running away from the law.
"I don't think you can tell what will happen next year, but I will tell you this: Democrats stand tall in support of the Affordable Care Act," Pelosi said. "We have great candidates who are running who are concerned about our economy and are concerned that government was shut down because of a whim on the part of the Republicans, costing us $25 billion to our economy and 0.6 percent of our GDP growth."
She added that Democrats were aware that an "overwhelming number" of voters care about policies Democrats support, like comprehensive immigration reform, expanded background checks, for gun purchases, and the proposed Employment Non-Discrimination Act.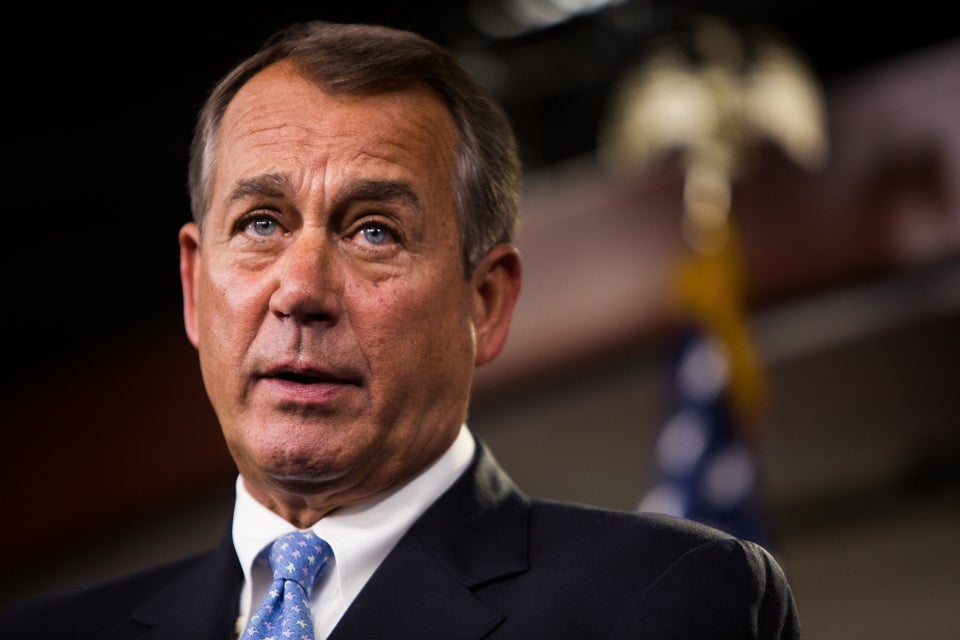 Speakers Of The House (1920-Present)