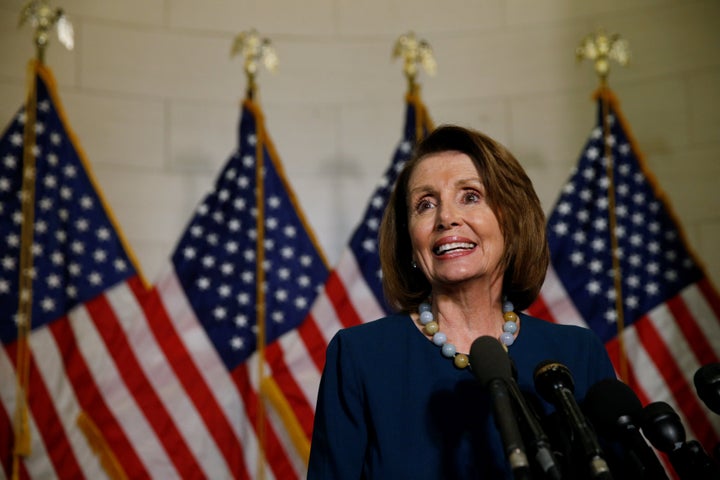 WASHINGTON ― Democrats just got their asses handed to them. They lost the presidential election, failed to take back the Senate and barely made a dent in their minority status in the House. Now what are they supposed to do?
"When people told us it was time for a permanent Republican majority … around now, in 2004 as we got ready for 2005, we had our plan," she told The Huffington Post in a Monday interview. "We stuck together. We were unified, strategic, and really it was a beautiful sight to behold."
She's referring to the Democratic wave that came in 2006, when her party reclaimed the House and the Senate. That was the year then-President George W. Bush conceded his party "took a thumping," and when Pelosi was vaulted into the job of House speaker. Two years later, Obama became president, elevating Democrats to the same position of power Republicans are in now. 
There were different circumstances then. Bush was an unpopular president and so was his war in Iraq ― two issues Democrats could seize on in making the case to Americans for their proposals. There also wasn't a wildcard like Donald Trump in the picture, preparing to move into the White House after a campaign fueled by hateful rhetoric and with an agenda that nobody really knows.
The political landscape has changed since then, too, and in a devastating way for Democrats. Since Obama became president, the party has lost more than 900 state legislature seats, 12 governorships, 69 House seats and 13 Senate seats. Some Democrats are clamoring for an internal shakeup, and that includes replacing people like Pelosi. More than 60 members of her caucus voted against her as leader this week, the most opposition she's ever faced.
But Pelosi still pulled off a decisive win, and she's convinced the most effective way to counter the GOP of 2017 is to repeat the effort she led in 2006. It relies on Democrats presenting a united front, hammering in the message that they are fighting for working families ― something Pelosi sees as the core of the party, even if they failed to communicate it widely enough in 2016 ― and differentiating themselves from the kinds of GOP policies that benefit the rich and powerful.
"Running against Washington is tried and true," she said. "It isn't easy. You have to have a plan and you have to be unified and you have to be strategic. And we're prepared to do that."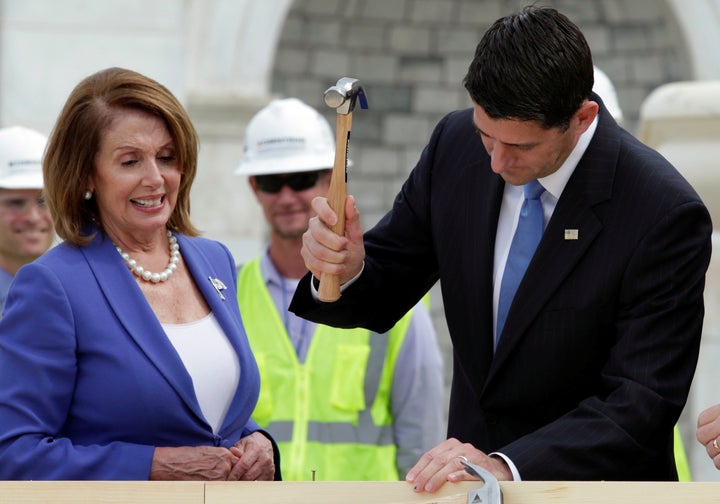 Republicans miscalculated in 2004 when, emboldened by their control of Congress and the White House, they tried to privatize Social Security. Bush barnstormed around the country selling the idea to the public. But within months, fractures were forming in the GOP coalition as Democrats held firm in their opposition. Pelosi and other Democrats worked with advocacy groups to help stop the effort, including the powerful AARP. By the time the Senate held a test vote in March 2005, five Republican senators had pulled out, fearful they would be cast as trying to dismantle a popular program like Social Security.
It's unclear whether Trump will embrace Ryan's vision of entitlement reform; he's suggested budget and tax reform can be done without touching Medicare or Social Security benefits. Some Senate Republicans don't seem to want to go anywhere near the subject for now. But if Trump signs on with Ryan's plan, Pelosi sees a huge opportunity for Democrats to side with public outcry and fire up supporters already outraged that Trump defeated Hillary Clinton. 
"We have a sense of urgency that is much greater than 2004," she said. "We don't have to drum anything up. ... I think the Republican leadership will find people are interested in what the Republican president has to say and what the opposition has to say more than what the Republicans in Congress have to say. So our voice is much more enhanced than theirs."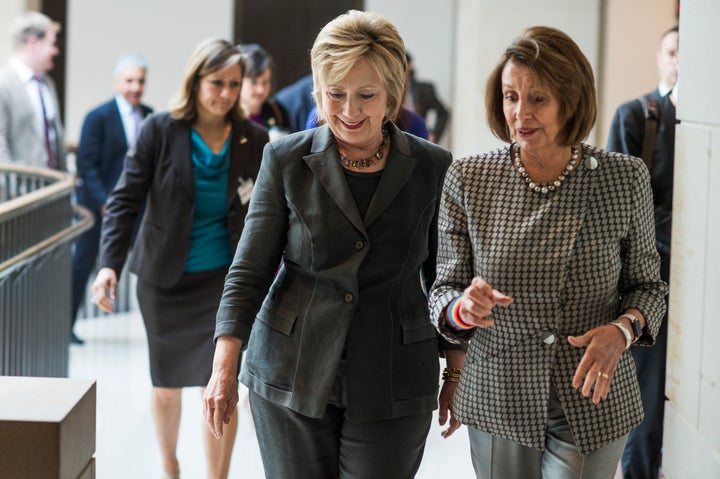 Throughout the interview, Pelosi exuded the kind of hope and optimism one would expect in a party leader girding for a fight. But even so, there were moments when the woman known for her focus and strategic approach to Washington politics showed flashes of pain at Clinton's loss. Talking about what her Christmas cards would say this year, she choked up.
"May we have hope that has faith in America ― no, we have spirits that have faith in America, hope for our future ― I can't say it. I just can't say it. I'm just really sorry," Pelosi said.
"It is, for those of us who care, who dedicate our lives to making the future better, and to see something happen with such ― elections are elections. Some people win, some people lose. That's just the way it is. We accept the results of it," she continued, visibly upset. "But to see something so drastic as this, and for Hillary not to win when we had such expectation … I'm still not, kind of, to the next step of, 'OK, let's just move on.'"
Asked if it was particularly disappointing seeing Clinton lose as someone who has broken barriers for women in politics, Pelosi listed off the things Democrats could have passed if Clinton had won and Democrats retook the Senate: the Equality Act, a bill banning LGBTQ discrimination in employment and housing, an infrastructure investment bill, immigration reform and gun safety bills.
"I just don't like missed opportunities," she finally said. "I just thought that was such a missed opportunity for our country."
And just like that, she was back in strategist mode.
"Having said that, we don't agonize, we organize. We get moving to make sure the public knows what's at stake in the policy decisions and then go to the next step, which is hopefully try to do some things together," Pelosi said. "I mean, who knows. Do you know how [Trump] is going to be?"
Calling all HuffPost superfans!
Sign up for membership to become a founding member and help shape HuffPost's next chapter
BEFORE YOU GO
PHOTO GALLERY
Democrats Hold Sit-In On House Floor