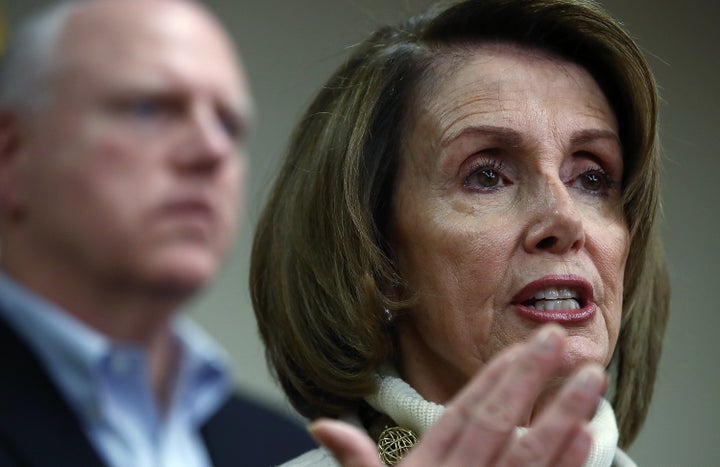 Kicking off the annual House Democratic retreat at Baltimore's Inner Harbor on Wednesday, Pelosi vowed that her party would fight Trump's administration tooth and nail. But she warned that journalists also needed to be ready to hold his feet to the fire.
"He's come after us, he's coming after you," Pelosi warned a gathering of reporters.
Pelosi said that Trump and his administration shared "characteristics of an authoritarian regime," citing the president's appetite for secrecy and repeated attacks against friends and foes alike.
"He doesn't want people tweeting from their agency of government," Pelosi added. "They want to shut down the inspectors general. He doesn't want to protect whistleblowers, he's discrediting the press, as you know. ...The list goes on and on."
Few things exemplify Trump's penchant for secrecy more than his refusal to release his tax returns. He still hasn't released his, as every major party presidential candidate has done in the last 40 years. The information could shed light on Trump's debts, charitable givings and business holdings abroad. The latter may also reveal whether the president has any significant conflicts of interest with countries like Russia.
Trump's unprecedented attacks against the judiciary have also raised the alarm. He has used language commonly used in authoritarian societies, railing against "so-called" and "outrageous" judges. Most recently, he attacked a panel of federal judges weighing whether to reinstate his travel ban, which stops visitors from seven majority-Muslim countries entering the United States.
"I don't want to call a court biased, so I won't call it biased," Trump said Wednesday. "Courts seem to be so political and it would be so great for our justice system if they could read a statement and do what's right."
The debate over so-called fake news has only increased in the aftermath of an election in which one candidate, Hillary Clinton, became the primary target of falsehoods and disinformation shared online. Democrats saw the issue as problematic enough to discuss Wednesday at their retreat, where Rep. Jim McGovern (D-Mass.) led a 45-minute breakout session entitled "Rumors, Truth, and Reality: Political Misinformation in the Modern Day."
Pelosi warned that Trump's efforts to discredit the press threatened democracy itself.
"You are our guardians of our democracy ― First Amendment, freedom of the press," she said at the press conference. "So important, but obviously not very important to Donald Trump."

Laura Barron-Lopez contributed reporting.
REAL LIFE. REAL NEWS. REAL VOICES.
Help us tell more of the stories that matter from voices that too often remain unheard.