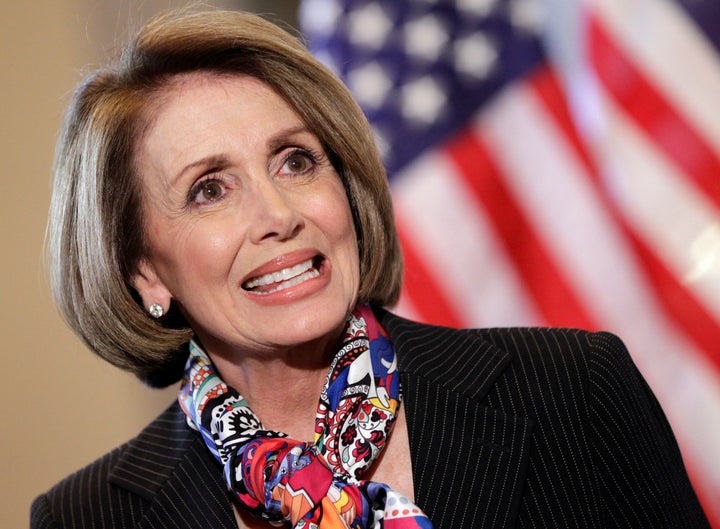 WASHINGTON -- House Minority Leader Nancy Pelosi (D-Calif.) played no role in the process by which health care waivers were granted to a number of businesses in her district, according to the company that actually requested the waivers on behalf of its clients.
Flex-Plan Services, a third-party benefits administrator based in Bellevue, Wash., made the formal applications for waivers from President Barack Obama's health care law, said it founder, Hilarie Aitken.
"I don't tend to vote Democratic, but I feel bad for Nancy Pelosi," Aitken told HuffPost. "She's really being thrown under the bus here. It has nothing to do with her at all. This was just a political power play. The way that they are shaping this -- that the minority leader, Nancy Pelosi, [is behind] all these waivers being granted, and how could she do this -- it's all slanted and wrong".
The admission deals a blow to the implication made Tuesday morning by the Daily Caller: It claimed Democratic lawmakers were effectively exempting businesses in their districts from the more onerous requirements of the presidential health care law. This was based on the fact that, of the 204 waiver requests that were approved in April, 38 were for restaurants, nightclubs or hotels in Pelosi's district.
"It looks like ObamaCare's backroom sweetheart deals didn't end when it became law," said Michael Steel, the spokesman for House Speaker John Boehner (R-Ohio), in a second Daily Caller story.
In actuality, Aitken explained, the high percentage of waivers is the byproduct of local law rubbing against the new national legislation. In April 2008, San Francisco passed an ordinance requiring employers to spend a minimum amount per hour on health care for their employees who work in the city. In response, a number of eateries chose to set up Health Reimbursement Arrangements, which are essentially pools of funds set aside by employers to reimburse medical expenses paid by employees.
HRAs are serviced by a third-party administrator or plan service provider. They are also subject to the annual limit provision in the national health care law, which is set at $750,000 in 2011 before it is eliminated fully in 2014.
Like many self-insurance policies and union organizations, employers using HRAs have been applying for a waiver from this provision, arguing that application of the requirements would "completely eliminate the benefit" of setting up the HRA in the first place, Flex-Plan Services said. When they do so, they turn not to lawmakers like Pelosi or to the employers themselves, but to third-party administers like Aitken's company. (And, as she hinted, political donations by Flex-Plan have leaned Republican, according to data collected by the Center for Responsive Politics.)
"These are some of the administrative hiccups that, I think, when you have a giant health care overhaul like this, you're bound to have," said Aitken. "And I think that's exactly why [the Department of Health and Human Services] put in the option for waivers, because they knew that there are some players who have different types of arrangements all over the nation."
On January 7, 2011, Flex Plan first requested waivers for its clients. In a letter to the HHS, the company's attorney Tina Ann Davis, wrote that, "[m]any of our HRAs were implemented by employers to satisfy local law requirements, provide coverage that otherwise would not be offered, or to help employees with their out-of-pocket medical care costs," the letter reads. "HRAs allow these employers to comply with the local law while providing an affordable health care benefit to their employees."
Aitken confirmed the authenticity of this letter.
This information, however, was not public knowledge prior to the Daily Caller's piece. And the disclosure on Tuesday morning that a number of businesses in Pelosi's own district had been granted waivers immediately became partisan fodder, with the Drudge Report linking to the story and the topic being pushed during White House Press Secretary Jay Carney's briefing.
Pelosi's office was quick to point out that more than 1,370 waivers had been granted across the country with only 100 denied. An aide noted that months after Aitken wrote her letter, Flex-Plan Services submitted applications for annual limit waivers for their clients, 69 of whom were from California, 20 from Washington, two from Georgia, and one from Alaska. On April 4, 2011, HHS approved the waivers requested.
"It is pathetic that there are those who would be cheering for Americans to lose their minimum health coverage or see their premiums increase for political purposes," said Pelosi spokesman Nadeam Elshami. "These waivers are reviewed and granted solely by the Administration in an open and transparent process so workers currently enrolled in 'mini-med' policies like those in San Francisco and across the country will not be punished and lose the minimum coverage they already have."
HHS also pushed back immediately against the story.
"The waiters, home health aides, and other hardworking people who have these plans were likely to either lose coverage or see a large increase in price without these temporary waivers," said Steve Larsen, director of the Center for Consumer Information and Insurance Oversight. "These waivers will help to ensure they can keep the health coverage they have, while we move to a marketplace where more comprehensive and affordable coverage is available in 2014. HHS applied the same standard to the application from Flex Plan Services that it uses when reviewing any application for a temporary waiver."
UPDATE: This post has been slightly edited.
Popular in the Community