WASHINGTON ― Despite a group of Democrats vowing to block her, Nancy Pelosi cruised through an internal House Democratic Caucus vote Wednesday to effectively secure the nomination of her party to return as speaker.
In an uncontested race, Pelosi won the caucus vote 203-32, with three blank ballots and one absence. (A total of 239 votes were cast because Democrats allowed ballots from delegates, who won't get to participate in the House floor vote. Democrats are likely to have 235 voting members next Congress.)
Pelosi came away with a slightly stronger vote than expected, but, as the 35 votes against the Democratic leader indicate, her work isn't done.
Pelosi will face a floor vote on Jan. 3, when she must get a majority of the whole House, 218 votes. With 235 members, Pelosi could lose only 17 Democrats to still be elected speaker ― if every Republican votes against her and none of the Democrats currently opposing her vote "present." (A "present" vote would, in effect, be a half-vote for Pelosi, as it would lower the majority threshold.)
Pelosi's Democratic detractors promise they won't vote for her on the floor, and with 16 Democrats currently signed onto a letter making that promise, on top of about a half-dozen freshman Democrats who ran for Congress by vowing to not support Pelosi and continuing to say they'll uphold their promise, Pelosi still has a vote problem ― albeit one that she potentially has ways out of.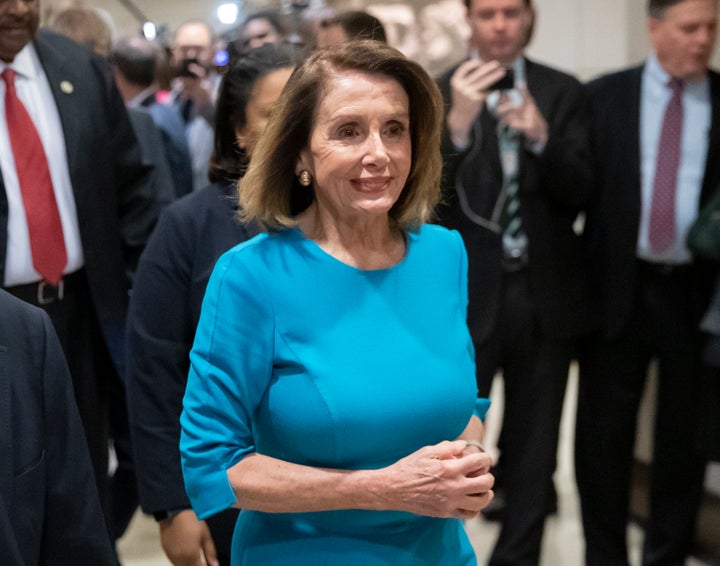 Rep. Kathleen Rice (N.Y.), one of the Democrats in the anti-Pelosi group, suggested to reporters after the vote that some members could fall in line if they had a date certain as to when Pelosi plans to retire. Rice said this wasn't about trying to get a specific different person from Pelosi as speaker but was about "agitating for change."
Rice and two of her colleagues in the group blocking Pelosi ― Reps. Tim Ryan (Ohio) and Seth Moulton (Mass.) ― met with the Democratic leader earlier Wednesday and "tried to engage her in a reasonable conversation about leadership transition," Rice said earlier in a statement. "Unfortunately, our concerns were dismissed outright."
Ryan was mostly mum about the meeting after the vote, though he did offer to HuffPost that 35 votes against Pelosi is "twice as many as you need" to block her on the floor.
But as much as Pelosi's detractors looked to spin the vote Wednesday as a confirmation that she doesn't have enough support to be speaker, the vote seemed to embolden Pelosi. In 2016, when Ryan ran against her for the minority leader position, he got 63 votes to Pelosi's 134. While 35 is indeed enough to block Pelosi from the speakership, her opposition in the caucus seems limited mostly to the members on the record against her.
The anti-Pelosi group has been in a scramble lately as it tries to tamp down members in the group from defecting. Already Pelosi has flipped two members who had signed a letter pledging to not support her ― Marcia Fudge (Ohio) and Brian Higgins (N.Y.) ― as well as dozens of incoming freshmen who were shaky during the campaign on whether they'd support Pelosi.
Pelosi has also gotten some iffy signs from Stephen Lynch (Mass.) on whether he'd support her to be speaker, and she won over Albio Sires (N.J.) and Robin Kelly (Ill.), who had signed an earlier letter with Pelosi detractors pushing to delay leadership elections.
But Pelosi still faces hard opposition from about 20 Democrats ― with another dozen or so Democrats signaling on Wednesday that she isn't their first choice for speaker.
The votes against Pelosi might not mean much, though. Pelosi's team actually pushed some freshman Democrats who said they wouldn't support her to vote against Pelosi in this caucus election ― that way they could tell their constituents they had upheld their word to oppose Pelosi.
There was even word that some Democrats would tweet pictures of their ballot from the closed-door caucus election. While such tactics look like a slap in Pelosi's face, the idea may have originated from some of Pelosi's allies, as there was some talk of recording each member's vote in an effort to allow freshman Democrats who ran on a pledge to not support Pelosi to show they upheld their pledge ― in some way.
What matters to Pelosi much more than Wednesday's caucus vote is the floor vote in January, when Republicans will also get a say over the speaker. Pelosi's win in the caucus has never been in doubt, but with more than 20 Democrats continuing to say they won't support her on the floor, Pelosi does still have a vote problem.
That doesn't mean she won't become speaker. She's the heavy favorite to do so. But she may have to make some more promises to flip individual members, or vow that this will be her last term in order to flip a large chunk. At this point, signaling that this is her last term looks like it would swing a crucial number of her detractors. It just isn't clear whether Pelosi is interested in making any such announcement ― or that she has to.
Pelosi doesn't look eager to make a deal. And announcing a date of retirement might effectively undercut her power as speaker. Just ask Speaker Paul Ryan (R-Wis.) about his meager fundraising totals in the last half of this year, after he had announced he wouldn't seek another term.
Plus, Pelosi has already made some deals. She struck an agreement Wednesday with the so-called Problem Solvers Caucus ― a bipartisan group of lawmakers who wanted specific rule changes to open up Congress ― even though that group had already vowed to not support Pelosi if she didn't give in to their rule changes, in writing, by a deadline of nearly two weeks ago. Ultimately, the Problem Solvers Caucus caved with some nominal concessions about party ratios on committees, how long it takes for a discharge petition to ripen and some other small changes.
At this point, even with more than enough Democrats voting against Pelosi, she looks like the overwhelming favorite to once again be speaker. The opposition hasn't been able to show that its numbers are growing, and Pelosi has been able to show that she can break off defectors individually through small commitments on which bills will be brought up and by handing out a subcommittee chairmanship.
Now, with her position more solidified internally after Wednesday's vote, she'll have even more power to dole out goodies to the Democrats who are willing to play ball.
What it would take for Pelosi to flip five or so more Democrats who are on the record opposing her?
"Money, committee assignments," Ryan said, before trailing off.
But Pelosi could also promise nothing to her remaining detractors, dare these Democrats to vote against her and see if they can withstand the pressure.
This story has been updated throughout with more details on the vote and reactions to it.
Popular in the Community