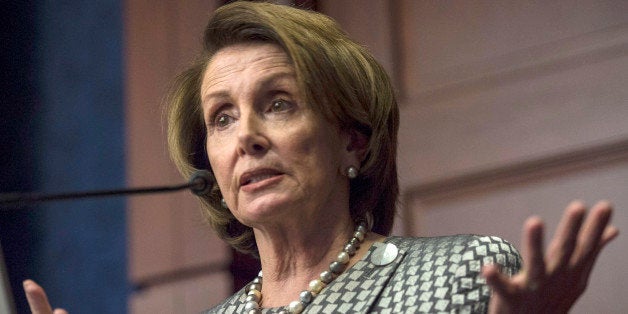 WASHINGTON -- The United States Senate has spent the better part of the past two years working to inject itself into nuclear negotiations between Iran and a coalition of countries that includes the U.S. But as the talks work toward a conclusion this summer, the upper chamber may be in for a rude surprise.
The Senate, thanks to its constitutional duty to ratify treaties, has long considered foreign affairs its domain. But the White House is not negotiating a treaty, which means that the Senate must enact legislation in order to exercise control over the pending Iran deal. And the Senate can't make law without the House of Representatives.
Senate Republicans on Tuesday reached a deal with the White House to require an Iran agreement to go through Congress for final approval. But even if they can come up with the two-thirds vote they would need to make a potential rejection of that agreement veto-proof, opponents would still need the same fraction in the House. Finding those votes will be difficult, given the ability of House Minority Leader Nancy Pelosi (D-Calif.) to hold her caucus together. To stop naysayers' efforts to override a possible veto by President Barack Obama, Pelosi would need to hold only 145 of her 188 Democrats.
Pelosi and the White House have been strategizing this week, including a phone meeting Tuesday between Pelosi and White House Chief of Staff Denis McDonough, to make sure the House holds in the end, a source familiar with those talks said. Secretary of State John Kerry briefed House Democrats Tuesday morning.
The Senate bill still needs to survive markup in the Foreign Relations Committee, where a number of Republican senators could throw curve balls and try to shake up an agreement between the bill's author, Chairman Bob Corker (R-Tenn.), and Democrats on the panel.
Pelosi's first order of business will be to get her leadership team in line.
"When there is an agreement, I think the Congress will review it," House Democratic Whip Steny Hoyer (D-Md.) said Tuesday at a briefing with reporters, though he remained generally noncommittal. "I will wait to see, and others will wait to see, what the final agreement contains and then we'll make a judgment."
Rep. Steve Israel (D-N.Y.) said earlier that the Constitution requires Congress to have a role -- though that is not true.
"If President Bush had proposed this deal, I would demand the right to review it and to vote on it. President Obama is proposing this deal; I reserve the right to read it and vote on it," Israel said on "Morning Joe." "It shouldn't matter who the president is -- Congress has a constitutional responsibility to weigh in on deals of this magnitude and that's exactly what we should do."
Similarly, Rep. Xavier Becerra (D-Calif.), chairman of the House Democratic Caucus, said that Congress "is going to have its say," and he doesn't think it should "undermine" the administration's ability to reach a final deal that would "help preserve peace."
And Pelosi may not have long to corral House Democrats before the Senate sends over its bill.
House Speaker John Boehner (R-Ohio) said Tuesday that he hopes the Senate moves quickly to pass Corker's measure, which Corker co-sponsored with Sen. Bob Menendez (D-N.J.). (Menendez stepped down as ranking member of the Senate Foreign Relations Committee after his indictment two weeks ago.)
"I am hopeful that the Senate will move the Corker-Menendez bill here over the next couple of weeks, and frankly I'd expect the House to take that bill up," Boehner told reporters.
Republicans have expressed optimism about their chances to reach a veto-proof majority in the House. Majority Leader Kevin McCarthy (R-Calif.) said the House's vote count will largely depend on how strong the vote is in the Senate.
UPDATE: On Tuesday afternoon, Pelosi told reporters that House Democrats' opposition may have given the Senate the impetus to water down legislation that would let Congress weigh in on a final nuclear deal with Iran.
"We told the Senate this is going nowhere, that we are going to sustain the president's veto. I don't know if that had an impact on what the Senate had to do. But they certainly produced a bill that would be more palatable to our members," Pelosi said of Corker's legislation, which passed the Senate Foreign Relations Committee unanimously on Tuesday after he agreed to changes from Cardin.
"Most of us don't think any legislation is necessary or should be there," Pelosi said. "From what I've seen so far, it's pretty innocuous."
When asked if she would push House Democrats to get behind the bill if it reaches the House floor, Pelosi wouldn't say.
"I'm listening to the caucus to see what they want to do. All they want to do is be sure that we have an agreement at the end and give the president the strongest possible hand to negotiate that," she said.
But later on Tuesday evening, Pelosi emailed her members to note that the White House had said the president would sign the revised bill. "While the original Corker legislation was harmful to the negotiations, the Cardin compromise of Corker can be supported," she wrote.
CORRECTION: An earlier version of this story misstated the number of votes needed in the House to override a presidential veto. If all 435 House seats are filled and everybody votes, the number needed is 290.
REAL LIFE. REAL NEWS. REAL VOICES.
Help us tell more of the stories that matter from voices that too often remain unheard.
BEFORE YOU GO
PHOTO GALLERY
Pelosi's Greatest 'What Is Going On Here?' Faces