WASHINGTON -- Congress should return from its long election break and vote on President Barack Obama's authority to go to war against extremists in Iraq and Syria, House Minority Leader Nancy Pelosi (D-Calif.) said Wednesday.
Obama launched strikes on the Islamic State, also known as ISIS or ISIL, starting in early August, and will have been waging a wide-ranging military campaign against the militant group for more than three months before Congress returns from the campaign trail in mid-November.
House Speaker John Boehner (R-Ohio) has said Obama has the authority to wage the war, but that as speaker he would bring the House back to vote on a specific authorization to use military force sooner if the president proposed such a measure.
Pelosi, who also said the White House has the authority to take the actions it has, nevertheless declared Wednesday that Boehner was wrong and that Congress, which under the Constitution has the responsibility to declare war, should be the body to draw up such an authorization.
"If you want to define an authorization, which defines, to use the word again, the authority that you're giving the president, you don't wait for the president to write it," Pelosi told reporters at a Capitol Hill news conference. "Congress writes it, because we are asserting our willingness to vote for a plan of action."
Pelosi said Obama was on firm ground for the time being in cobbling together an international coalition to battle the Islamic State because Congress did vote on a government spending bill before it left last month that lets the administration train and equip Syrian rebels. The White House is also relying for legal authority on the authorizations to use military force that Congress passed after 9/11 and before the Iraq War.
Pelosi did note that the spending bill requires Obama to come to Congress if he wants to do more. Nevertheless, she said it would be better for Congress to exercise its power and formally say what it does and does not want the White House to do as it launches strikes in foreign lands.
"I think we should have stayed to do it. I think we should be getting ready to do it," Pelosi said. "I think it has to spring from Congress. Congress has to vote on it, and define how we would limit the power of the president, or not. But it's our decision, it's not the president's decision."
The White House has shown no signs of taking Boehner's advice to write up what it would like, and Boehner has shown no signs of offering his own suggestions for what Obama should be doing, although he and other Republicans have suggested airstrikes are not enough.
Michael McAuliff covers Congress and politics for The Huffington Post. Talk to him on Facebook.
Support HuffPost
The Stakes Have Never Been Higher
Before You Go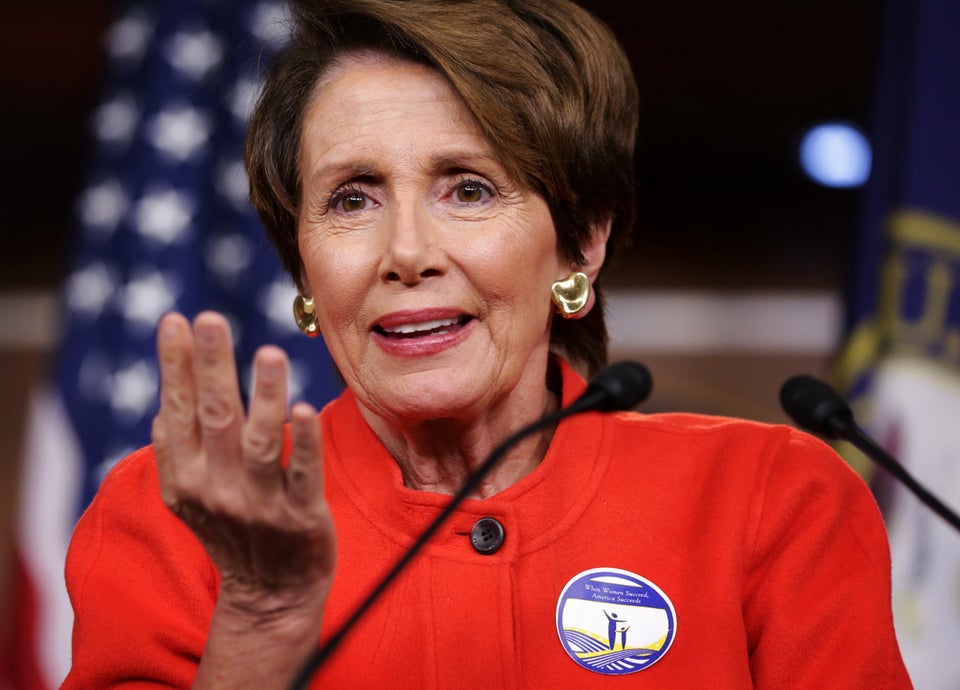 Pelosi's Greatest 'What Is Going On Here?' Faces
Popular in the Community