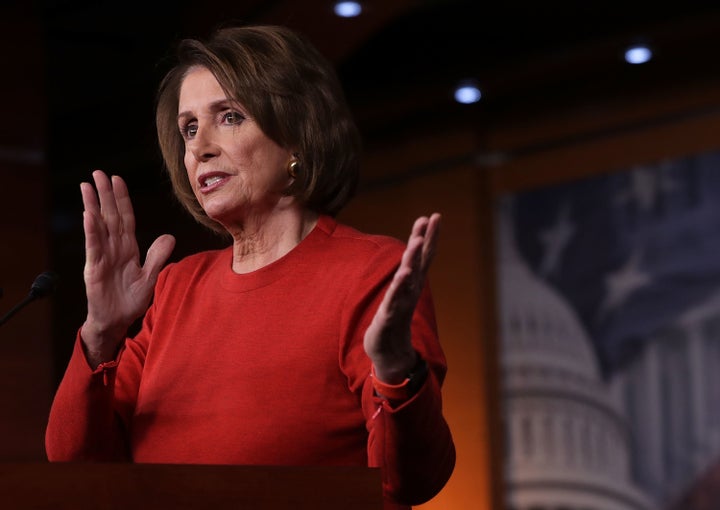 WASHINGTON ― House Minority Leader Nancy Pelosi (D-Calif.) suggested on Wednesday that FBI Director James Comey may need to leave his post after his controversial decision to announce, 11 days before the election, that his agency was reviewing more emails potentially related to its investigation into Democratic presidential nominee Hillary Clinton.
"Maybe he's not in the right job," Pelosi told CNN's Jamie Gangel. "I think that we have to just get through this election and just see what the casualties are along the way."
Pelosi did not say specifically that Comey, who is a Republican, should resign or lose his position, but left the possibility open, according to CNN.
On Friday, Comey wrote to members of Congress to say the FBI was reviewing emails that could be related to its investigation into whether Clinton mishandled classified information while using a private email server while secretary of state.
He received heavy criticism for doing so from both Democrats and Republicans. It's unusual for the FBI or Department of Justice to make announcements close to elections, since they have the possibility to influence the result.
Comey's letter was vague and the FBI has released little information since. It's unknown whether the emails are new or are duplicates of emails the agency already reviewed. In July, Comey said the FBI would not recommend charges against Clinton based on its investigation up to that point.
That decision made him the target of Republican ire and garnered praise from Clinton ― and from Pelosi. "This is a great man," Pelosi said in July. "We are very privileged in our country to have him be the Director of the FBI."
On Friday, she issued a statement calling for the FBI to provide more information, "rather than allowing Republicans to stoke innuendo and falsehoods 11 days away from a presidential election."
She told CNN on Wednesday that Comey made a "mistake" and may have a "double standard." Earlier this year, the FBI and DOJ decided against making announcements about investigations related to Clinton and Republican presidential nominee Donald Trump.

President Barack Obama weighed in on the matter on Wednesday, although he said he was making "very deliberate effort" to make sure that it doesn't look like he was "meddling" in the FBI investigation.
"Setting aside the particulars of this case, I know that [Hillary Clinton] is somebody who has always looked out for the interests of America and the American people first, and I do think that there is a norm that when there are investigations, we don't operate on innuendo, we don't operate on incomplete information, we don't operate on leaks, we operate based on concrete decisions that are made," Obama told NowThis News.
The FBI is currently going through the emails, which agents uncovered while investigating former Rep. Anthony Weiner (D-N.Y.), the estranged husband of top Clinton aide Huma Abedin. Asked whether Clinton has used bad judment in her close relationship with Abedin, Pelosi told CNN that Abedin "used bad judgment in marrying Anthony Weiner."
Popular in the Community