WASHINGTON -- Following reports that House Speaker John Boehner (R-Ohio) was not even going to try to pass an immigration bill, House Minority Leader Nancy Pelosi (D-Calif.) scolded him Thursday for doing less work than a "family of retirees."
Calling the decision "outrageous," Pelosi argued that not only could the House pass the immigration bill if Boehner would try, but it could also pass a bill to improve background checks for gun purchases and the Employment Non-Discrimination Act to ban employers from firing people because of their sexual identity.
"ENDA, background checks and comprehensive immigration reform -- it's right there, it's right there," Pelosi told reporters at her weekly briefing on Capitol Hill. "It requires it to be bipartisan because we don't have the majority, but we say to the speaker, bring up immigration any way you want -- singly, jointly, severally -- anything -- just bring it up so we can take some votes on it."
"I don't know that they ever intend to do anything -- again," Pelosi said. "The legislative branch, the first article of the Constitution, the first branch of government, the legislative branch -- and we're not legislating. We are not legislating. But we could."
Asked if the House could focus on another piece of legislation that crosses party lines -- reforming spying by the National Security Agency -- Pelosi was especially dismissive.
"You know what the agenda is around here," Pelosi said. "Not only is it family friendly. It's family friendly for a family of retirees. Nothing gets done. 'Let's just go home early, if we come in at all,'" she said, paraphrasing the attitude she attributes to Boehner.
Michael McAuliff covers Congress and politics for The Huffington Post. Talk to him on Facebook.
Before You Go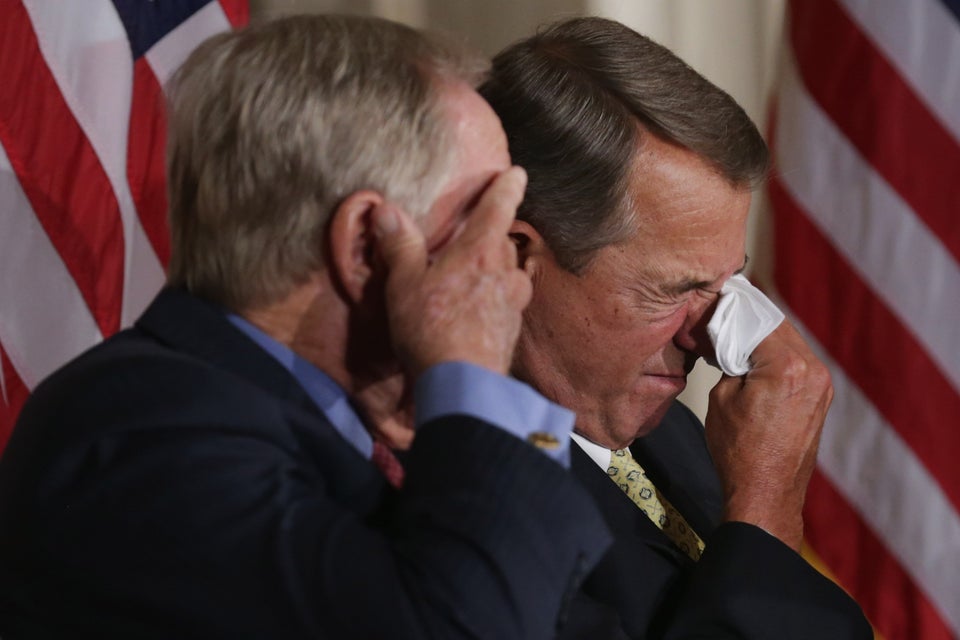 John Boehner Cries
Popular in the Community