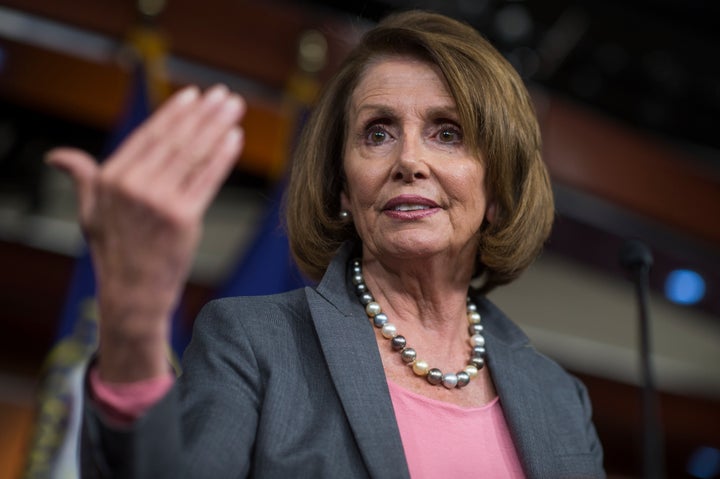 WASHINGTON ― In the face of a potential Democratic coup, House Minority Leader Nancy Pelosi (D-Calif.) projected strength on Thursday, dismissing a race for her job as the No. 1 Democrat in the House as an unserious challenge.
"Without even asking anybody for a vote, I have over two-thirds of the caucus supporting me," Pelosi told reporters. "It's a funny thing, in a caucus or any place: When somebody challenges you, your supporters turn out."
The challenge Pelosi refers to is a bid from Rep. Tim Ryan (D-Ohio), who is calling Democratic members and determining if there's enough support for him or another candidate to take on Pelosi.
Ryan hasn't formally announced if he is running, but he is going through all the motions. He's appearing on basically every cable news show that will have him, and he's working members feverishly.
What Ryan really appears to doing, however, is laying the groundwork for a bid from Rep. Joe Crowley (D-N.Y.), the vice chairman of the caucus, who was expected to easily move up to chairman next Congress.
Crowley declined to say whether he was considering a challenge to Pelosi when asked on Wednesday, but if he were to run for minority leader, Pelosi's grip on the position may loosen a bit.
"It's a funny thing, in a caucus or any place: When somebody challenges you, your supporters turn out."
Pelosi has sat atop Democratic leadership for 14 years, and she's gained a loyal following among many Democrats. But some of the less progressive members, like Ryan, contend that she's a drag in moderate districts and is hurting the chances of Democrats taking back the House.
That criticism seems to have annoyed Pelosi more than it's fazed her.
Asked about Ryan's comment that electing the same leadership team year after year and expecting a different result was akin to Albert Einstein's (attributed) definition of insanity, Pelosi coldly said, "I don't want to respond to that."
Instead, she noted that she had orchestrated the Democratic takeover of the House in 2005 and 2006, and said she sees a similar opportunity over the next two years.
"I know how to do it," she said. "I know how to get it done."
It's been more than a decade since then ― and six years since Democrats had the majority ― but Pelosi's financial stranglehold over the caucus has indebted many members to her, and her reputation as an astute tactician has some Democrats thinking they're better off with an experienced hand trying to negotiate with a Republican House, Senate and White House.
Pelosi noted that there's "uneasiness" in the caucus, between continued electoral disappointments and some internal issues. For instance, there's increasing frustration from younger Democrats that the seniority system in their ranks doesn't allow members to move up on committees. But Pelosi said she's told members that if they want to change those rules and add term limits to committee leadership, they have to find the votes to do that.
For now, with just Ryan semi-announced, Pelosi isn't taking the threat seriously. As soon as some in her caucus began talking about a coup, she said, the majority of members came forward to say they supported her.
"It almost did me a favor," she said.
Popular in the Community