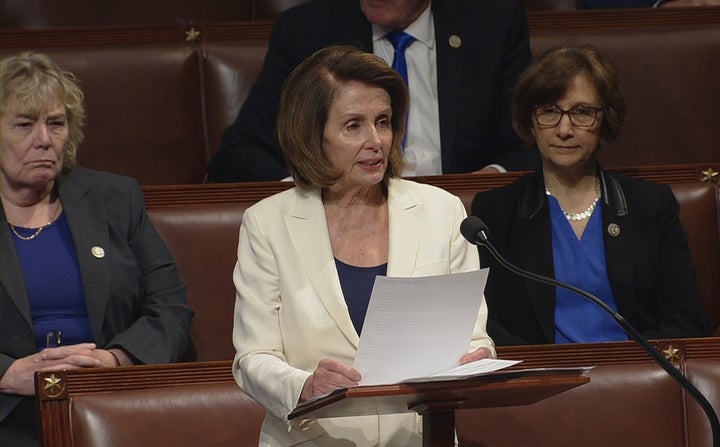 Minority Leader Nancy Pelosi (D-Calif.) just made House history.
The Democrat spoke for more than eight hours on the House floor Wednesday, adamant that she would not support any long-term budget deal without a commitment from House Speaker Paul Ryan to allow a chamber vote on protecting young undocumented immigrants. In the process, Pelosi set the record for the longest continuous speech in House history.
The House Historian's Office confirmed the lawmaker's record to HuffPost. The previous record dates back to at least 1909 when a Missouri representative named Champ Clark spoke for 5 hours and 15 minutes against a tariff overhaul, the historian's office said.
In her marathon speech ― which wrapped up around 6:10 p.m., about eight hours and five minutes after she started ― Pelosi called on lawmakers to pass the Dream Act, a bill that would grant legal status to undocumented young people who came to the U.S. as children ― often called Dreamers.
"If a Dream Act were brought to the floor, it would pass immediately, with strong bipartisan support," Pelosi said. "The Republican moral cowardice must end."
In September, President Donald Trump rescinded the Deferred Action for Childhood Arrivals (DACA) program, which allows Dreamers to obtain renewable two-year work permits. He set a six-month deadline for lawmakers to work out a legislative solution, meaning that after March 5, most DACA recipients would start to lose their status and be at risk of deportation.
Senate leaders are working to finalize a two-year budget deal that would satisfy both Republicans and Democrats. The House passed a short-term bill on Tuesday to extend funding for the government until March 23.
A top concern for many Democratic lawmakers is ensuring that any long-term spending bill doesn't come at the expense of protecting Dreamers. Pelosi and other Democrats have called for a vote on the Dream Act, but House Speaker Paul Ryan (R-Wis.) has indicated his reluctance.
"We're not going to bring immigration legislation through that the president doesn't support," Ryan told reporters at a Tuesday news conference.
But Pelosi is hoping to nonetheless convince Ryan to make a similar pledge to the one Senate Majority Leader Mitch McConnell (R-Ky.) made last month that helped reopen the government. McConnell said on Tuesday that if Congress approves the funding bill on Thursday, the Senate will allow all members to present their ideas for immigration legislation moving forward.
"Without a commitment from Speaker Ryan comparable to the commitment from Leader McConnell, this package does not have my support," Pelosi said in her speech.
Popular in the Community