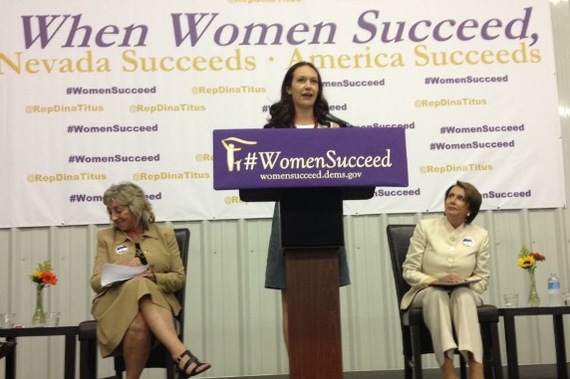 How do women measure success? Is it by mothering and having a career? How do they carry out both forms of work to their satisfaction? What helps? What hurts?
This is a weekly series about successful women who participate in the workforce in a range of ways building their careers while mothering. These women fly under the radar of the media but need to be heard. They are silently successful and warrant recognition. They are compassionate, persistently hardworking women who deserve our admiration and offer advice to new mothers. Each week I will spotlight a different remarkable woman.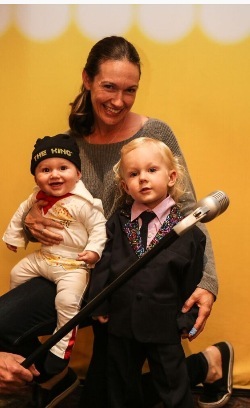 Sarah Lowe is an entertainer, singer, dancer presently acting in the Jersey Boys at the Paris Casino in Las Vegas. She gets to spend a great deal of each day with her sons, age two and eight months because her work is at night. She's not without conflict, however, when she's pulled away from her little cherubs:
"I am the dance captain and swing for the show, and one of my responsibilities is putting new cast members into the show and helping run understudy rehearsals. So there are some weeks where I spend almost all day at the theater - rehearsing in the afternoon and doing the show at night. And then there's the fact that the show runs 6 nights a week. I hate that I don't get to put my kids to bed every night. It was hard returning to work after I had my second child, he would not take a bottle. I came back to work and had to immediately be in all day rehearsals and I was so worried that he wasn't eating. I was having my husband bring him in on breaks so I could nurse him."
Sarah explored the meaning of motherhood to her with great compassion:
"To explore the importance of motherhood brings me to tears. There is something that happens to you once you have a baby. Your are so scared before having a child. How will it affect my life? Will it change who I am? How will it interfere with my career? And then you have that baby and nothing else matters. Ya know the old saying, "The show must go on?" After having a baby it changes to "The show must go on, unless my kid is sick." Being a mother is everything. It's experiencing all the "firsts." It's kissing boo-boos. It's sleeping on the floor by the crib when they're sick. I'm crying right now! Motherhood is selflessness. I don't think you need to give up who you are, but I do think once you make the choice to bring a child into this world, it's your job to provide for them. I don't mean spoil them, but being available to understand their needs and stay present in the moment."
When Sarah thinks about new mothers embarking on careers, she has this to suggest:
"It's not for everyone. And that's okay. But I think it's important to love, or at least really like what you do. If you aren't even a little passionate about your work, your children will pick up on that. They will think work is something you hate, but have to do. I think we need to teach them that you can be happy and successful. It's important to strive to do work you like. There was a study done about how mothers who were unhappy at work, brought that home with them and their children wouldn't go near them for the first 40 minutes. Boo on that!"
"I have been working in this field long enough to be called a professional. Success!! When I get to take my kids into the theater, and that my office, that makes me feel proud and successful."
Let's give Sarah applause by writing comments because of her hard work at her exciting career that she's worked hard to achieve and at her new motherhood. If you're starting out in the entertainment field and have children, she's sure to support you.

Laurie Hollman, Ph.D., is a psychoanalyst with a recent book, Unlocking Parental Intelligence: Finding Meaning in Your Child's Behavior, on Amazon, Barnes and Noble, and Familius and wherever books are found. To read more about her book, go to her website.
To participate in this series contact Laurie and she'll be glad to include you.
Related
Popular in the Community