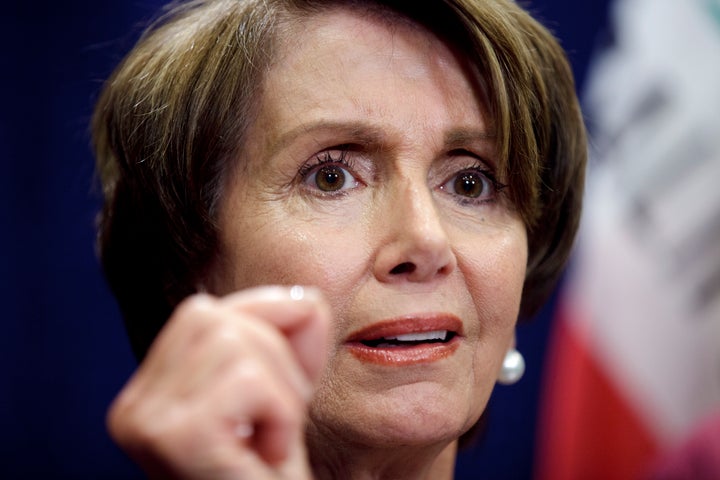 WASHINGTON -- House Minority Leader Nancy Pelosi (D-Calif.) thinks it's all well and good that House Republicans have White House support for their jobs package that passed Thursday. But that doesn't mean it does much, she said.
"It's so meager," Pelosi said during a briefing before the House vote. "Trumpet - tun ta ta ta - here comes the little king!"
Pelosi said she doesn't feel compelled to tout the package simply because it reflects a rare show of bipartisanship between the White House and House Republicans. Called the Jumpstart Our Business Startup (JOBS) Act, the bill consists of relatively small and noncontroversial provisions aimed at helping start-up companies to grow and go public. Many of the provisions have passed the House before. The bill cleared the House Thursday in a 390-23 vote and now heads to the Senate.
"Yes, it is bipartisan. We pledge to the flag. That's a big thing. We have a oneness about us in many ways," Pelosi said. But the proposal is just a "jobs bill lite" compared to a multibillion-dollar transportation bill that's been stalled in the House. Democrats say that bill, which needs to be passed by the end of March, would prevent about 2 million construction workers from being laid off.
"Okay already. We've done it. It's good. Let's do it again," she said of the JOBS Act. "But let's not mistake it for what we need to do for a real, serious, comprehensive jobs bill for our country."
Other Democrats said as much, even after they voted for the bill.
"It's not a jobs solution for our country, it's not a jobs bill," said Rep. Jared Polis (D-Colo.). "In fact, I think the frustration of some is that to a certain extent it represents the spinning of the wheels that has typified this Congress."
House Speaker John Boehner (R-Ohio) later defended the GOP proposal against Pelosi's charge. "Listen, this is aimed at helping small businesses get the capital that they need to get off the ground and to grow. And to cut out some of the red tape that gets in the way of trying to start a new business. This is another step," Boehner said during a briefing before the vote.
As for a transportation bill, Boehner said he plans to bring up the Senate's two-year, $109 billion transportation bill once they pass it, "or something like it." The Senate is debating its bill all day Thursday and aiming to pass it next week.
House Republican leaders have struggled for weeks to bring the House on board with their own five-year, $260 billion transportation bill, but Boehner's nod to the Senate bill shows they are giving up on that plan, something they were still pushing for as recently as Wednesday. Fiscally conservative Republicans have been unhappy about the costs of the bigger package, and lawmakers in both parties have been opposed to a provision that would end funds for mass transit projects.
Popular in the Community