WASHINGTON ― House Minority Leader Nancy Pelosi (D-Calif.) said Thursday that election officials in North Carolina have a few options for responding to what appears to be an egregious case of election fraud in the state's 9th Congressional District.
Members of Congress have an option, too: They can refuse to seat the current leader of the race, Republican Mark Harris.
"The House still retains the right to decide who is seated. That is one of the powers of the House of Representatives," Pelosi told reporters. "Any member-elect can object to the seating and swearing-in of another member-elect. We'll see how that goes."
Pelosi is referring to the scandal unfolding in two North Carolina counties where investigators are trying to figure out whether there's a nefarious reason so many absentee ballots were never mailed back. In Bladen County, which has a large black population, 40 percent of absentee ballots were never returned. A whopping 62 percent of absentee ballots were not mailed back in nearby Robeson County, which is 38 percent Native American.
Both counties far exceeded the district's non-return rate of 24 percent, and Bladen was the only county in which Harris won the mail-in absentee vote.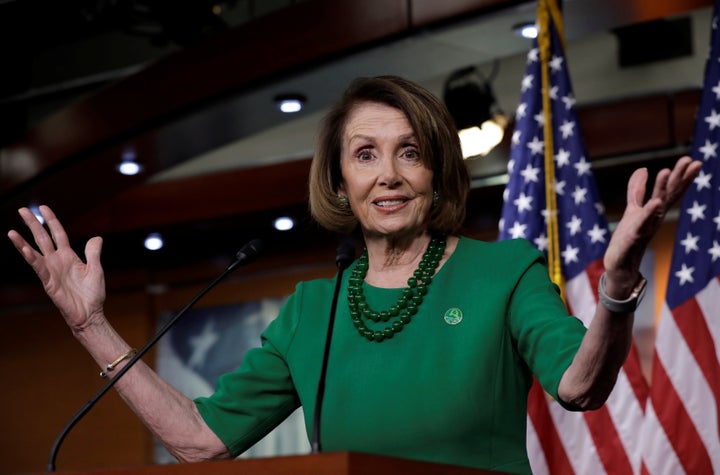 In recent days, three people have come forward to local television station WSOC and BuzzFeed News to say they were hired to collect absentee ballots, which violates state law. All of those people have said they worked for McCrae Dowless, a campaign operative with a criminal history who was working for a contractor on behalf of Harris.
The North Carolina State Board of Elections is planning to hold a public hearing by Dec. 21 to decide how to proceed. It can either certify the election, call for a new election between the same candidates or throw the whole thing out and start all over again.
The North Carolina Republican Party's executive director told CNN on Thursday that he's open to holding a new election. He said the situation "has shaken us to the core" and that he's been so upset that he actually threw up.
Pelosi noted that Republicans in the state are also upset about the race because of how fraud may have affected their primary election. Worst comes to worst, she said, the House Administration Committee has "full investigative authority" to determine the winner of the race and could take that "extraordinary step" if North Carolina officials can't get to the bottom of what happened.
"This is bigger than that one seat. This is about undermining the integrity of our elections," Pelosi said. "What was done there was so remarkable, in that that person, those entities, got away with that."
Clarification: Language in this story has been amended to clarify that Harris has not yet been officially declared the winner of the race. Language also has been amended to specify the demographics in Robeson County.
Popular in the Community