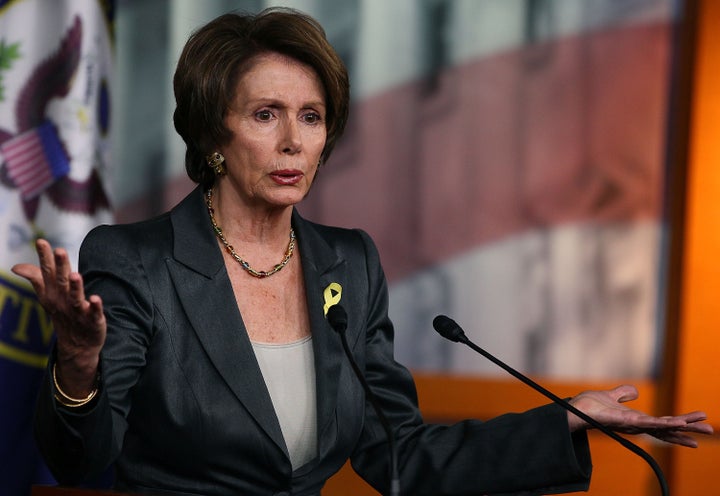 WASHINGTON -- President Barack Obama has said for more than a year now that his position on same-sex marriage is "evolving," a stance that has frustrated and perplexed the gay community given the president's broad support for other gay rights issues.
Now House Minority Leader Nancy Pelosi (D-Calif.), a vocal proponent of same-sex marriage, is nudging Obama to come around on the issue already.
In a February cover story with The Advocate, a national gay and lesbian news magazine, Pelosi declined to give specifics on conversations she may have had with Obama on the issue. Instead, she said she has been focused on pressing the Democratic National Committee to fund efforts to reject state-level anti-marriage ballot measures. "There are more ways to get your voice heard than just speaking," she said.
Pelosi added, "But I hope the president would just say he supports equality in marriage."
The issue has been an awkward one for the White House, which regularly deflects questions on the matter by pointing to Obama's track record on gay rights outside of same-sex marriage. Indeed, his record isn't too shabby: In the last three years, he repealed the military's "don't ask, don't tell" policy, imposed a rule tying foreign aid to governments' protection of sexual minorities, and ordered the Justice Department to stop defending the Defense of Marriage Act, the federal ban on gay marriage. But the fact that he can't give a clear position one way or the other on same-sex marriage will likely continue to dog him, particularly as the 2012 election season heats up.
Questions about gay marriage have already been resurfacing in White House briefings. On Tuesday, White House Press Secretary Jay Carney fended off a reporter's question about the fact that Republican presidential candidate Rick Santorum recently said he and Obama both agree that marriage should be defined as between one man and one woman.
"You know very well what the president's views are on LGBT issues and civil rights, and the president is very proud of this administration's record on those issues," Carney told the reporter. When the reporter pressed further, clarifying that his question was specifically about gay marriage, Carney said, "I have no updates for you on the president's position on same-sex marriage. I think that you know and others here know and understand that his position broadly on LGBT issues is quite significantly different from that particular candidate's views."
Another reporter raised the issue again, this time citing a tweet by Sarah Palin about Obama having the same views on gay marriage as GOP presidential contenders Newt Gingrich and Mitt Romney, in addition to Santorum.
"Again, I don't have anything, I don't have anything new to give you on this," Carney said. "I appreciate the question, but the president has spoken to it. I'm sure he'll be asked again about it. But as of now, I have no -- nothing new for you on it."
By contrast, Pelosi, who represents the gay mecca that is San Francisco, talked to The Advocate about the prospects of her officiating a same-sex wedding in her district.
"I'm not a big officiator, though," Pelosi said. "I did it one time, and the people I married are divorced now. So I don't think I'll be called on again. I think that was probably it."
Popular in the Community