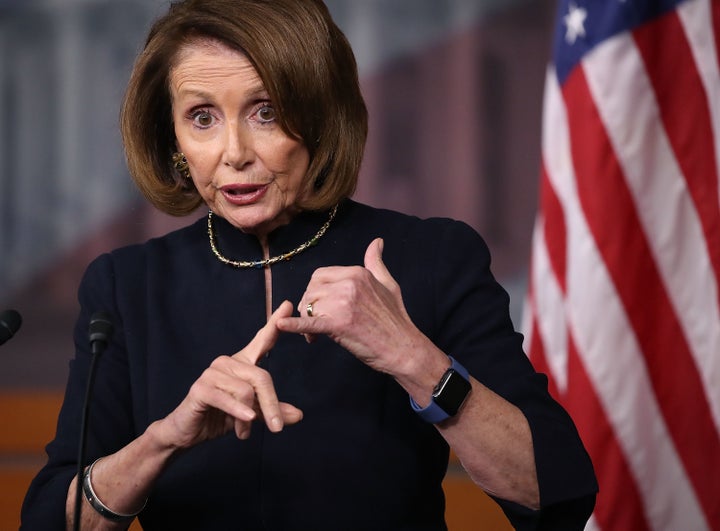 "They're not going to repeal it," Pelosi told a small group of reporters in her Capitol Hill office. "I don't think they're going to repeal the Affordable Care Act."
That's not to say they aren't going to try. Pelosi's bold prediction is based on the fact that repealing and replacing Obamacare is a gargantuan task. In the end, she argued, Republicans and President-elect Donald Trump may find that they don't want to repeal it because that would take away benefits people value, and they won't be able to replace it because that would cost the government money they don't want to spend.
"Everybody, everybody benefits from ACA," Pelosi said.
"There are 127 million Americans with a pre-existing medical condition," Pelosi explained. "Nearly half of them with a very severe ― really need care regularly ― pre-existing medical condition. For them, are we going to eliminate pre-existing condition provisions of the bill?"
Trump has said he plans to keep some elements of President Barack Obama's signature health care legislation, including no denial of coverage for those with pre-existing medical conditions and the option of covering children under their parents' plans until they are 26 years old.
Other Republicans have also said they want to keep the popular provisions, but Pelosi scoffed at the idea.
"You can't keep them," she said. "You can't afford them because the cost would be so astronomical."
The popular benefits of Obamacare that Republicans want to maintain are only financially possible because of the central policy mechanism (the mandate that all must have health care insurance) and the funding system (taxes on the wealthy to pay for subsidies) that Republicans despise. Numerous experts have pointed out that the components of the Affordable Care Act don't work independently of each other.
It's the cost of an Obamacare replacement, Pelosi said, that may cause some Republican lawmakers to balk at undertaking the repeal at all.
"The one thing that I think the Republicans are more interested in ... are costs," she said. "What is the cost going to be to their constituents in the changes they want to make?"
On top of that, there is a split within the GOP over how to go about the repeal process, which Republican leaders have said they will start in January. Party leaders have said it could take up to three years to produce a replacement ― something that's angered other conservatives who want to make sure the issue is settled before the next election cycle.
During her hourlong sit-down with reporters, Pelosi also expressed concern about the future of reproductive health care under Trump. 
"I think a lot of women who voted for Trump ... they don't think that Roe v. Wade is at risk, but it is," Pelosi said. "I'd be very, very afraid, very, very scared about what they might do to family planning. I would be very, very afraid not only of the president, but of the Congress, on that score."
Jonathan Cohn contributed reporting. 
Calling all HuffPost superfans!
Sign up for membership to become a founding member and help shape HuffPost's next chapter