House Minority Leader Nancy Pelosi (D-Calif.) is calling on House Speaker Paul Ryan (R-Wis.) and other Republican leaders to remove Rep. Steve King (R-Iowa) as chairman of the House Subcommittee on the Constitution and Civil Rights in the wake of the Iowa congressman's white nationalist comments.
Pelosi first called for King to be stripped of the powerful position after King praised Dutch far-right leader Geert Wilders on Sunday for understanding that "we can't restore our civilization with somebody else's babies."
King subsequently refused to apologize for the remarks, saying Monday that, "If you go down the road a few generations, or maybe centuries, with the inter-marriage, I'd like to see an America that is just so homogenous that we look a lot the same." Also on Monday, King told a radio show that "the Hispanics and the blacks will be fighting each other before" they overtake the white population in size.
Pelosi reiterated her calls for his removal after it became clear he was unrepentant, she said in a Tuesday statement.
"When Republican Congressman Steve King made his latest disgusting and racist statements, I called on Speaker Ryan and the Republican leadership to immediately strip his chairmanship of the Constitution Subcommittee," Pelosi said. "Since then, Congressman Steve King has doubled down on his statements, so I am doubling down on mine."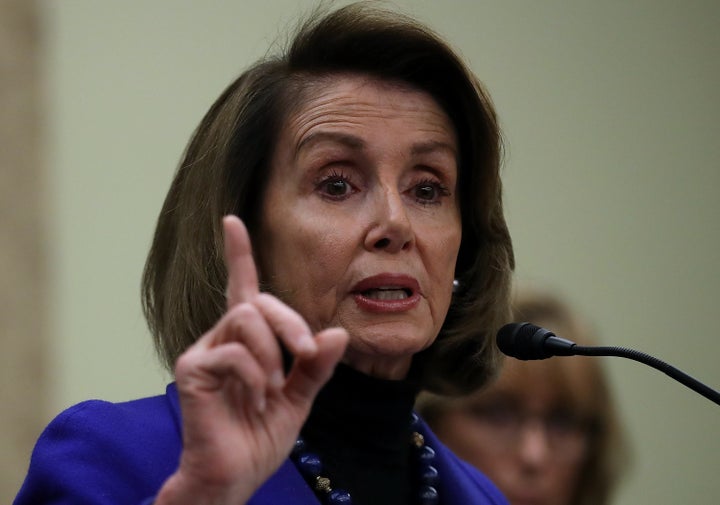 Ryan's office is not commenting on Pelosi's demands, referring The Huffington Post to Ryan's previous comments stating that he "clearly disagrees [with King] and believes America's long history of inclusiveness is one its great strengths."
"We'll get back to you on this just as soon as Nancy Pelosi responds to the grotesque sexual comment a member of her caucus made about a senior female White House aide. The hypocrisy is striking," said AshLee Strong, a spokeswoman for Ryan.
Strong was referring to a sexist joke that Rep. Cedric Richmond (D-La.) made about White House counselor Kellyanne Conway.
As chairman of the subcommittee, which is under the Judiciary Committee, King sets the panel's agenda. Top committee posts are typically assigned based on members' seniority, but committee and subcommittee chairs have been ousted due to their behavior in the past.
Since he first made the white nationalist comments on Sunday, King has drawn criticism from elected officials in both parties, including Ryan.
"This is not a point of view that [President Donald Trump] shares. He believes he's the president for all Americans," White House press secretary Sean Spicer said at his Tuesday news conference, referring to King's remarks.
Many of Trump's advisers, however, including Steve Bannon, Sebastian Gorka, Michael Anton and Stephen Miller, share King's apparent belief that the immigration of people of color somehow corrupts America's essence. In his Monday radio interview, King even cited the book, The Camp of the Saints, a rabidly racist French novel from the 1970s that is a favorite of Bannon's.
Calling all HuffPost superfans!
Sign up for membership to become a founding member and help shape HuffPost's next chapter
BEFORE YOU GO
PHOTO GALLERY
2017 Scenes From Congress & Capitol Hill