 WASHINGTON -- House Minority Leader Nancy Pelosi (D-Calif.) frequently defends "San Francisco values," but she doesn't consider stripping down in public to be among them.
"Enough with the public nudity," she told The Huffington Post in an exclusive interview Tuesday when asked about the city's recent ban. "Please. We have our standards."
San Francisco lawmakers outlawed public nudity last November in response to the increased presence of naked people on city property, especially within a specific plaza at the epicenter of the famous Castro neighborhood. The ban officially took effect Feb. 1.
Supervisor Scott Wiener, whose district includes the area in question, introduced the measure to quell growing complaints from neighbors and merchants who claimed their businesses were suffering. "Freedom, expression and acceptance does not mean anything goes under any circumstances," he said at the time. "Our public spaces are for everyone and as a result it's appropriate to have some minimal standards of behavior."
Opponents of the ban, which narrowly passed in a 6-5 vote, argued it would tarnish San Francisco's reputation as a progressive haven. "I'm concerned about civil liberties, about free speech, about changing San Francisco's style and how we are as a city," said Supervisor John Avalos, largely considered to be the city's most liberal leader.
Pelosi disagrees. "Supervisor Wiener is a very progressive supervisor," she told HuffPost. "But kids don't go to the park for -- yuck."
The new law calls for a $100 fine for first-time offenders and could result in jail time for those caught in the buff more than three times. Certain sanctioned events, however, like the city's famously racy Folsom Street Fair and the annual pride parade, remain exempt.
"Come see our gay pride parade," Pelosi said. "It's fabulous; you'll love it. It's a lot of exposure, shall we say."
San Francisco's debate over nudity began in late 2011, when Wiener drafted an ordinance requiring nudists to place a towel between themselves and any piece of public property they sat down on. That measure drew the ire of nudity advocates, who frequently held naked gatherings in protest.
Those protests only turned more fiery once supervisors banned nudity altogether. During an early hearing on the issue, local nudist Gypsy Taub took off her dress in front of the Neighborhood Services Committee, arguing that "nudity does not harm children." The day the ban officially went into effect, police arrested four naked protesters outside City Hall.
Public nudity is legal in the state of California as long as the parties in question are not engaging in lewd acts. However, individual cities -- like nearby Berkeley and San Jose -- have enacted similar bans.
A coalition of nudists filed suit against the city of San Francisco to block the measure, but their efforts were dismissed in court. They vow to continue their fight, claiming the law violates their First Amendment rights.
And as for the argument that a nudity ban signifies a shift in San Francisco's overarching character?
"Oh please," said Pelosi. "Who do you think we were?"
Ryan Grim, Sam Stein and Amanda Terkel contributed reporting.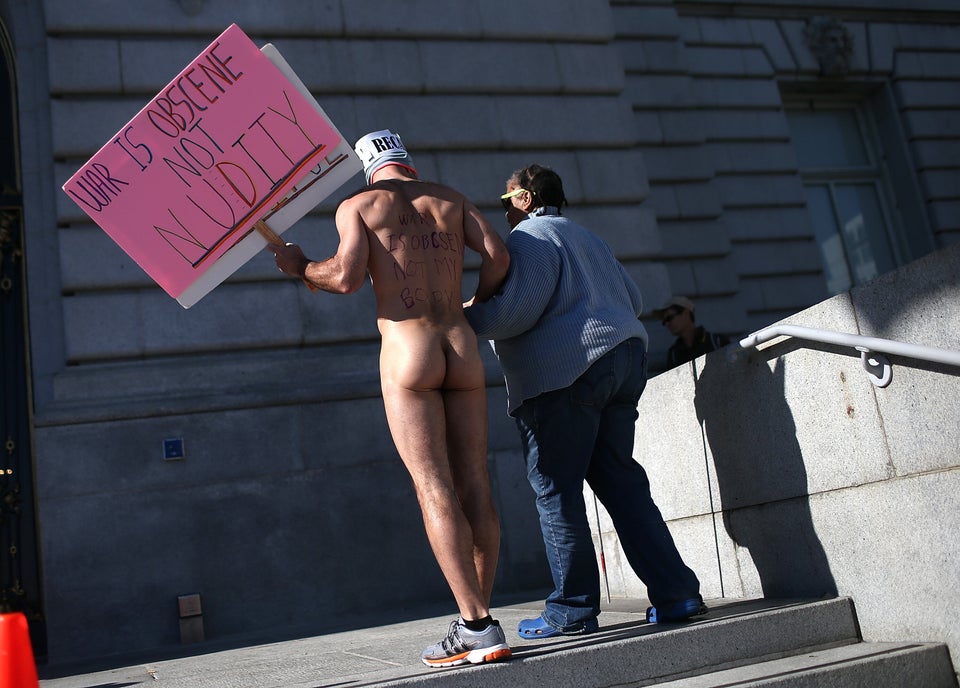 SF Nudity Protest
Popular in the Community