House Speaker Nancy Pelosi (D-Calif.) has addressed the "life-threatening attack" of her husband Paul Pelosi for the first time since he sustained a skull fracture along with other serious injuries in a home break-in assault on Friday.
The House speaker's statement — addressed to her colleagues in Congress — comes one day after a man broke into the couple's San Francisco home, allegedly confronted Paul Pelosi and asked "Where is Nancy? Where is Nancy?" before the attacker beat him with a hammer.
David DePape, whom San Francisco police identified as the suspect in the hammer attack, reportedly shared conspiracy theories and blogged "screeds against Jews, Black people, Democrats, the media and transgender people," The Washington Post reported on Saturday.
Paul Pelosi is expected to make a full recovery after he underwent surgery for his injuries, Nancy Pelosi's office said on Friday.
Nancy Pelosi, who was not at home during the attack, said in a statement on Saturday that she and her family are "heartbroken" over the attack and added that her husband's condition "continues to improve."
Dear Colleague,

Yesterday morning, a violent man broke into our family home, demanded to confront me and brutally attacked my husband Paul. Our children, our grandchildren and I are heartbroken and traumatized by the life-threatening attack on our Pop.

We are grateful for the quick response of law enforcement and emergency services, and for the life-saving medical care he is receiving. Please know that the outpouring of prayers and warm wishes from so many in the Congress is a comfort to our family and is helping Paul make progress with his recovery. His condition continues to improve.

We are also comforted by the words of the Book of Isaiah: "Do not fear, for I am with you. Do not be dismayed, for I am your God. I will strengthen you and help you. I will uphold you with my righteous right hand."

We thank you and pray for the continued safety and well-being of your family.

Sincerely,

NANCY PELOSI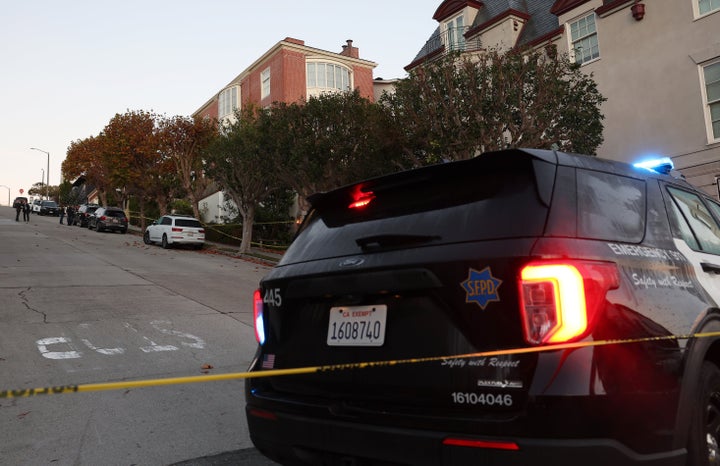 President Joe Biden weighed in on the attack against Paul Pelosi on Friday and called it a "despicable" act, adding there's no place for it in America.
San Francisco police officials said DePape will be charged with attempted homicide, assault with a deadly weapon, elder abuse and burglary.
Popular in the Community