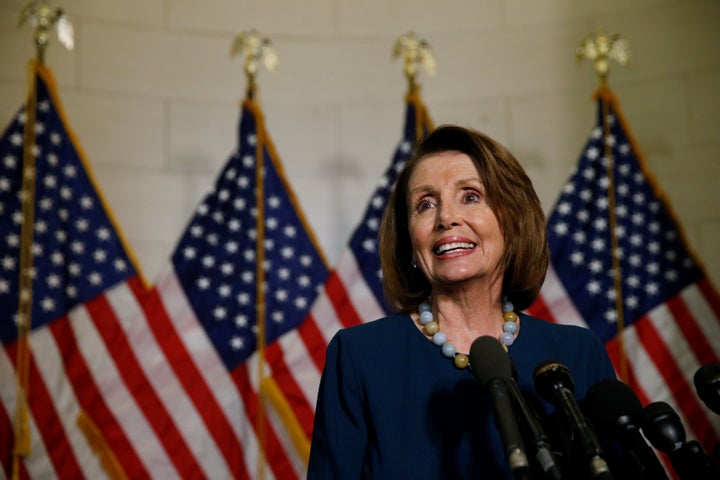 WASHINGTON ― House Minority Leader Nancy Pelosi (D-Calif.) tore into fellow Democratic Rep. Tim Ryan (Ohio) on Monday for suggesting she can't lead the party with working-class voters, and called Ryan's claims that she's focused on empowering herself within their caucus "almost pathetic."
Both Pelosi and Ryan are vying for the job of House Democratic leader, whom the caucus will elect on Wednesday. Pelosi has led the party since 2003, and Ryan is making a long-shot bid to unseat her. He's advocating a major shakeup in leadership and an expanded role for rank-and-file members after Democrats took a drubbing in the elections, due in large part to white working-class voters showing up in droves for President-elect Donald Trump.
They are precisely the kind of people leaders like Pelosi have been ignoring, Ryan argues, and precisely the kind of people he represents in his district.
"This election is not going to be won at fundraisers on the coasts," the Ohio Democrat told The Wall Street Journal last week. "It's going to be won in union halls in the industrial Midwest and fish fries in the Midwest and the South."
Ryan made the point again on NBC's "Meet The Press" on Sunday: "We've got to have someone who cannot just go on MSNBC, but go on Fox and Fox Business and CNBC, and go into union halls and fish fries and churches all over the country and start a brush fire about what a new Democratic Party looks like."
Pelosi mocked Ryan's argument in an interview with The Huffington Post on Monday.
"He didn't even carry his district for Hillary Clinton," Pelosi said with a laugh, "so I don't know why he's saying that."
"I have strong support from our friends in the unions, including steelworkers, which I guess are his area," she continued. "You know what? If you want to come interview me, I'm happy to answer your questions about how we go forward. I'm not going to pay attention to, 'I can't step in a union hall.' I'm a woman of steel in there. … I'm constantly invited by the unions to go to their meetings. That's just not, it's just not true."
"I don't have enough time to receive all the invitations I have," Pelosi added.
The California Democrat is expected to remain the party's leader; she's said she already has the backing of two-thirds of the caucus. Ryan has six or seven Democrats publicly backing him. But heading into Wednesday's election, he's going after Pelosi for not doing enough to reform the caucus structure.
Pelosi has advocated adding a freshman member to leadership and opening up the job of assistant Democratic leader to more members, but she doesn't appear to be on board with some requests to make the leader of the Democratic Congressional Campaign Committee an elected position. The leader currently taps someone for this post.
Pelosi is falling short of making the necessary internal changes, Ryan argued Monday, adding that she's just trying to preserve her grip on the party.
"It is evident that Leader Pelosi's proposed reforms will only serve to further consolidate her power over the Caucus," he said in a statement.
Pelosi torched Ryan for suggesting as much.
"It's so completely not true that it's almost pathetic," she told HuffPost. "You know, it's just not― it's not what it is."
She said members have come to her and told her what kinds of changes they want. The process has been "liberating for me," Pelosi said, because it's given her the chance to shape leadership roles based on their input. "That gives legitimacy to whatever we do."
Pelosi added that she's "heartbroken" and "shaken" by Democratic nominee Hillary Clinton's loss in the elections, but is ready to move forward as a unified party and push back against Trump's policy plans that Democrats fundamentally oppose.
"I'm so energized by the support of my colleagues and the commitment they are making to work," she said.
CORRECTION: This story has been updated to note that Nancy Pelosi has led the House Democratic caucus since 2003, not 2007.
Before You Go
Democrats Hold Sit-In On House Floor
Popular in the Community