But an exchange between a college student and House Minority Leader Nancy Pelosi (D-Calif.) at a CNN-hosted town hall on Tuesday night illustrates how challenging that can be in practice.
Responding to a question about whether Democrats could adopt more progressive economic positions, Pelosi launched into an academic explanation of American capitalism that critics derided as tone-deaf in the current populist environment.
Trevor Hill, a 20-year-old sophomore public policy major at New York University, first pointed to a Harvard poll from April showing that 51 percent of people aged 18 to 29 do not support capitalism.
"That's not me asking you to make a radical statement about capitalism but I'm just telling you that my experience is the younger generation is moving left on economic issues," Hill explained.
"But I wonder if there's anywhere you feel the Democrats could move farther left to a more populist message, the way the alt-right has sort of captured this populist strain on the right wing ― if you think we could make a more stark contrast to right-wing economics?"
"I thank you for your question. But I have to say, we're capitalist ― and that's just the way it is," Pelosi responded with a chuckle. "However, we do think that capitalism is not necessarily meeting the needs with the income inequality that we have in our country."
The California Democrat went on to decry the departure of American capitalism from a "stakeholder" system where worker pay grew in tandem with productivity, and the current "shareholder-driven" model that has depressed pay and produced record inequality. It was an analysis that would not have been out of place in a column by liberal economist Paul Krugman.
But Pelosi's efforts to defend capitalism suggested she interpreted Hill's query as a request for Democrats to abandon the free market entirely.
And she did not address the question of whether the Democratic Party has room to be more economically progressive, or otherwise present the party's vision for confronting the inequality she described in such detail.
Pelosi's remarks, which you can watch above in full, immediately drew jeers from progressive critics on Twitter, some of whom turned Hill's name into a hashtag.
Hill, for his part, had a more ambivalent reaction to Pelosi's answer.
"I was actually surprised that she was so open about a lot of the flaws that she sees in the capitalist system ― at least, in her eyes a capitalist system that has arisen from an older, better system," he said. "I didn't expect that."
But Hill said he was also "kind of disappointed" that Pelosi did not address whether the Democratic Party should adopt a more populist platform. "She just completely ignored that question."
Hill, who is registered to vote in California, identifies as an "leftist independent" rather than a Democrat. He voted for Sanders in the primary and then Green Party nominee Jill Stein in the general election.
"As a former Democrat, I had some stuff that I really did want to know about, like if they were going to make any effort to regain a lot of the voters they lost during the election cycle," Hill said.
Although his recent voting pattern might make it tempting to dismiss someone like Hill as a lost cause, his personal story is not that different from many disaffected working-class voters whose support Democrats are so eager to win back. Hill used to be an enthusiastic Democrat and supporter of President Barack Obama. But he grew "disillusioned" with Democrats, he said, when their rosy rhetoric clashed with the economic misery his family was experiencing.
His parents declared bankruptcy three years ago after a drop in his father's income as a construction contractor made it impossible for them to pay their bills. He can attend NYU thanks to a full scholarship he receives.
The bankruptcy "was during the best years of the recovery when everyone was singing [Obama's] praises and saying 'everything's doing so well, America's back on track.' Meanwhile my parents were choosing between having the lights on and putting food on the table," Hill recalled. "It was almost insulting really to feel ignored like that. And I know so many people who have the same story."
The Huffington Post asked Pelosi's office on Thursday if she had anything to add to her response Tuesday night, such as address Hill's query about whether Democrats would embrace economic populism more.
"Leader Pelosi's statement was an indictment of shareholder capitalism and how it's falling short," Drew Hammill, a spokesman for Pelosi, responded in a statement. "We hope that Mr. Hill and other young people interested in economic inequality would join efforts in each of their states to fight for a living wage as Leader Pelosi leads the fight for one at the national level."
"She blew an opportunity to connect the Democratic Party not just with the Democratic base but with people questioning why they supported Trump."
Nomiki Konst, a surrogate for Sanders during the primary who is now an investigative reporter for the Young Turks, is eager to make a place for people like Hill in the Democratic Party. She was quick to praise Pelosi's famously progressive legislative record.
"I have been defensive of [Pelosi]," Konst said. "In terms of what she does in Congress, she does it very well."
"With that being said, she proved herself to be completely out of touch with what's happening last night," she added. "His question was super thoughtful and she blew an opportunity to connect the Democratic Party not just with the Democratic base but with people questioning why they supported Trump."
Konst saw Pelosi's response, which she characterized as "preachy," as symptomatic of some Democratic leaders' condescending view of millennials. Pelosi may simply not be the person to reach that audience, but some Democrats must, according to Konst.
Meanwhile, a radical left emboldened by the Democrats' failure to defeat Donald Trump viewed Tuesday's town hall as more evidence that the Democratic Party is a limited vehicle for change.
"We were very blessed that [Hill] did that" because of the flaws it exposed in many Democrats' message, said David Duhalde, deputy director of the Democratic Socialists of America.
DSA, which mobilizes a broad range of progressives and occasionally endorses Democrats, has seen its dues-paying membership grow from 6,500 people last March to 15,000 people now. It has offered to waive Hill's membership fee and invited him to attend a Brooklyn conference for students over President's Day weekend.
"We're reaching out to everyone as much as possible to make sure that his kind of great actions, and really showing the differences that are going on, will be seen, because we expect hundreds of students to attend," Duhalde concluded. "We are looking for a real alternative to the stale messaging coming from liberal leaders."
This story has been updated to include comment from Pelosi's spokesman.
Sign up for the HuffPost Must Reads newsletter. Each Sunday, we will bring you the best original reporting, longform writing and breaking news from The Huffington Post and around the web, plus behind-the-scenes looks at how it's all made. Click here to sign up!
Before You Go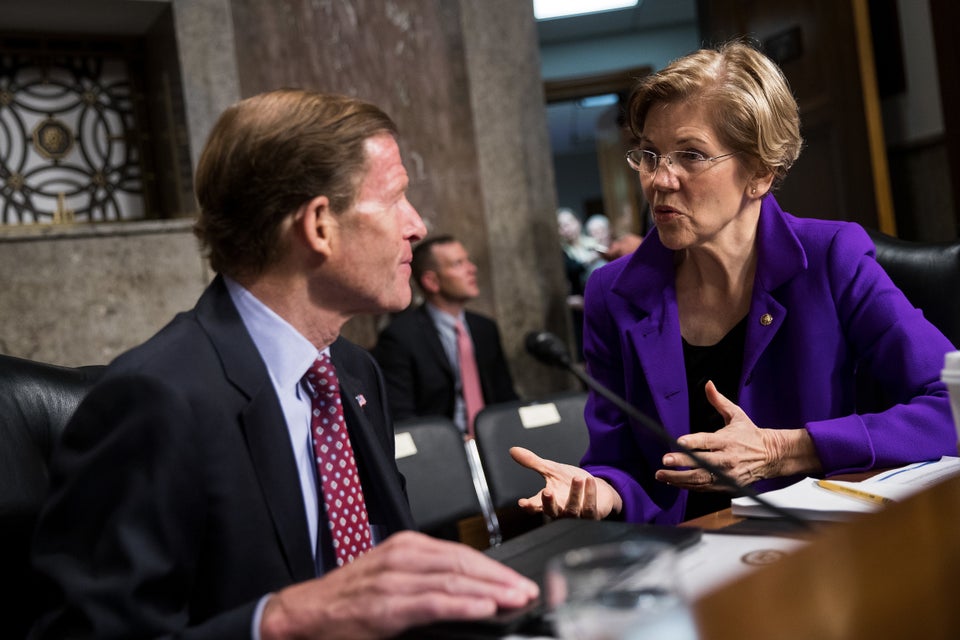 2017 Scenes From Congress & Capitol Hill
Popular in the Community