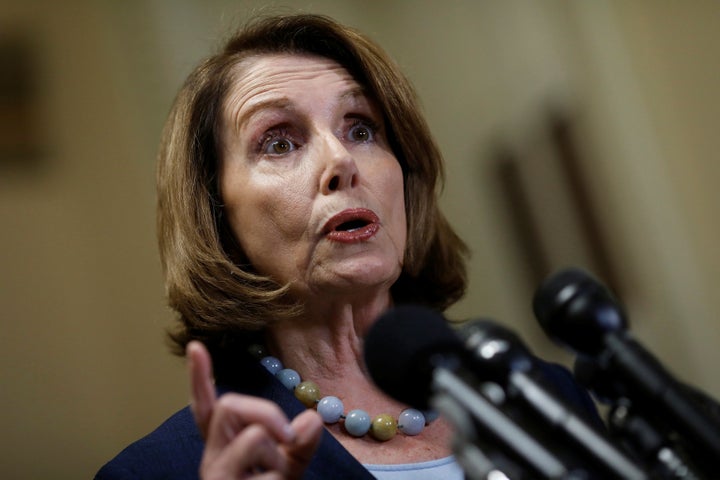 WASHINGTON ― House Minority Leader Nancy Pelosi (D-Calif.) said President Donald Trump and his administration need to "just grow up" and stop doubling down on unsubstantiated claims that former President Barack Obama and British intelligence colluded to spy on him.
In an interview that aired Sunday on CBS's "Face the Nation," Pelosi said it was "really important" that FBI Director James Comey say publicly that there is no evidence of what she called a "terrible accusation."
"Of course it's not true," she said in the interview, conducted on Friday. "So let's just grow up. ... The Justice Department, the FBI has to really clear this. Because otherwise this administration has decided that they, with impunity, can say anything, and it's really damaging."
Trump claimed earlier this month in a series of tweets that Obama wiretapped Trump Tower during the presidential campaign, providing no evidence. The White House has scrambled since then to defend him for it ― even at the risk of alienating a major U.S. ally.
Last week, White House press secretary Sean Spicer cited Fox News commentator Andrew Napolitano, a former New Jersey judge, who said that British intelligence helped Obama with surveillance of Trump. The Government Communications Headquarters, which is the U.K.'s version of the National Security Agency, made a rare public statement to call the claim "nonsense" and "utterly ridiculous."
White House officials assured the U.K. they wouldn't repeat the claim again, according to British Prime Minister Theresa May's spokesman. But publicly, neither the president nor Spicer have shown any remorse, insisting they were simply citing Napolitano.
"All we did was quote a certain very talented legal mind who was the one responsible for saying that on television," Trump said on Friday at a press conference. "I didn't make an opinion on it."
Administration officials still haven't offered any evidence of Trump's claims about surveillance, even at the request of Congress, which has now devoted valuable time and resources to investigate a conspiracy theory the president heard on "Fox and Friends."
House Intelligence Committee Chairman Devin Nunes (R-Calif.) said Sunday that information the Justice Department provided to the committee on Friday had no evidence to back up Trump's claims about wiretapping.
Comey, who heads the FBI, will go before the House Intelligence Committee on Monday and is expected to talk about the matter. He's also slated to talk about Russian efforts to influence the election. He reportedly asked the Justice Department to publicly refute the claim earlier this month and some expect him to do so himself at the hearing.
Calling all HuffPost superfans!
Sign up for membership to become a founding member and help shape HuffPost's next chapter
BEFORE YOU GO
PHOTO GALLERY
Awkward Meeting for Merkel and Trump