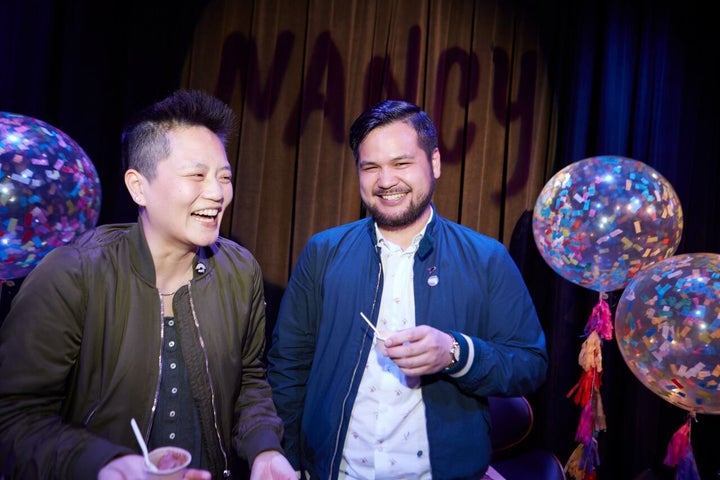 When they met at the Transom Story Workshop for radio professionals in 2013, Tobin Low and Kathy Tu immediately clicked. Still, it would take the pair nearly four years to decide on a project that they found professionally satisfying.
"We just sort of immediately clung to each other. There was an immediate chemistry," Low, 30, told HuffPost. "We were trying to create the thing that we wish we had when we were young."
Both Low and Tu believe they've found the perfect outlet for their creative passions in their new WNYC Studios podcast, the cheekily titled "Nancy." When it launched on April 9, "Nancy" promised "provocative stories and frank discussions about the LGBTQ experience," and it's safe to say that, five episodes in, it's lived up to that vow.
Watch a short video of Low and Tu discussing LGBTQ stereotypes. 
The 12-episode show's latest installment, released April 30, took an in-depth ― if somewhat skeptical ― look at Harry Potter author J.K. Rowling's implication that Albus Dumbledore is gay. Other episodes have featured gay porn stars, coming out stories and interviews with supporters of President Donald Trump who happen to identify as LGBTQ. 
Queer-themed podcasts, of course, are nothing new. But Low and Tu, 31, believe "Nancy" is unique in that their podcast examines LGBTQ issues through an Asian-American lens. Though she and Low were raised in California, Tu was born in Taiwan, a fact which she believes factors heavily into the content and tone of "Nancy." The debut episode, "Hello, hello," saw Tu sitting down with her Taiwanese-American mother, who has thus far struggled to accept her daughter's sexuality, for an emotional series of conversations.  
Listen to the first episode below. 
"We loved this kind of storytelling, and we wanted to bring it to things that we're passionate about, which have a lot to do with our identities," Low said. "We're both queer, we're both Asian, we're both radio producers, so it was like, how can we make something that's informed by all of those things and bring them together?"
As for as the podcast's name, Tu and Low brainstormed (and eventually scrapped) a number of other options. Eventually, they chose "Nancy" in an effort to reclaim a derogatory, if antiquated, term used to refer to effeminate gay men. 
"We went through a laundry list of all the puns that we could possibly think of," Tu said. "None of them really sat right because they were either too on the nose or too weird." Eventually, they settled on the name, which Tu said "worked out great. It refers to a part of culture. It's sort of reclaiming that."
Listeners seem to have taken to the first 12-episode season of "Nancy" thus far. Since its launch last month, the podcast has been featured in both The Guardian and on NBC; New York Magazine's Vulture blog said the show is indicative of "an empathetic sense of how it feels to be young, searching and a work in progress."
In the second episode, Low searches for an openly gay Asian male porn star. 
Still, Tu and Low are aware that the debut of their podcast comes at a time when the LGBTQ community is facing an uncertain future in the Trump era. 
"We always want it to be a place where people, especially queer people, would come, listen and feel affirmed," Low said. "One thing we really try to do is let people tell their own stories in a way that engages in both what is difficult about their experience, and also what is joyful."
Though Tu and Low are proud of the buzz that "Nancy" has been received, they're already planning ahead for the future. The pair said they would love to feature stage and screen star B.D. Wong in a future episode, as well as "Golden Girls" icon Betty White.
"I just really want to put something good and positive into the world," Tu said, "and this accomplishes that, 100 percent."
Calling all HuffPost superfans!
Sign up for membership to become a founding member and help shape HuffPost's next chapter