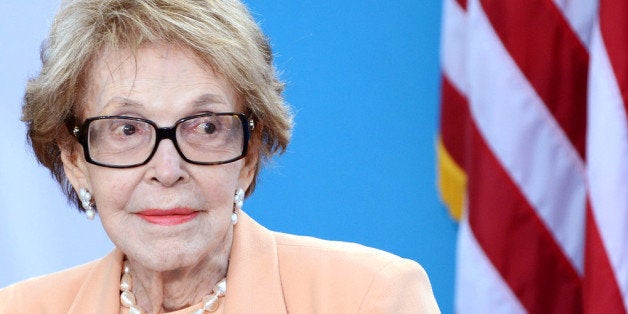 At age 66, she developed breast cancer in 1987, which was found at a routine screening mammogram. She underwent a modified radical mastectomy and had no further postoperative treatments since her tumor was so small and noninvasive when detected (these are the advantages of her having screening mammograms that detected her cancer very early). She was back in action on the national level within days. Her breast cancer was cured by her mastectomy and never recurred, making her a 29-year cancer survivor. She has been a hero to women who were similarly faced with a breast cancer diagnosis.
But she had an untold story that teaches us a lesson about confronting illness and survivorship. At the time she was deciding on what kind of surgery to undergo, medicine had realized that women could have a mastectomy with its severe cosmetic effects, or women could have a partial mastectomy (also called "lumpectomy") with postoperative radiation therapy for eight weeks and thereby save most of the non-cancerous breast and have better cosmetic results. Medicine was fairly sure that results were similar in terms of risk of relapse of the cancer, and that cure rates were similar over five years, but physicians were not sure if long-term (15-20 years) survival was the same for each treatment. Nancy Reagan chose to have a mastectomy.
But Nancy was worried. She had a major role to play in helping the president with his political and national plans and she felt Ronnie needed her by his side. Since radiation after surgery would take eight to nine weeks of daily treatments, she would not be able to travel or be as active publicly as she felt necessary. After discussions with her doctors, she knew patients often had mild fatigue and skin irritation during radiation treatments, and patients needed many follow-up appointments (with the radiation oncologist and for actual treatments).
Nancy could not stand the threat of interfering with her roles as wife, partner, and first lady. She courageously (in face of all the women's health advocates) chose to have the mastectomy. As she said, the advocates were really angry with her and very disappointed. Nancy would not support their agenda, Nancy would follow her own. And as Nancy told me, she never regretted that decision for one moment, and would have worried forever if she had decided to have the lumpectomy and radiation. As she put it, what might have happened to Ronnie or to national decision if she was busy having her own cancer treatments? Having once made the decision, she had no second thoughts about it.
Would you have had that courage? Decisions by patients are usually made in compliance with the physician's advice (which at that time was increasingly in favor of partial mastectomy). But today we know that in the era of shared decision-making, when the patient and physicians discuss all options and the patient decides what treatment to have, the patient's desires and feelings about benefits and risks are very important. Shared decision-making is even a method promoted specifically within the Affordable Care Act.
But even today, many patients are reluctant to share their concerns and worries about treatments and side effects with their doctors. They are embarrassed or even scared to talk about what they might want personally for their comfort or convenience. So Nancy 's story helps us to understand that patients must always have the courage to follow their own personal needs. Her previously untold story can inform women today about the courage they must have to get the right treatments for themselves.
Here are Dr. Cary's tips for you:
• When you are facing a medical decision, especially a decision about which treatments for cancer are best for you, be certain you think about what worries you have about the treatments and side effects.
• Always ask for a complete description of all the benefits, and all the risks of a recommended treatment. Ask what alternative treatments are possible. With the doctor be sure to discuss what are the long-term effects of any treatment. And be sure to understand how much time is required for any treatment and recovery from the surgery, radiation, chemotherapy, and/or immunotherapy. Since supportive care and rehabilitation therapy can help with recovery, find out from the physician what else could help you feel better.
• Be sure to let your doctor know about your fears and concerns and whether the proposed therapy will conflict with your life goals and plans. Be worried if the doctor does not listen or understand what is important to you. See my book Surviving American Medicine for more detailed advice on how to talk with your doctor, and to see how people like Fran Drescher or my patient Michael Landon approached their treatment decisions.
• Consider getting a second opinion if you find the decision difficult or hard to understand, or if you think the physician has not been complete in discussing the benefits and risks.
• Then, you will have been fully informed about what decision might be best for you. You can then make your choice a better one for you.
Use this moment when Nancy Reagan's passing is on everyone's mind to remember the lessons that Nancy heroically showed us. Be strong in facing cancer or life threatening illness, be fully informed, be open and frank with your doctor, and be a survivor.
Calling all HuffPost superfans!
Sign up for membership to become a founding member and help shape HuffPost's next chapter