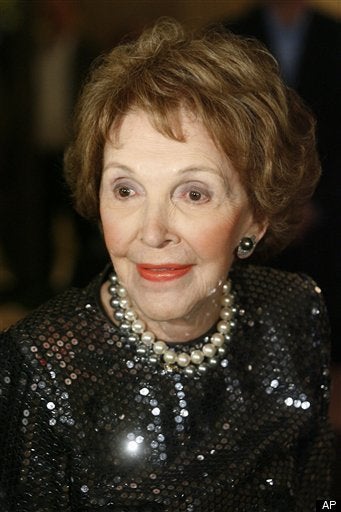 Nancy Reagan sat down for an interview with Vanity Fair's Bob Colacello to tell him about her thoughts on Obama, the conversations she still has with her husband and her feelings about the Bush family. Read excerpts from Vanity Fair interview below and click HERE for more of the Nancy Reagan interview.
NEW YORK, N.Y.--Nancy Reagan tells Vanity Fair special correspondent Bob Colacello that "it sounds strange, but ... I see Ronnie. At nighttime, if I wake up, I think Ronnie's there, and I start to talk to him. It's not important what I say. But the fact is, I do think he's there. And I see him."

"I miss Ronnie a lot, an awful lot," Mrs. Reagan tells Colacello more than once. "People say it gets better. No, it does not." Does she ever feel like giving up? "No. Ronnie wouldn't like that."

During her talk with Colacello, a rare, in-depth interview which took place at her home in Bel Air, California, Mrs. Reagan also discusses the Obamas, the Bushes, entertaining in the White House, her contentious relationship with Donald Regan, and being re-united with Ronnie in the afterlife. "Billy Graham said it," she tells Colacello. "I said to him, 'Just tell me if I'm going to be with Ronnie again. Just tell me that and I'll be O.K.' He said, 'You are.' And I said, 'O.K.'"....

Obama did not invite Mrs. Reagan to the announcement ceremony at the White House to celebrate the reversal of Bush's policy on stem-cell research, attended by 30 members of Congress and several prominent advocates of stem-cell research. "I would have gone, and you know I don't like to travel," she tells Colacello. "Politically it would have been a good thing for him to do. Oh, well, nobody's perfect. He called and thanked me for working on it. But he could have gotten more mileage out of it."
REAL LIFE. REAL NEWS. REAL VOICES.
Help us tell more of the stories that matter from voices that too often remain unheard.