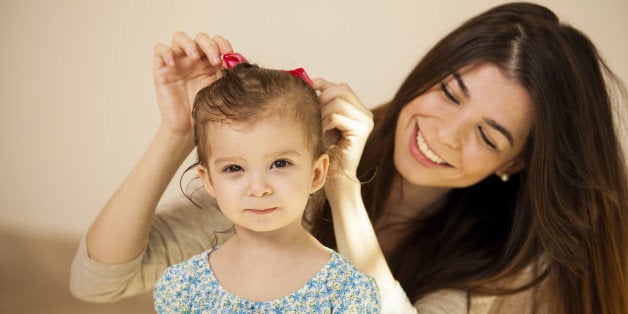 Finding the right kind of nanny to match your particular work/life situation is critical in creating a calm and stress-free home. If you make the right nanny match, everyone is happy... but if you choose the wrong match, things can get ugly in a hurry. To avoid this unnecessary stress, I coach my clients to figure out what kind of nanny they need based upon the term "nannyology." This refers to the process of understanding who nannies are, how they think and how they work. One part of nannyology is learning the three nanny responsibility types so moms can figure out which one best matches their needs.
The Three Nanny Personalities
After hearing hundreds of stories and mediating countless mom/nanny relationships, I started to notice three distinct personality types which I named: The Parental Unit Nanny, The Partner Nanny, and The Executor Nanny. Each of these types is distinguished by their level of autonomy and their ability to handle -- or not handle -- different kinds of responsibility. It's important to know which one you're looking to hire from the get-go, because all too often parents make the mistake of hiring one when they really need one of the others.
Parental Unit Nannies are proactive, motivated, in-charge and most importantly, capable of handling every single aspect of her job without help from the parents. They work best with parents who are actively looking for someone to take the lead in their absence and "just take care of it." This type of nanny functions as the "parent in charge." Parental Unit Nannies make it easy for their bosses to transition into "work mode" or "rest mode" because they know that everything at home is being handled perfectly. Parental Unit Nannies can run the entire home, manage all of the children's' activities, schedule play dates, get the putty for Bobby's science experiment, take Ruby to the doctor when her cough sounds worse, talk to Ali's teacher about the mean girl on the playground and have dinner on the table by 5pm. Of course even the greatest Parental Unit nannies need training in order to do the job well, but they are the type of nanny usually best suited to a full time working parents or moms who are really busy and need to clone themselves. It can be hard for a parental unit nanny to stay home all day and take directions when she is used to being in charge and on her own.
The Partner Nanny is named for her ability to be the mom or primary caregiver's partner. She can shift her duties and level of care based upon the needs of the mother. When mom is out, the Partner Nanny runs the show and she is able to keep the house and children moving along smoothly and steadily. When mom is home, the Partner Nanny does not necessarily step behind mother, but steps beside her completing household tasks in unison. A Partner Nanny is completely in-sync with mom and together side-by-side, tackling the care of the children and running the home. Being a Partner Nanny is challenging since it can be difficult to shift between being "the boss" and then just "the helper." Nannies usually like to know they are one or the other and Partner Nannies need to be highly adaptable and carefully attuned to the needs of the mother. A Partner Nanny may take the older children to school, run to the store for new ballet shoes, take the baby to music class, and when mom returns, she may shift her focus to laundry, cooking and cleaning.
The Executor Nanny carries out the parents' directions. She is typically someone who works with an at-home mother or a mother who works on a part-time basis. In her role she would handle childcare, but rarely all on her own. She would also handle a great deal of house care since the mother is often home managing the children. An Executor Nanny could do everything from heavy cleaning, and cooking, to taking the baby for a walk and playing princess with the toddler. She typically would never be asked to run the home and the children's activities on her own. These nannies usually watch one child while the mother is out with the other siblings or perhaps watching all of the children for short periods of time while mom might be out running errands, at the gym or on a work project. Her mindset is to "assist" and "execute" items set in motion by the mother -- precisely the opposite of the more proactive Parental Unit Nanny who may be left to plan the entire week on her own.
The key to matching in any relationship, let alone this complex personal/professional relationship, is stating your wants and needs upfront. By understanding that "one nanny does not fit all" and knowing these three nanny personality types moms can find or train to create their ideal match!