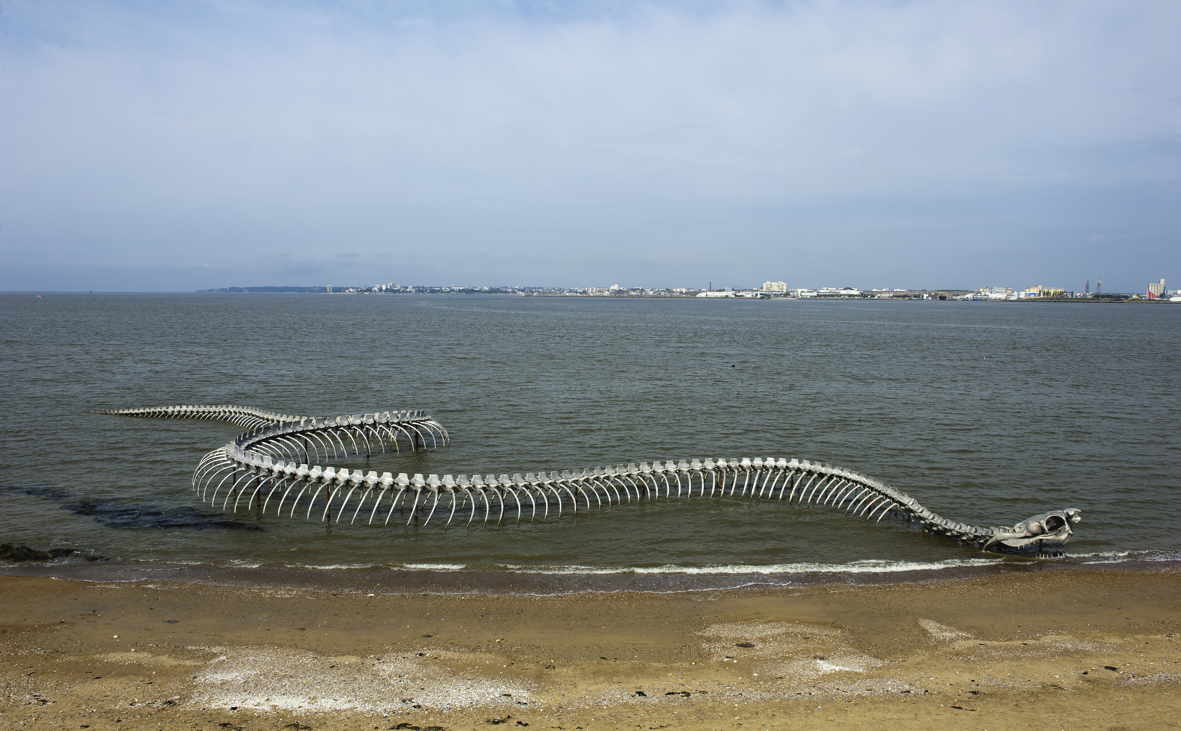 Photo© Bernard Renoux
The city was in dire straits.
One of the biggest shipyards in the world, where countless ocean liners, including both the SS France and Queen Mary 2 were launched, had shut down. The metal factories lay silent. Prospects were grim of for this tired old town at the head of the estuary that spilled France's longest and wildest river, the Loire, into the sea. But its new young mayor had a crazy idea: invest in art. And not just pretty things, but edgy, troubling, strange art works. And don't just put them in museums. Plant them outdoors where everybody would stare at them and have to get used to the idea of Contemporary Art.
Now, Nantes is the hot spot in the European art world, a middling-sized city re-thought, re-imagined, re-built on the notion that public art is a smart investment that promotes itself as France's most "bizarre" city.
Last year some 200,000 visitors passed through Nantes during the high summer tourist season, spending 42 million Euros. This year's tourist marketing campaign, entitled simply A Voyage to Nantes inscribed over an image of a family in an old VW van, aims to draw 40,000 more visitors. The campaign is focused mostly on the city and the region's often startling art installations. One of the most remarkable is an 18th century stone house created by Jean-Luc Courcoult, a local theatre producer, that appears to be swept down into the strong currents of the Loire River.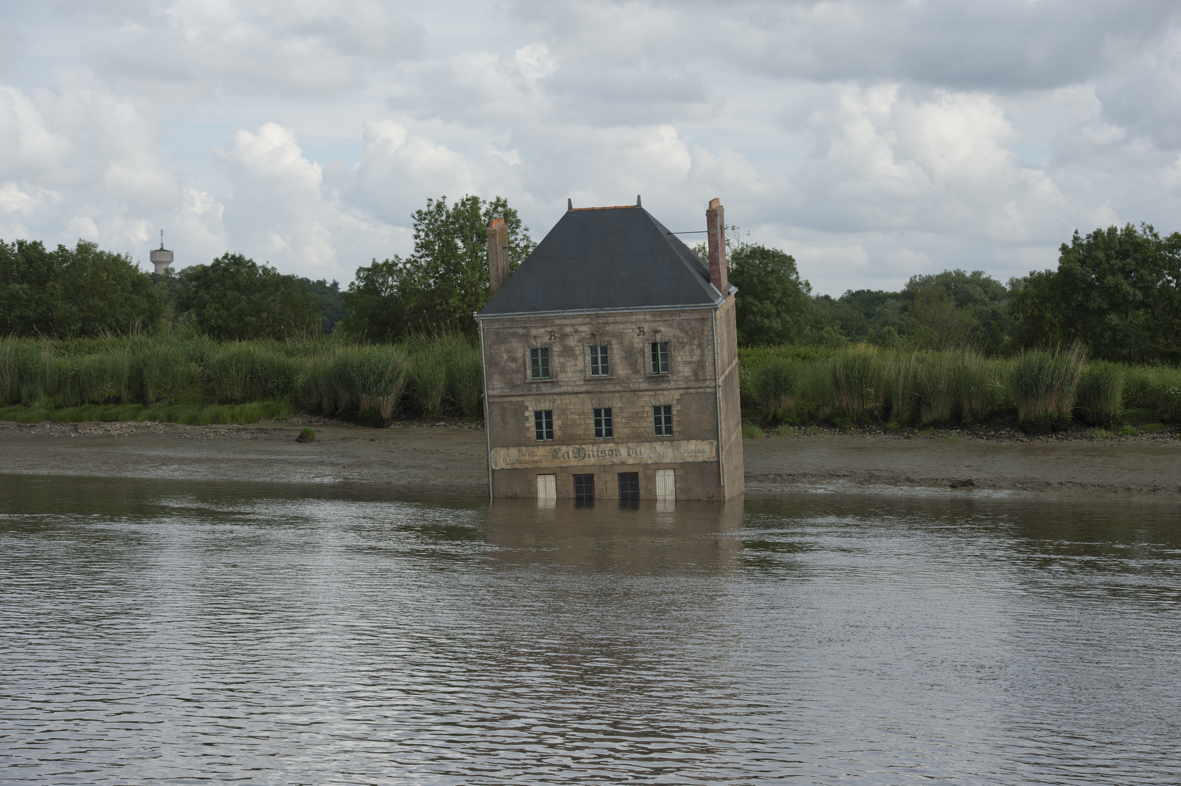 Photo © Gino Maccarinelli
Another sculpture further down the estuary is a 200-foot skeletal creature created by Chinese artist Huang Yong Ping; anchored to the beach, its head and tail may be all that's visible depending upon the height of the tide. A complex canal bears a vaguely Dali-esque fishing boat that appears to be bent and sagging over one of the locks.
Possibly most sinister of all is the nearly intact World War II U-Boat and submarine station built by the Germans at Saint-Nazaire in the western edge of the estuary. The building's massive reinforced concrete walls and floors appear nearly as secure as they were during the war -- complete with internal sub docking stations. While Allied air strikes destroyed most of the town, the submarine port was all but indestructible -- a sore memory and a painful embarrassment that the Saint-Nazairians tried for decades to ignore. Then came a radical idea from landscape designer Gilles Clémont. He installed a series of "gardens" on the rooftop, transversed by a tropical canal.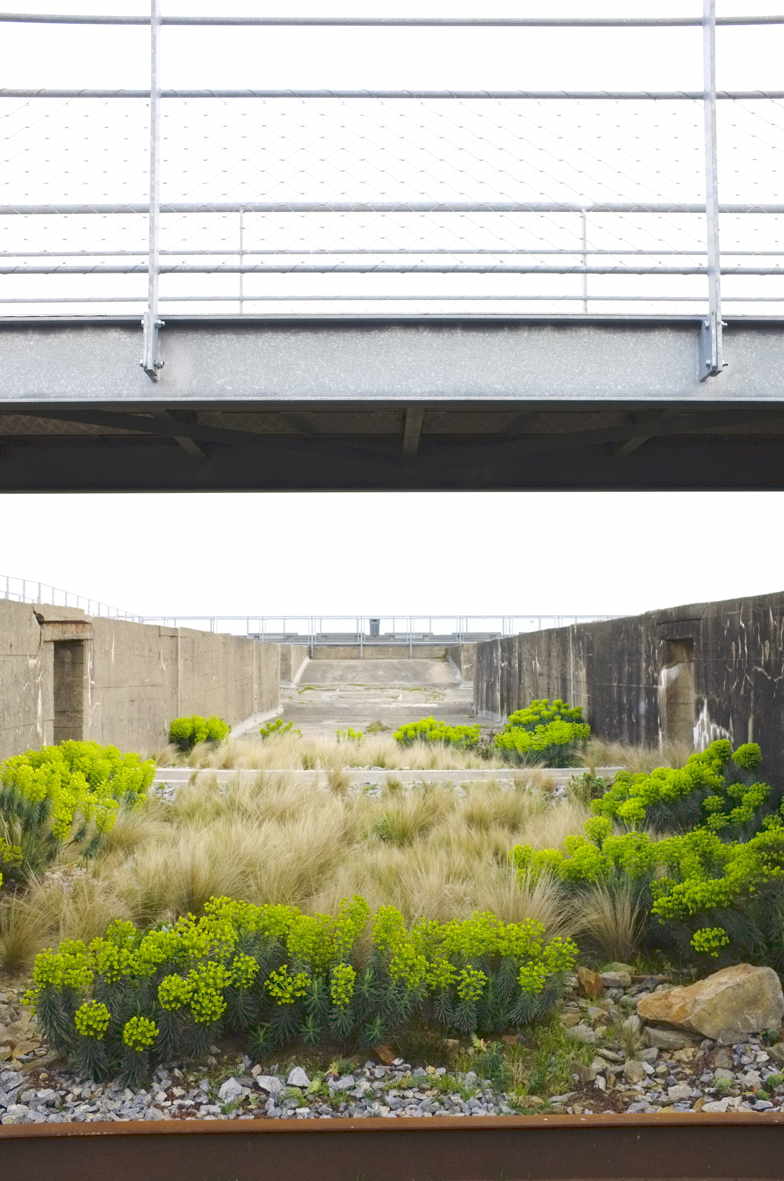 Photo © Gino Maccarinelli
The first garden holds nothing but seats scattered on the bare concrete. The second supports two inches of earth and carefully selected dry weather plants. The third has a few humps of dirt and scattered rocks; it has the most vegetation -- all from seeds carried on the soles of peoples' shoes or dropped by the wind or passing birds. Like many of the installations it is intended as a meditation on man's works and nature's revenge.
This spring's two-day tour of Nantes and the estuary linking it to Saint-Nazaire was an exhausting adventure aimed at showing off more than sixty sites, outdoor installations and museums including an ancient fountain dedicated to Poseidon but this summer covered by a plywood climbing "mountain" suggesting the headwaters of the Loire in France's massif central.
Jean Blaise, the "animator" of Nante's cultural rebirth has been at it for a quarter century, hired by the newly elected Socialist mayor Jean-Marc Ayrault in 1989. He says his and Ayrault's strategy has always been clear: "Art is an investment, not a luxury." They were hardly the first to see the value of a public commitment to public arts. But the strategy was not naïve. First came a summer of musical and theatrical performances from groups all over Europe, intended to break the air of sadness and defeat that came from the cities' industrial decline. The shows played in parks, garages, department stores, even in private houses and apartments. Next, as the town moved toward plastic arts, more and more outsiders came, further boosting local confidence, leading finally to still riskier bids financed jointly by public (local, regional, national) sponsorship and corporate collaborations.
Consistently Nantes puts 15 to 20 percent of its budget into public art. Now, says Blaise with a twinkle, "We have created a truly ville bizarre."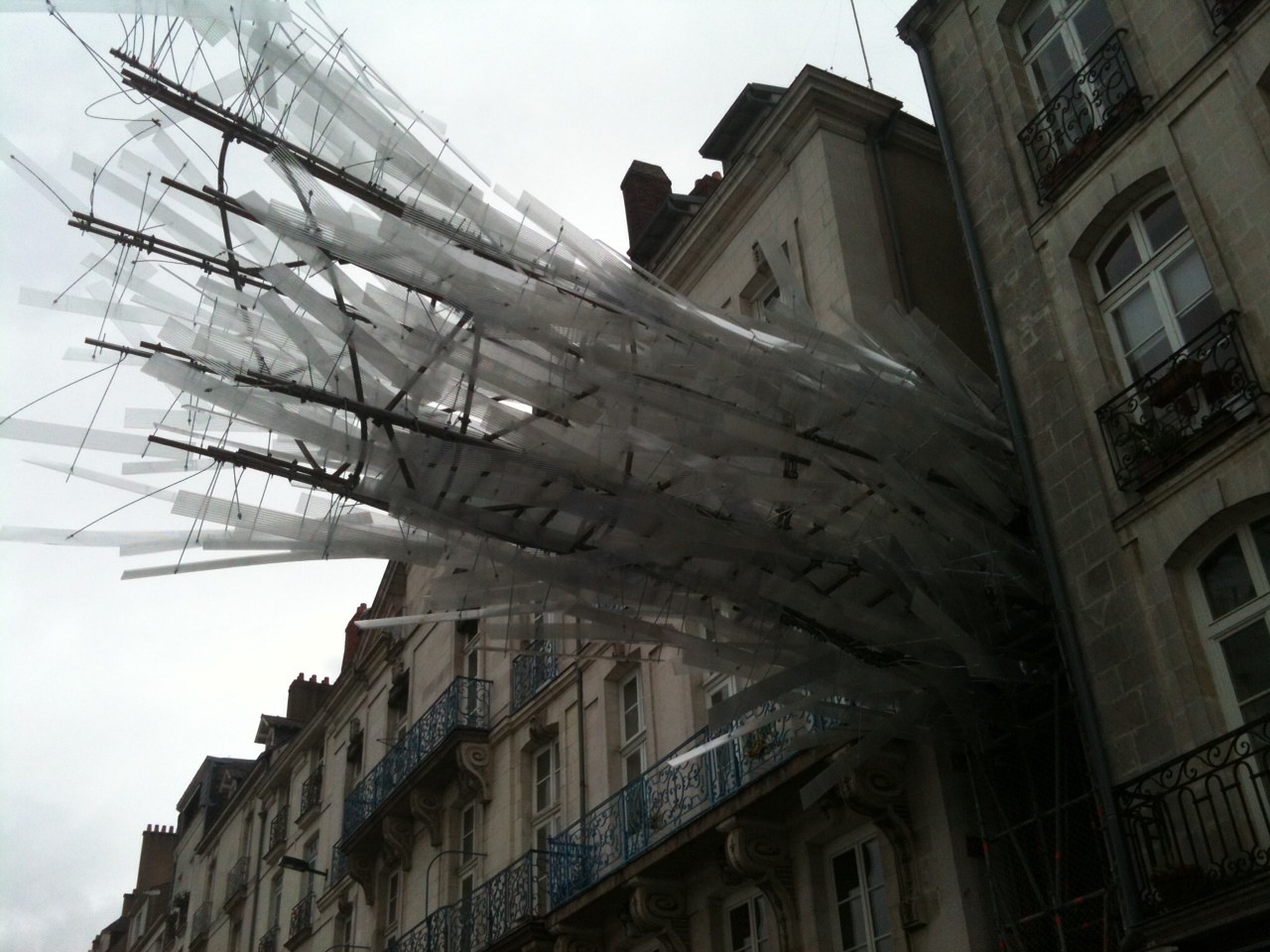 Right along side the "edgy" art have come popular gambits: one former cookie factory, now called Le Lieu Unique (or The One and Only), has become a bar/café/gallery where this year artists have created an "art playground." There are putting "greens" (colored red) where the clubs take the form of ladies' spiked heels, a virtual, electronic basketball hoop that requires 3-D glasses and a badminton court laid out with nets of variable heights. Walk along the streets, following a discreet rose trail guide painted on the sidewalks and artwork leaps out. One of the most striking, created by architecture students at the University of Nantes, is a bouquet of translucent plastic sheets that seem to be erupting horizontally from a small alleyway right next to a café.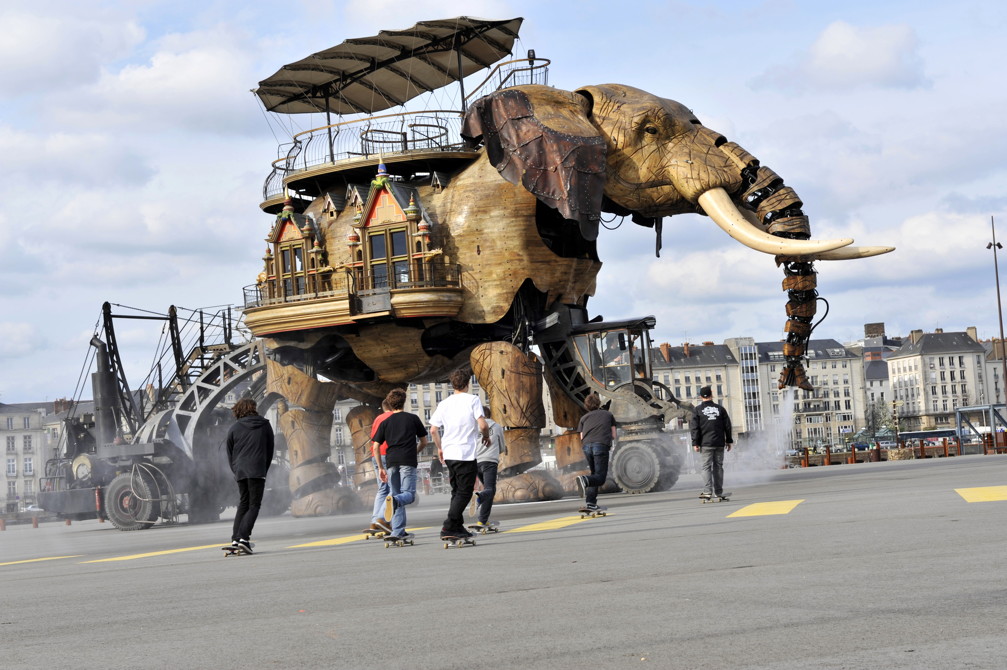 Nothing, however, trumps the four-story mechanical elephant or the five story carrousel where children of all ages fit themselves inside body cages of fish and deep-sea monsters -- all designed and built by a city-launched company called La Machine that took over Nante's abandoned central docks.
From the beginning France's conservative UMP party (until last month led by the little lamented Nicolas Sarkozy) was a consistent doubter that such public investment in "culture" could generate any real returns. So far, however, the mixture of serious art created by world-class artists, many from China and Japan, seems to have been proved a solid formula for rebirth. It's university is the nation's second largest, and it steadily outpaces all other French towns as the place young people want to move into. Or as the former mayor and now Prime Minister Jean-Marc Ayrault said in his parting speech to the town last week, "France cannot change without culture, without its artists. During this economic crisis culture is not a luxury. It is essential."
All photos © Voyage A Nantes 2012
Popular in the Community