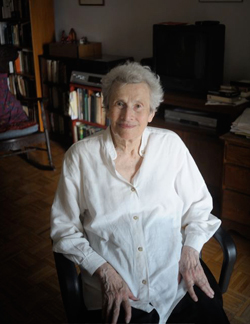 Photograph of Naomi Replansky in her Upper West Side apartment. The family photo is used with permission of the poet. Photo credit: Michael Y Bearman
Last May, as part of his concluding talk as poet laureate of the United States, Philip Levine praised the "remarkable" power of a little-known poet he read in his youth named Naomi Replansky. He described echoes he heard in her of Blake and Cesar Vallejo, argued she was unique in her era for how well she wielded "the lessons of the best surrealist poets" and called her a "warrior for justice."
The Fresno-based poet also read his large audience at the Library of Congress a poem in which Replansky wed her sense of personal vulnerability to the social suffering she witnessed during the Great Depression with a dream-equipped realism:
When there was one kiss / against ten curses / and one loaf / against ten hungry / and one hello / against ten goodbyes / the odds stalked / your crooked steps.
The poem, called "You Walked a Crooked Mile," appeared in a literary journal in 1948. Replansky, a New Yorker who is now 94, was then between two stays in Los Angeles, both of which injected her into key phases of the city's literary history. The first time, in 1946, she came partly to be a translator for Bertolt Brecht, mingling with other émigré writers of the time. Returning in 1952, after Scribners published her first book, she lived mostly in Venice, CA, connecting with L.A. poets associated through the McCarthy era with Coastlines magazine, poets like Don Gordon and Bert Meyers, who are being rediscovered these days, though none with the bright spotlight Levine shed on her.
Another sign of a Replansky revival includes a Collected Poems, newly out from Godine; a book Levine said in a recent interview he didn't know of when he spoke of her. The modest-looking book contains 135 poems by her and nine translations. The cover image shows the sensitive face of a young woman against that of an old one. That old face comes alive with liquid shifts of feeling when I visit the poet in her book- and art -filled apartment on Manhattan's Upper West Side. Still vigorous, she speaks with rueful self-acceptance of the long patience she's devoted to her relatively small body of work. "There's that old saying about how inspiration is waiting outside in a thunder storm for lightening to strike," she said. "That's been my life."
She's published three books and one chapbook, rarely less than 20 years apart. She started writing at ten; riding "surges of feeling," she disciplined by 15 with a poetic craft beyond her years, forging a plain-spoken, yet highly allusive, style from a stew of influences that included William Blake, black spirituals, Latin American Surrealism and Mother Goose. She pulled in the socialist ideals nurtured by a childhood of working-class poverty, in the secular, Jewish home of immigrant parents. Born months before the end of World War I, long before any formal gay consciousness, she became boldly self-liberated, writing poems to a girl she fell in love with in high school. She polished poems beginning in her teens into her 20s, getting into literary journals.
She was 33, working on a factory floor in Brooklyn, when she got a call from the legendary editor John Hall Wheelock, who said Scribners would publish Ring Song, her first book.
It was warmly reviewed in the Saturday Review and elsewhere, nominated for the National Book Award. It won her respect as a poet's poet from others who wore that mantle --George Oppen, for example, wrote her a letter of praise and they became friends. But, she was hurt by one particularly sharp review, and found the sudden exposure traumatic. "The whole public side of it," she says, made her "flee to Los Angeles."
She didn't publish another book until 1994. But, she always made friends with some of the most interesting writers around, often ones of literary or historical interest, including Grace Paley and the well-known poet Marie Ponsot. For 26 years, she's shared her life with the prose writer Eva Kollisch, who escaped from Hitler's Europe in the famous Kindertransport. As a young woman, Replansky met Brecht through a friend in New York, and their association continued. While in LA, she translated a Brecht poem called "The Swamp," which she says probably described the morphine addiction of the actor Peter Lorre, a close friend of Brecht in Europe and California.
In L.A. in the 1950s, she knew the highly regarded poet Tom McGrath. She keeps the signed typescript of a poem he wrote to her when she left L.A. in 1959 for San Francisco, where she lived until 1964, when she returned to New York. It teased her for being in foggy San Francisco instead of the "Greek and classic light" of LA. In fact, she'd hoped to spend part of the decade in Europe, but couldn't because the State Department pulled her passport in 1951. She believes it may have resulted from her friendship with Brecht, whose leftist politics ultimately led to his testimony before the House Un-American Activities Committee (HUAC) and his return to Europe.
Replansky was also friends with Richard Wright, author of Native Son, and also poetry. She calls the exchanges she had with Wright, describing him as the first black intellectual she knew well, as "eye-opening" about the experiences of black people in America.

Replansky speaks about her "very painful" crisis of having the idealism she'd invested in the Soviet Union crushed as reports of Stalin's horrors spread in the 1930s. By her second L.A. stretch, her turn away from Soviet Communism was firm and a 1950s poem in the new book -- "Revelations" -- speaks of how "saints were revealed as murderers."
She expected day by day to be called before the HUAC, even began a poem about it: "I declare I am not a friend of this committee." She says she knows she was followed by FBI, that agents interviewed neighbors. She worked in factories and offices, and says she "mysteriously lost jobs."
McGrath taught at Los Angeles State College, but lost his job after being called before the HUAC in 1953. Replansky, McGrath and other poets who lived and wrote about those times appear in a 2002 book called, Poets of the Non-Existent City, by Estelle Gershgoren Novak.
The day after we revisited that period in an interview, Replansky told me she'd had trouble sleeping because worry swelled that the FBI might pursue her again. "It was an irrational fear," she says. "But at that time it was rational fear."
She's also haunted by "that awful review" she got in 1952. It was from a young poet named Lawrence Ferling, before he restored the full length of his name: Ferlinghetti.
He reviewed Ring Song before he became famous as a poet, publisher and co-founder of the City Lights Bookstore. It ran on September 7, 1952 in the San Francisco Chronicle, and Replansky can still quote lines of it by heart:
"One has a feeling the poet does not use her mind enough when writing, as if merely to observe were enough," he wrote. "But, her observation is not particularly acute, her poetic perception hardly exceptional."
Asked about the review, a 93-year-old Ferlinghetti wrote an email from San Francisco rebuking his younger self for insensitivity: "I was young and writing my first art and poetry criticism and had no experience of how a devastating review can wound a poet or a painter. I have since experienced it."
When I read the Ferlinghetti email to her, Replansky lamented that she had such trouble letting go of the old "bitter pill." It clearly dissolved when she talked of Levine's homage in Washington, which went into depth about the multi-layered work Levine said should give her a place among the important poets of the 20th century. She'd heard about his talk to a Washington audience of about 300 people, but hadn't seen the full comments until I took out the two printed pages they covered. She read them slowly, then smiled widely.
"This," she said, "is the best review I've had in 60 years."
Popular in the Community