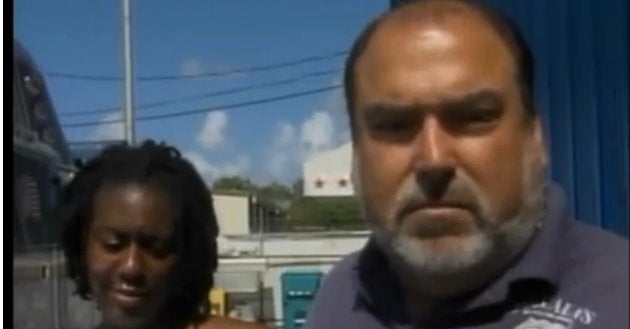 A Florida woman set on fire at a gas station earlier this month emerged from the hospital to find herself saddled with hundreds of dollars in car towing charges.
However, after receiving a multitude of phone calls and e-mails from strangers offering to pay the woman's bills, the towing company is waiving the fees altogether.
The horrific attack occurred on June 11 when Naomie Breton, 34, was meeting her ex-boyfriend Roosevelt Mondesir, 52, outside of a 7-Eleven in Boynton Beach. Mondesir allegedly doused Breton in gasoline and then lit her on fire. A graphic surveillance video shows Breton first trying to get away from her ex, then running through the parking lot in a ball of flames.
Mondesir was charged with attempted first-degree murder and is being held without bail. Breton was taken to a local hospital, where she was treated for second- and third-degree burns.
Zuccala's Wrecker Service had responded to police requests to remove both Breton's Mercedes and Mondesir's Jaguar from the parking lot. Since Breton's name was on both titles, she found herself hit with the towing fees, which amounted to over $600.
The Florida woman was outraged by the fees. "It's not like I had a choice of where my car went," she said in a WPBF interview. "I was on fire." Even worse, the Sun Sentinel reported, the amount was simply more than she could comfortably afford.
Breton, however, was apparently not the only one angry. Andrew Zuccala, owner of Zuccala's Wrecker Service, told WPTV he has received nonstop phone calls and e-mails from people offering to help pay, and from those condemning the towing company for charging Breton at all.
Zuccala was moved by the outpouring of public support for Breton, WSVN reports, and he has written "NO CHARGE" across all of her bills in large black letters. "I'm giving her car back, and we are good to go," he said.
REAL LIFE. REAL NEWS. REAL VOICES.
Help us tell more of the stories that matter from voices that too often remain unheard.