Many of my friends look at me like I am crazy, but I am a big fan of bringing my kids to Wine Country. Why not? If they are going to whine, I'll at least drink some wine. If they are going to be outside, why not play in the country?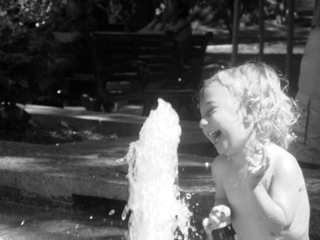 Truth is, Wine Country houses families just like every other place on the planet. So why not enjoy the pleasures of California's most relaxing region? Napa Valley might lure the celebs and honeymooners, but it also knows how to welcome the kiddos.
Here's how to do it: Pick a hotel that isn't snooty, or geared towards romance seekers. Places with a pool are a plus, especially in the height of summer. I definitely have some favorites listed in my Northern California: An Explorer's Guide, but I'll share my top family friendly hotel here: Calistoga Spa and Hot Springs. Newly renovated, with four hot springs pools, a spa, BBQs, and modest rooms, this Calistoga fave has been luring families for decades.
Another option is to camp at Bothe Napa Valley State Park. This park has a pool and hiking trails galore, and it seems no one knows about it. Really!
In summer, Calistoga's public pool caters to families, boasting a kiddie pool with fountains and a diving board. Not to forget the wealth of hiking trails in the hills hugging the valley. Plus every small community in Napa Valley has amazing playgrounds (for a list download my tablet and smartphone app Napa and Sonoma With Kids). Add to the mix that the Napa Valley Wine Train actually has family friendly BBQ nights on their open-air Silverado Car. And don't get me started on the food. Even the new La Condesa has a kids' menu.
I told you Wine Country is family friendly.
Yes, you might go to Wine Country to relax, and might think that schelpping your kids into wineries and upscale eateries is unsavory (and by all means if Grandma can watch them for a weekend, go for it! Go big! Stay at Meadowood and rock French Laundry). But if you are like me and think your kids should experience the world, even places not meant for them (don't get my son Kai started on Las Vegas), then bringing them to places where sophistication is important, but not necessary, allows them to grow as humans.
You see, Napa Valley may earn its cash from tourists and wine lovers, but there are plenty of kids who grew up right in Napa and St. Helena and Calistoga, who will tell you that they grew up in the country: a fine place for a kid to grow up, and an even better place for children to visit.