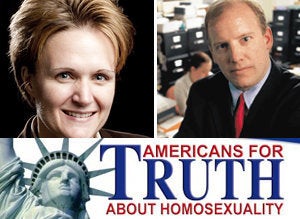 As reported by Chicagoist and Huffington Post blogger Joseph Erbentraut, hate group Americans For Truth About Homosexuality are "delighted" to announce their "Truth Academy," which will once and for all teach young people how to fight the homosexuals who are "corrupting" their "hearts and minds."

Their new "Truth Academy," to be held August 5-7 in Carol Steam, which will train "pro-family" advocates how to counter so-called "homosexual misinformation."

Featuring instructors including former Family Research Council member Robert Knight, Liberty Counsel leader Matt Barber and even Greg Quinlan of Parents and Friends of Gays & Ex-Gays, the "rigorous" weekend of instruction costs just $99 for attendees between the ages of 14 and 25 or $199 for adults. And one other important thing: you'll apparently need to prove you're not in favor of LGBT rights in order to attend.
That's right, you must PROVE you are not in favor of gay rights to attend. Peter LaBarbera, who heads AFTAH, wrote a lovely letter to those interested (and to horrified bloggers) on the group's website. LaBarbera writes:

"Let's face it: much of the conservative establishment has dropped the ball on fighting the homosexual agenda (or given up entirely), so AFTAH is stepping up to train a new generations of activists to contend with the sexual sin movement that has fooled so many Americans into treating a human wrong -- changeable same-sex behavior -- as a 'civil right.'"
Oh, we almost forgot to mention the best part. Anyone generous enough to pay for a young person to have their mind filled with lies and hate about gay people, will get one of two "excellent books exposing the homosexual agenda" FOR FREE. The tough part will be choosing between, "Homosexuality: A Freedom Too Far," or "Out from Under: The Impact of Homosexual Parenting."
Popular in the Community