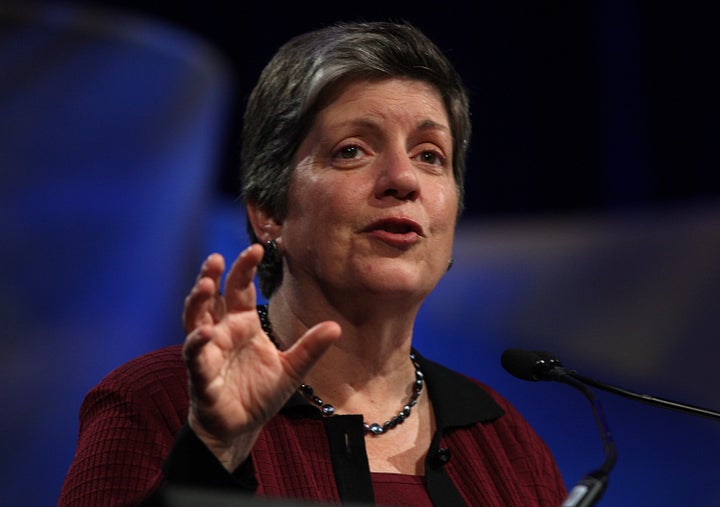 WASHINGTON -- Homeland Security Secretary Director Janet Napolitano defended her agency's rollout of Secure Communities, an immigration enforcement program, Monday. Her defense came just days after a Democratic congresswoman accused DHS of acting deceitful, "arrogant and stupid" in its expansion of the program.
Secure Communities, an Immigration and Customs Enforcement program that shares fingerprints between the FBI and DHS, has come under fire from advocacy groups for netting a large number of non-criminal undocumented immigrants. Although the program's mission, as defined by DHS, is to detain and deport criminals, the information sharing also leads to the deportation of a large number of people who are never convicted of crimes, including victims of domestic violence who are put in removal proceedings after reporting abuse.
Despite complaints about the program -- including from a number of jurisdictions that asked to opt-out -- the Obama administration has rapidly expanded Secure Communities and made the program a central component of a record-level immigration enforcement.
Last fall, DHS announced that the program was effectively mandatory -- even though internal documents from DHS show that officials were unsure whether or not they could force local jurisdictions to participate without a Congressional mandate.
"This whole opt-in, opt-out thing was a misunderstanding from the get-go ... and we have tried to correct that," she said, adding that local governments cannot "exclude themselves" from releasing fingerprints to DHS.
Local law enforcement officials in some jurisdictions, including Arlington, Va., Santa Clara, Calif. and San Francisco, attempted to opt out of the program last summer, after the agency released directions on how to do so. But they received mixed responses when they asked whether and how they could stop sharing data with the program, and eventually were informed that opting out was impossible.
Rep. Zoe Lofgren (D-Calif.) the top Democrat on the House immigration subcommittee, told the Los Angeles Times on Friday that she will call for an investigation into Secure Communities, alleging that DHS officials misled the public about whether or not the program was voluntary. Lofgren's office conducted an investigation of materials released by the agency, finding that DHS officials internally discussed whether the program could be imposed on local law enforcement, even after telling Congress it was mandatory.
"It is unfortunately clear that the Department was dishonest with members of Congress, including me, as well as with local communities and states," Lofgren said in a statement after the LA Times story was released. "It is unacceptable for any agency to engage in this type of dishonesty, knowingly misleading the public and members of Congress while trying to maintain 'plausible deniability.'"
Lofgren has not yet officially called for an investigation, but said in her statement that DHS was wrong to impose the program despite the wishes of local police.
"[F]or DHS to believe that it knows better than local law enforcement what is best for local law enforcement is both arrogant and stupid," she said.
Local officials are continuing to push back against Secure Communities. Critics of the program say they support immigration enforcement, particularly against criminals who are dangerous to the community. But they argue that Secure Communities has too few safeguards in place for people who are caught up in the program as victims, witnesses or targets of racial profiling.
Members of the county council in Montgomery County, Md. introduced a resolution on Tuesday that would keep the county out of the program. The council members are hoping to stop Secure Communities in the jurisdiction before it starts.
Part of the concern in Montgomery County stems from deportation data from neighboring Prince George's County, where DHS has deported more than 200 residents since December 2009. Prince Georges County has the second-highest rate nationwide of non-criminal deportations under Secure Communities, according to data from a coalition of groups opposed to the program. Nearly 150 undocumented immigrants who had never been convicted of crimes were removed under the program.
"Our precious local resources should be spent to protect, educate and care for all of the County's residents," Gustavo Torres, executive director of Latino advocacy group CASA de Maryland, said in a statement in support of Montgomery County's resolution. "We are proud to stand with our elected leaders today, as they act to promote inclusion and public safety for all."
UPDATE, 2:55 p.m.: The Trust Act, a California state assembly bill that would allow jurisdictions to opt out of Secure Communities, passed through the Assembly Committee on Public Safety with full support from Democrats on Tuesday. The bill is sponsored by Assemblyman Tom Ammiano, a Democrat who represents part of San Francisco. Chris Newman of the National Day Laborer Organizing Network, part of the Uncover the Truth effort against Secure Communities, praised the committee for approving the bill.
"California will not allow the Arizonification of its law enforcement agencies," Newman said. "The TRUST Act is a modest measure meant to bring some transparency and confidence back to law enforcement after ICE's rogue effort to enlist police as frontline immigration enforcers."