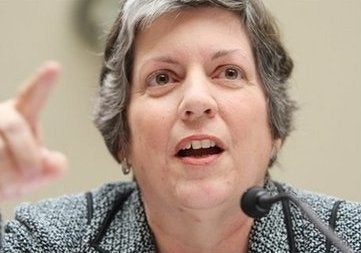 PHOENIX -- The new Homeland Security Secretary Janet Napolitano, who was known as the "Education Governor," had some parting advice for her Arizonan colleagues who face a $1.6 billion budget shortfall. She implored the Republican-led legislature to make "wise choices" in cutbacks that would not "dim the bright future" of Arizona.
Republicans already controlled both the Arizona House and Senate, and with Napolitano gone, Republican Secretary of State Jan Brewer automatically ascended to the governorship. Although Brewer has said little about her strategy to meet the budget shortfall, Republican leaders in both the House and Senate have proposed plans that would dramatically alter public education in the state of Arizona.
Senate Appropriations Committee Chair Russell Pearce (R-18) and Arizona House Appropriation Committee Chair John Kavanagh (R-8) are leading a charge for massive cuts in public education across Arizona. The Pearce-Kavanagh proposal includes $631 million cut from the Arizona university system over 18 months, a 10 percent across-the-board cut for public elementary and secondary school districts, elimination of all-day kindergarten and early kindergarten, and elimination of $125 million in school tax credits currently provided to individuals and corporations who donate to public education.
Last year, then-Governor Napolitano urged lawmakers to work on a bipartisan plan to avert the impending budget crisis, but most elected officials were preoccupied with re-election campaigns. After the election, when Napolitano was named as the likely new Homeland Security Secretary, the Republican-led legislature decided to wait for the automatic ascension of fellow-Republican Janet Brewer to the governorship. In the meantime, the budget shortfall became a budget crisis.
The state budget shortfall is $1.6 billion for the 2009 fiscal year (July 2008 - June 2009) and more than $3 billion for the 2010 fiscal year (July 2009 - June 2010). Under the Pearce-Kavanagh proposal, roughly two-thirds of the money needed to meet the shortfall would be extracted from the universities. The rest of the cutbacks are primarily to elementary and secondary education and health care.
According to a formal statement from Arizona State University President Michael Crow, the proposal calls for a 35 percent budget cut for the remaining five months ($70 million) in this fiscal year and another $155 million cutback next fiscal year. Pearce and Kavanagh claim, however, that when including the billions received by ASU in research funding, the proposed cutbacks amount to only 10 percent of the university's budget. Research grants, though, are typically provided for specific research projects -- legally, the universities cannot mix research funds with general operating funds.
The Pearce-Kavanagh proposal could also undermine research funding received by the universities from the federal government and other sources. Under their proposal, the universities would be forced to cut infrastructure that supports research, which in turn could cause that research to be defunded. Many faculty salaries are tied to the research grants. Often, a research grant pays a portion of the salary, and the university pays the remainder from its operating budget. Laying off faculty tied to research projects could cause that research to be defunded. One faculty researcher, who did not want to be named, had this to say about the Pearce-Kavanagh proposal:
You've heard of shooting first and asking questions later. They are cutting first and asking questions never. Like a kid performing brain surgery. They don't have a clue what kind of domino effect this could cause.
The proposed cuts to Arizona State University are so dramatic that they would permanently alter the structure of the university, which as one of the largest universities in the country, ASU employs 12,000 people (8,000 full-time, 4,000 part-time) and has 67,000 students. ASU President Michael Crow noted that it is difficult for most people to imagine the scale of the cutbacks proposed for the university:
We could eliminate the nursing school, the journalism school, the law school and the engineering school and still not meet these [budget] cuts.
A budget facts page on the ASU website explains:
The percentages quoted by some state legislators are based on a total budget that includes hundreds of millions of dollars in federal research funding as well as book store and meal plan purchases and even football ticket sales. ASU's research enterprise and its ancillary operations from the bookstore to the football team are - and must be - financially self-sufficient and in fact, these activities subsidize a substantial portion of the instructional budget.

If ASU were to close its dormitories and bookstore and stop doing federally funded research and stop playing football, the revenue associated with those activities would also end. So, it is a fiction that ASU has other revenue that could begin to replace the loss of state revenue.
According to an official statement from Crow, ASU has been preparing to meet the challenges of the impending budget crisis over the last two years while waiting for the legislature to act. Crow reduced spending by $60 million and eliminated more than 500 staff and 200 faculty positions. He disestablished schools and merged academic departments. Crow has also planned an addition 5 percent in spending cuts, which he says would have minimal effect on academic programs and minimal layoffs. Under the Pearce-Kavanagh proposal, though, Crow says he would be forced to layoff at least 2,500 employees, require unpaid employee furloughs, increase tuition substantially, disestablish more academic departments, and close at least one campus.
Northern Arizona University President John Haeger says the Pearce-Kavanagh proposal would also force NAU to cut many academic degree programs and close satellite campuses. Both NAU and ASU representatives say tuition would increase substantially. Crow says ASU could be forced to raise tuition to as much as $11,000.
Although it would hardly affect the budget shortfall, critics of the university system also want to see salaries reduced for university presidents. Both Crow and University of Arizona President Robert Shelton, though, have donated substantial portions of their compensation back to their universities this year. Crow gave his $60,000 bonus to a financial-aid fund for students in December, and Shelton has pledged to donate his $50,000 salary increase to a financial-aid fund.
In response to the Pearce-Kavanagh plans, Crow has begun working on plans to close the ASU East campus, which is located in House Appropriations Chair Russell Pearce's hometown of Mesa. The East campus and its Gateway Airport are also the linchpin of the much-touted economic redevelopment plan for Mesa and the surrounding area. If forced to cut a second campus, Crow says the West campus would be next in line.
Pearce was a central figure in the acquisition of funds for the recently completed $103 million infrastructure project---new buildings and laboratories---at the East campus. He lobbied for those funds because the East campus and its airport are slated to become the hub of a proposed redevelopment project and high-tech corridor. Mesa City Councilmember Scott Somers says the East campus is a key component of the city's economic development plan:
To create high-value, high-wage jobs, we need infrastructure, which is what we're working on, and you have to have education, which [the East campus] provides. It is also part of a larger problem for the entire state. It's hard to convince companies that need high quality, high tech employees to locate here when we're in a constant battle with Mississippi for 49th place in education.
Economist Dennis Hoffman agrees that education cuts of this magnitude will worsen the economy:
You can't cut your way out of a budget deficit of this magnitude. The Legislature needs to consider other options because a budget cut of this magnitude, if taken, will cause a sharp drop in the state's gross domestic product and prolong what is already a painful recession.
Although education constitutes 43 percent of the state budget, educators across the state feel the state legislature, which has long been controlled by Republicans, has never made education a priority. Apache Junction School District Superintendent Greg Wyman cites last week's "budget boot camp" as an example. According to Wyman, the legislature invited business owners and executives to participate in the budget boot camp but no educators.
Community leaders also fear that, like closing the ASU East campus, ending the all-day kindergarten will have an adverse effect not just on education but also on the state economy. While Governor Brewer says she would like to protect the kindergarten programs "if possible," Kavanagh insists that all-day kindergarten is nothing more than a "babysitting service." Educators argue that studies consistently show children who attend all-day kindergarten perform better throughout elementary school. Susan Sullivan, a Tempe resident and parent of a kindergartner, fears that parents will be forced to spend more on daycare services at a time when more Arizonans are struggling than ever before.
The university presidents are not alone in their objections. School district superintendents across the state are publicly opposing the Pearce-Kavanagh proposal. At a special meeting of the Wickenburg Unified School District last week, Superintendent Brett Richards bemoaned Arizona's rank of 49th in the nation for federal education funding and asserted that the district has no frills to cut. Board Member Hank Suverkrup quipped, "Everything is a frill other than reading, writing, and arithmetic."
Representative Kyrsten Sinema (D-15) led a bipartisan effort last week within the House Appropriations Committee to develop $850 million in options to decrease the budget shortfall. Sinema also sponsored a bipartisan substitute motion that the Committee remain open to alternatives, which passed the Committee 7-4 with both Democratic and Republican support. Committee Chairman Kavanagh voted against the motion -- just days after telling reporters, "We're keeping an open mind."
Educators across the state have quickly organized with parents, students, administrators, and community leaders to fight the proposed cuts. Thursday evening, nearly one thousand sign-toting protesters crowded into an Arizona Board of Regents meeting in Tucson while all three university presidents forewarned of impending layoffs, the disestablishment of academic programs, and the campus closings under the Pearce-Kavanagh proposal.
ASU's Human Resources Department received so many questions about political activity that they provided all 12,000 ASU employees with a list of Dos and Don'ts for state employees engaging in public advocacy activities. ASU's Sun Devil Advocate Network has begun teaching political advocacy skills. Even the university president maintains that while he must plan for the currently proposed cuts, he will also continue fighting for a reasonable compromise:
We're going to work to inform and educate and resist by every means necessary.
The leadership of all three university nonprofit foundations has come together to organize educators, administrators, students, and parents. Even public school districts are hosting organizing forums and political advocacy training sessions. Educators are urging parents, students, and members of the community to learn about grassroots lobbying and public advocacy. Florence Unified School District Superintendent Gary Nine is even organizing a protest rally with parents, students, educators, and community leaders from across Arizona on Sunday afternoon at the capitol building in Phoenix.
Saturday, Arizona Democratic Party leaders elected Paul Eckerstrom, who ran on a platform of fighting the Pearce-Kavanagh proposal, as the new state chair of the party. Eckerstrom beat out incumbent Chair Don Bivens by 69 votes. Eckerstrom said:
As Democrats, we need to work hard to educate the public that these drastic cuts will set our state back dramatically. Strong schools build the foundation for a strong state -- not just tomorrow, but 20 years down the road.
Popular in the Community