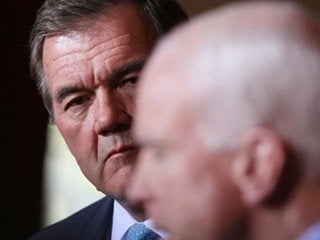 John McCain said he would consider a pro-choice vice president. Barack Obama will have a pro-life speaker at the Democratic convention. But these surprise moves don't change the metrics of the general election, one of the nation's most prominent abortion rights leaders argued on Thursday.
Nancy Keenan, president of NARAL Pro-Choice America, said no amount of lip service to the pro-choice community could erase McCain's "25-year record of voting against women's freedom of privacy." Even picking an abortion rights proponent like former Pennsylvania Gov. Tom Ridge as a running mate would do little to change the underlying dynamics of the electorate, she told the Huffington Post.
"Let's just say that the president is the one who sets the policy, they are the one who sets the direction, they are the one that is going to nominate a Supreme Court justice," she said. "And if John McCain is president of the United States we are going to have Supreme Court justices like Clarence Thomas and John Roberts and Samuel Alito, he has said that. He has called of the overturning of Roe v. Wade, which goes even farther than George Bush. And again, back to the record, he has 25 years here of an unbelievable record against women's reproductive rights."
As McCain was hinting that Ridge could very well be in the VP mix, reports surfaced that the Obama campaign had offered Bob Casey Jr., a pro-lifer also from Pennsylvania, a lucrative speaking slot at the Democratic convention. Unlike the idea of a pro-choice Republican VP, the possibility of a pro-life Democrat speaking at the party's convention has actually been broached. In 1992, Bill Clinton denied Casey's father a speaking slot on the basis of his abortion views creating a party fissure. Keenan said such a rift would not nor should not occur in '08.
"We are not upset about it. Sen. Casey worked hard for Sen. Obama and it just makes sense and it is not a surprise that he has his supporter at the convention. And the other thing is, he is talking about economic policy," she said. "Again, let's go back to who is going to be the president. Sen. Obama is fully pro-choice, the party platform is very, very strong, one of the strongest it has been in many years, and his solid commitment to a women's right to choose is just stellar. So we are focused on electing Sen. Obama as the next president because we know he is going to be the one advancing those policies protecting freedom and privacy."
The inside-out politics at play were furthered, in a way, by the announcement Thursday that former Senate Republican Lincoln Chafee would be joining NARAL's board. Keenan hailed the move as exemplary of the centrist potential that a women's rights stance can bring to a political ticket, and she predicted electoral benefits for Obama.
"As we take a look at who we have to bring over and take votes away from John McCain, it is Republican and Independent women. And I think with Sen. Chafee's [support]... there will be a lot of Republican women out there who will vote for Sen. Obama once they learn how extreme McCain is on reproductive choice."
As for why more women didn't have a grasp of McCain's record, 26 years into his time in Congress, Keenan noted that perceptions -- once hardened over time -- are difficult to break.
"It is the myth of the moderate maverick," she said. "I think people make the assumption that because he has been coined as both a moderate and a maverick that he must be pro choice, which is wrong."
Popular in the Community