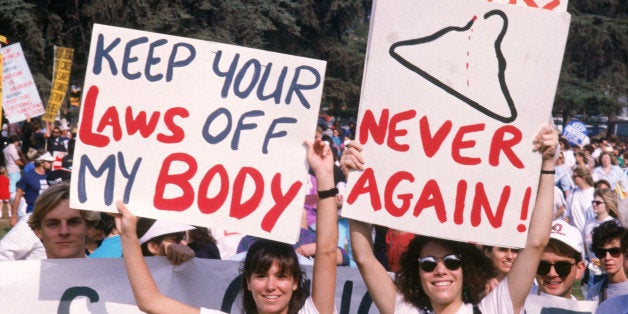 WASHINGTON -- The reproductive rights advocacy group NARAL Pro-Choice America will launch a new attack Tuesday on one of President Barack Obama's most embattled judicial nominees, Michael Boggs, pointing to new evidence of Boggs' right-wing record on abortion rights when he served as a Georgia state legislator.
In an email that will be sent to supporters Tuesday evening, NARAL president Ilyse Hogue says the group has uncovered votes that Boggs cast in favor of "personhood" legislation and in favor of a bill requiring abortion providers to put detailed information on the Internet, including how often they provided abortion services. The "personhood" measure would have granted legal rights to fertilized eggs.
"It turns out that judicial nominee Michael Boggs is even worse than we thought. We just uncovered evidence that Boggs voted for a bill that would have laid the groundwork for 'personhood,' which is one step away from overturning Roe v. Wade," reads the email, obtained by The Huffington Post ahead of its release.
On top of that, Boggs' vote for legislation requiring doctors to list how often they provided abortion services is "exactly the kind of list that we've seen violent anti-choice extremists use to harass and terrorize doctors at their homes and offices," the email continues. "Our allies on the Senate Judiciary Committee need to hear from you today so they know how important it is to ask Michael Boggs about his complete record."
Boggs is on track to become a Georgia district court judge. NARAL found details on his voting record by digging through the Journal of the Georgia House, where Boggs served from 2000 to 2004. The pro-abortion rights group, which boasts more than 1 million members, is urging people to flood Senate offices with phone calls in protest of Boggs' confirmation hearing, which is rumored to be as soon as next Tuesday.
An aide on the Senate Judiciary Committee said only that there haven't been any hearings scheduled for next week. But minutes after HuffPost published this story, the committee announced a nominations hearing for next Tuesday. No nominees have been named on the agenda yet.
Hogue told The Huffington Post that Boggs' record of chipping away at abortion rights shows he has "no business" being confirmed to a lifetime post on the federal bench.
"Our judicial branch is too important to risk appointing someone whose record and stated values are out of line with our nation's commitment to women's fundamental rights," Hogue said. "The Senate Judiciary Committee should question aggressively the nominee about his anti-choice record or risk further eroding the constitutional rights that so many Americans have fought to realize."
The president has infuriated the greater part of his base with Boggs' nomination. Pro-abortion rights groups have cried foul over Boggs' sponsorship of bills to create "Choose Life" license plates and to impose more restrictions on minors seeking abortions, even in cases of rape or incest. Civil rights leaders have denounced Boggs for voting to keep the Confederate insignia on the Georgia state flag. Gay rights groups have criticized the Georgia nominee for sponsoring a constitutional amendment banning same-sex marriage.
But the White House has stood by Boggs, who is part of an all-or-nothing package of six judicial nominees that the president agreed to last summer with Georgia's Republican senators, Saxby Chambliss and Johnny Isakson. Obama made some notable concessions in the deal -- four of the six nominees are GOP picks and only one is black, in a state with a large black population -- but administration officials say the trade-off is that Democrat-backed nominees in the package will finally move forward after years of going nowhere.
"Do we work with Republican senators to find a compromise, or should we leave the seats vacant?" White House counsel Kathryn Ruemmler said in a February interview with The Huffington Post. "We believe it would be grossly irresponsible for the president to leave these seats vacant."
Calling all HuffPost superfans!
Sign up for membership to become a founding member and help shape HuffPost's next chapter
BEFORE YOU GO
PHOTO GALLERY
Obama Has Deep Thoughts