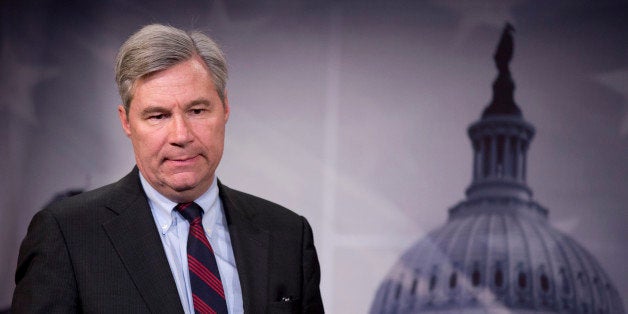 WASHINGTON -- The nation's leading abortion rights organization isn't wasting any time in pushing back on Sen. Sheldon Whitehouse (D-R.I.) for saying he plans to support controversial judicial nominee Michael Boggs.
Whitehouse, a member of the Senate Judiciary Committee, became the first Democrat to throw his support behind President Barack Obama's embattled nominee on Tuesday, telling Roll Call that he would vote Boggs out of committee if given the opportunity. Whitehouse said he would support Boggs in the "spirit of deference" to his two Republican home-state senators, who helped to nominate him. Other Democrats have been vocal in their opposition to the nomination.
Boggs, who is up for a lifetime seat on the U.S. District Court for the Northern District of Georgia, has been stalled in the committee for months amid criticism from progressive groups and Democratic lawmakers over his socially conservative track record. A former state legislator, Boggs voted to keep the Confederate insignia on the state flag, to pass a constitutional amendment banning same-sex marriage and to restrict abortion rights.
"Boggs' record as a Georgia state legislator proves he has no place on the federal bench," said NARAL President Ilyse Hogue. "Boggs' record stands as a troubling statement of his values -- values that are out of step with the vast majority of Americans."
Boggs once co-sponsored a bill that would have created a "Choose Life" license-plate program to fund anti-choice organizations, and he supported tightening Georgia's requirement that young women seeking abortions notify their parents. Boggs also voted in 2001 to require doctors who perform abortions to post personal information online, along with the number of abortions they had performed. (He recently told the Judiciary Committee he regretted that vote and didn't realize the public safety risks it would pose for doctors.)
Hogue noted that Whitehouse took "a principled stand" against then-Supreme Court nominee Samuel Alito over his opposition to abortion rights, yet with Boggs, the senator has not taken a similar stance.
"You called on your opponent not just to vote against that nominee, but to support a filibuster in order to block his confirmation. Then, you took a strong position supporting reproductive rights in the context of judicial nominations," she said. "Now, you have indicated that one senator's deference to another should trump our hard-fought freedoms."
"I urge you to reconsider your position on Michael Boggs, and to oppose this nomination," she added.
In addition to directly appealing to Whitehouse, NARAL spent Thursday urging its members in Rhode Island to start flooding the senator's office with calls asking him to pull his support for Boggs. A NARAL spokesperson said the group's members are also calling other members in the state to let them know about Whitehouse's position.
A request for comment from Whitehouse's office was not returned.
It remains unclear when -- or if-- the Judiciary Committee will vote on Boggs. Chairman Patrick Leahy (D-Vt.) has signaled he will give Boggs a vote, but he has yet to set a date. If it doesn't happen by the end of the year, Boggs' nomination will expire and will have to be resubmitted by Obama next year, which is not by any means a certainty.
The main reason Boggs got nominated in the first place is because he was part of an all-or-nothing package of seven judicial nominees Obama agreed upon with Georgia's Republican Sens. Saxby Chambliss and Johnny Isakson. All seven got hearings earlier this year, which was the deal Obama struck with the senators. Since then, the other six have cleared the committee, while only Boggs has been held up.
Reached for comment, a Judiciary Committee spokeswoman said only that Leahy is continuing to discuss Boggs' nomination with members.
UPDATE: 5:00 p.m. -- Despite the Roll Call report that said Whitehouse had indicated he would vote for Boggs' nomination, Whitehouse told The Huffington Post after this article was published that he hasn't made up his mind on how he'll vote, though he reiterated that he "generally" gives deference to home-state senators on their nominees.
"I'm continuing to weigh my concerns about Mr. Boggs' record with my respect for this Senate principle, and have not made a decision about how I will vote," Whitehouse said in a statement.
"I share the concerns of many about Michael Boggs' record as a legislator in Georgia, and I strongly disagree with many of the positions he has taken. For District Court vacancies, there is a long tradition in the Senate of deferring to the judgment of home state Senators, when both Senators agree on the nominee -- as is the case with Mr. Boggs. I have expected this deference when it comes to nominees in my own state, and I generally hold myself to the same standard to which I have held others."
A spokesman for Whitehouse did not immediately respond when asked if the Roll Call report was wrong.
Calling all HuffPost superfans!
Sign up for membership to become a founding member and help shape HuffPost's next chapter
BEFORE YOU GO
PHOTO GALLERY
U.S. Capitol Photos