I sat down with Narciso Rodriguez on Election Day 2009 to recount the past year. Yes, that Narciso Rodriguez - the designer responsible for the bold (and highly controversial) black and red sleeveless dress Michelle Obama wore exactly a year ago when her husband swept the polls and became President of the United States.
But make no mistake: Rodriguez was already an established designer and sartorial tour de force before the First Lady was photographed wearing his dresses. With a fashion vitae that places him alongside the greatest designers of our generation, he's also won the prestigious Council of Fashion Designers of America Womenswear Designer of the Year Award twice. That's like the Academy Awards of the fashion industry, and Rodriguez is the only American to procure the honor two consecutive years in a row.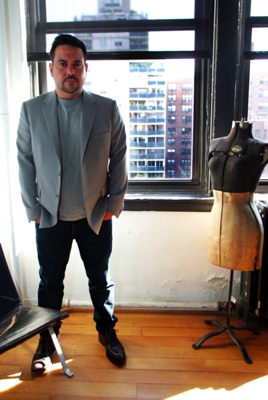 His reputation for creating exquisite dresses is well known among the fashion set, but it was on November 4, 2008 that Rodriguez became a household name. You no longer have to work in fashion to know who Narciso Rodriguez is and what his dresses look like. In addition to heightened domestic and international recognition, the designer unveiled his upcoming spring collection this past September, which was lauded by both editors and the public. Rodriguez also recently collaborated with eBay on a diffusion line of separates that are slated for a spring launch. The affordable collection (prices will range from $75-350) will be exclusively sold at an online boutique on eBay.
Rodriguez is the quintessential womenswear designer. He has a proclivity for creating apparel that celebrates the female form, and anyone who has worn a dress of his or knows someone who has can attest to this. See below to find out the veritable effect Michelle Obama's had on the designer's business, as well as an inside peak into his studio, looks from his upcoming spring collection, and how he plans to remain relevant in the current economy.
Photos by Brandon Perlman
Rachel Strugatz: How has your life changed this past year?
NR: It's a great moment in my career personally. Michelle Obama is such an extraordinary woman and I was so honored she decided to wear that dress for one of the most incredible moments in history. It brought so much attention to my work globally because it was seen around the world. The response has been amazing - the blogs blew up and it was so controversial. For me, it was so exciting to see a woman take a chance and wear something out of the ordinary. It did bring my name to Middle America, but it wasn't just in the United States - it was a global recognition. People noticed - it was unapologetically black and red.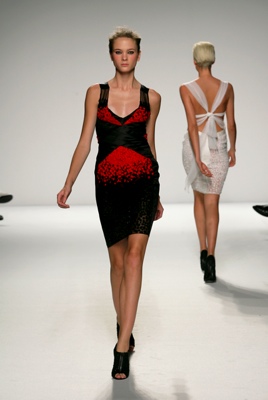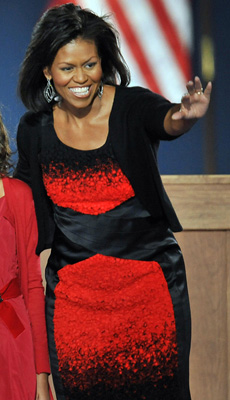 The dress Michelle Obama wore from Narciso's Spring 2009 collection as it appeared on the runway and on Michelle Obama
RS: What effect has Michelle Obama wearing your designs had on your brand?
NR: Everyone is so curious about this beautiful lady - both professionally and personally. People want to know about her and what she's wearing. She's so mesmerizing and people are intrigued. Everyone wants to get to know her a bit more through my work.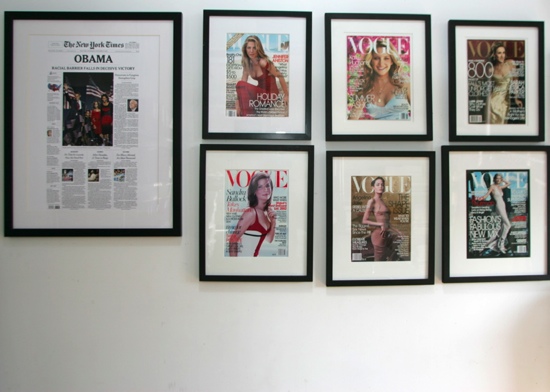 Framed issues of Vogue magazine where Narciso's pieces were featured on the cover
RS: Describe your personal style.
Narciso Rodriguez: My personal style is relaxed. I also love tailoring so I have a great collection of jackets that I wear with everything from a white shirt to jeans. Because I'm so hands on here at work and always looking at fabrics you have to be mobile and as comfortable as possible.
RS: What are you wearing right now?
NR: I'm wearing a gray Band of Outsiders blazer, Rugby jeans, gray Muji socks, brown Raf Simon's shoes, and a Georg Jensen bracelet. This bracelet has great sentimental value. My friend Carolyn put it on my wrist 14 years ago and I've been wearing it since.
RS: What are your must-have items?
NR: Once winter sets in I must have the sun and warmth. I need to be in the sun - I'm a true island baby. As for other must-haves, I bought a lot of Moncler stuff when I was in London and quite a few pairs of Raf Simons shoes. I also bought a beautiful pair of Pierre Hardy suede lace-up boots, pieces from Balenciaga men's line, and four Jil Sander cardigans.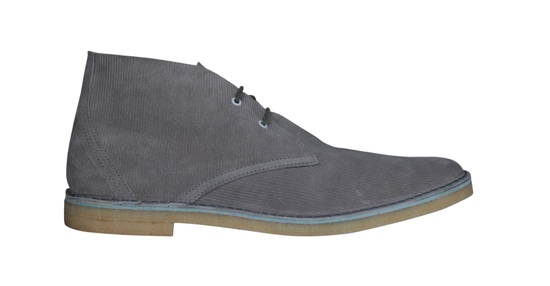 Pierre Hardy Chukka Boot
RS: And for the women you design for?
NR: You need a pair of clogs and a jumpsuit. You also need an amazing coat. It's so great to see a woman dressed in jeans and a lace-up boot with an extraordinary jacket. It's a moment where you do want to mix high and low and it's not so much about a head-to-toe designer look. You also can't go wrong with a black dress. It's the most practical thing you can own, and right now practicality, responsibility to your budget, and being aware of the economy are so important. You need pieces that transcend seasons and occasions, but it must also be unique and special and fitted to your body. Lastly, every woman needs a signature scent. Sunlight and musk were the inspiration behind Essence, my newest fragrance. No scent is more sensual or more memorable to me than musk.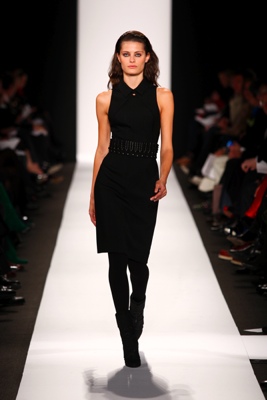 A black dress from Narciso Rodriguez's Fall 2009 collection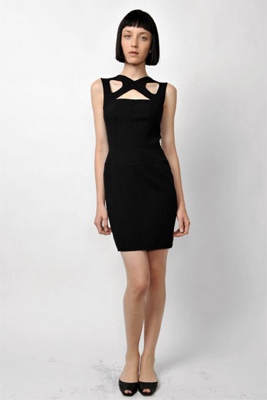 A black dress from Narciso Rodriguez's Resort 2010 collection courtesy of Style.com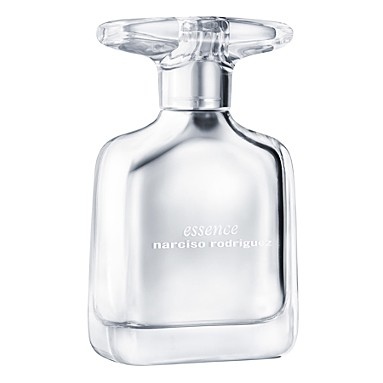 Narciso's newest fragrance, Essence

RS: What inspired your spring collection that debuted this past September during Fashion Week?
NR: I never work with one inspiration in mind. I like to take things from everywhere and piece it together. It's always so hard, this inspiration question. It's never a theme or a trick.
I was in London at the Tate Modern and I saw so many beautiful sculptures by Anish Kapoor and I saw things by Barbara Hepworth - and it was just so inspiring to see form and shape going in different directions.
I usually work much closer to the body so for me it was great to have the starting point of the body and then take that silhouette and that shape and make it bigger and bigger and more relaxed. Even within the larger shapes is the shape of a woman exaggerated. This collection was less form fitting than usual.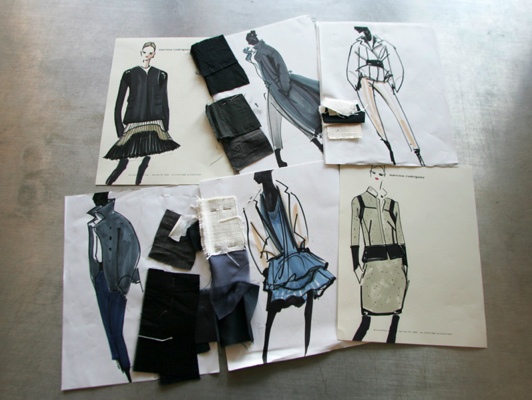 Narciso's sketches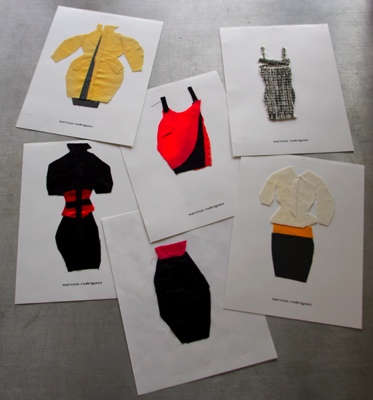 Narciso's various fabric and color stories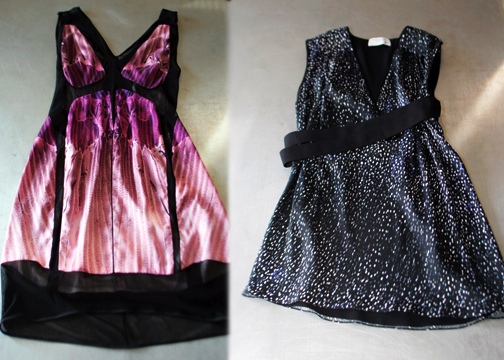 Two printed dresses from Narciso's Spring 2010 collection

RS: As a creator of luxury goods, what are your plans on braving the current economic climate?
NR: My collection is one that has varying price points. We address the economic climate by putting in pieces that are a little less expensive to broaden our audience. I also collaborated with eBay to create a small collection to be sold at an online boutique on their site. There are three dresses that practical, color-blocked, and really cool. There are also t-shirts and a black trench coat that reversed to white. I took the same approach with this that I do in designing my ready-to-wear collection - choosing materials carefully, being strict about quality, and being practical. I can see a woman mixing these lower priced pieces with collection pieces.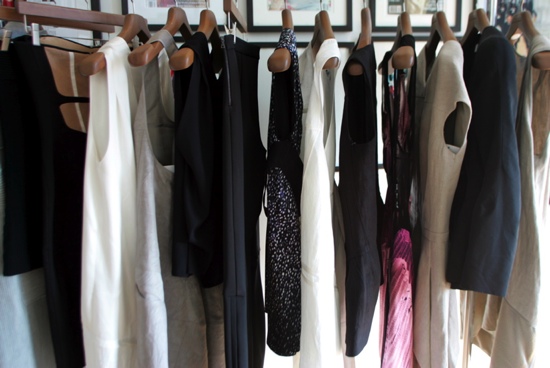 5 Things About Narciso...
1. He loves to cook Cuban food. His favorite dishes to make are black beans and rice and Cuban pot roast. He is also a secret chocoholic - his favorite is Varsanos in New York City's West Village.
2. The last book he read was What Made Sammy Run by Budd Schulberg. He watched an interview where Bette Davis talked about the book and he had to get it.
3. He saw Madonna in concert three times this year: in New York, in Sao Paulo, and again in New York.
4. His secret obsession is Chelsea Handler.
5. He is always buying gifts online at H. Groome - they carry the most incredible stuff.
Rachel Strugatz can be contacted at rachel.strugatz@huffingtonpost.com
Who Is The Ultimate Game Changer In Style? VOTE NOW!
Related