Since the Cooper Square Hotel rose gracelessly on the Bowery at Fifth Street, my best friend and I have grumbled as we walked from Xenomania, her Sixth Street shop, past the hotel's tasteless façade.
Then last summer some striped cushions and seating with a vaguely maritime mid-century aesthetic appeared in the outdoor area, and I sensed that change was afoot. Sure enough, hotelier André Balazs had stepped in, scooped up the under-funded, charmless structure (which he himself once referred to as "a travesty of architecture") and was giving it The Standard treatment. Every day something about the evolving Standard East Village seemed more au bon goût.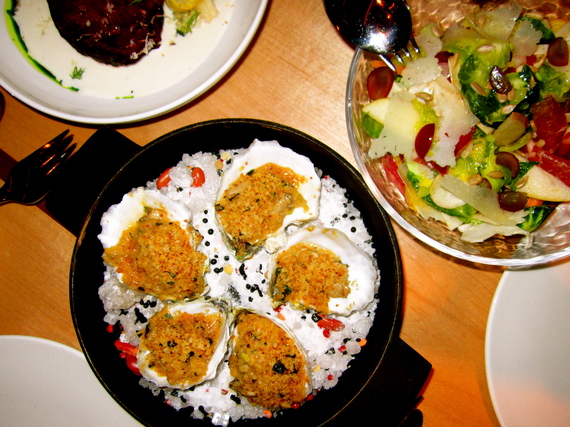 In January, when Narcissa -- a restaurant named after a cow named after a flower named after a Greek god -- bloomed on the ground floor, my faith in Balazs' ability to refine the inelegant was confirmed. He partnered with John Fraser, the chef-owner of Dovetail, to open the inviting open rooms with a summery Scandinavian mountain lodge ambiance: high ceilings, warm light, golden wood.
Fraser's vegetable-focused food is irresistible. The Michelin starred-chef's devotion to seasonal, well-sourced produce is evident in every bite, and apparently much of the menu hails from Balazs' private Hudson Valley estate farm, Locusts on Hudson (whether it's factual or not, would that all New York veggie-loving chefs be able to claim such pedigree for their produce!).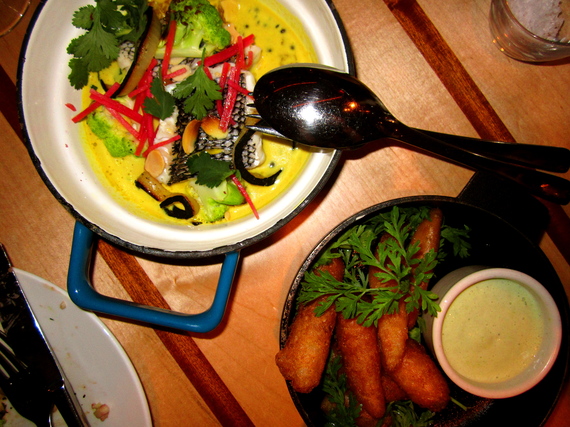 The chef's passion for vegetables and the California cuisine of his beginnings guides the dishes even when a plate is not strictly vegetarian. A salad of Brussels sprouts with shaved baby roots, fruits, ham and manchego, is captivating thanks to cumin oil-enriched "vinaigrette" and seeds clinging to the apple, grape, radish, shaved cauliflower and fennel; I barely noticed (or needed) the ham. Rotisserie beets are a vegetarian's version of a Sunday roast. In the land of Fraser, the beet becomes the meat, with its crisped skin, blood red juices, melt-in-your-mouth tender interior and beefy accoutrements: horseradish crème and fresh dill.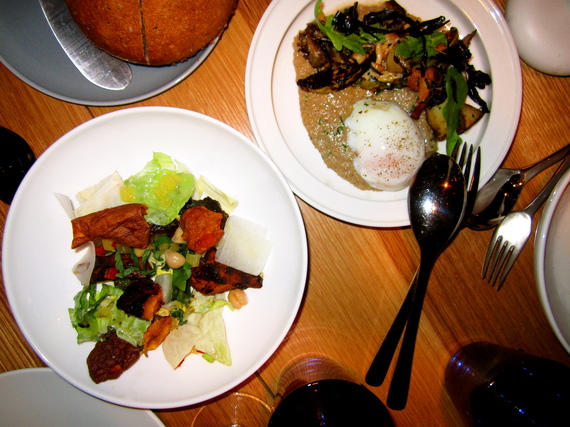 A pierced poached farm egg poured by our server into a bowl of earthy forest mushrooms and wonderful clean chayote became a rich potage; with toast points, I'd happily eat this every day for breakfast. Grilled sweet potato with jerk spices and tofu aioli was cohesive and predictably tasty. Baked oysters, served on a bed of spice-laced salt crystals, were barely cooked (that's a good thing) beneath a truffle buttery bonito crust. Waiter, I'll take two dozen.
Steamed black bass fillets served in a turmeric-charged "French curry" broth was a revelation. Tiny de puys lentil beads in saffron-hued liquid, cabbage, apricots, almonds and cilantro to balance the feisty curry; French by way of Algiers, I'd say. Fried young carrots encased in a fluffy batter and served with spicy jalapeño-tofu dip are a signature side, one that probably lands on every table.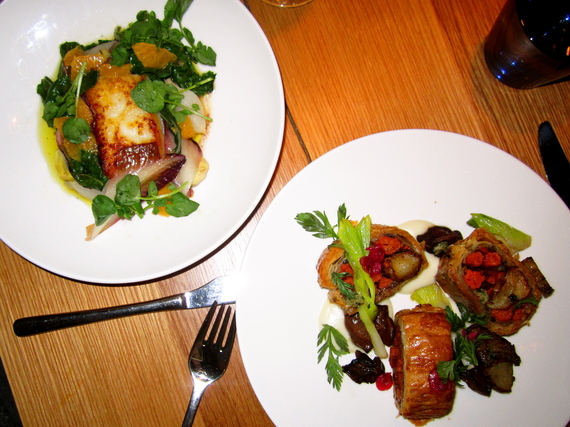 The menu is elevated, yet approachable, with something for everyone, which is what one needs and expects from a hotel restaurant. Roast hake was cooked beautifully but its accompaniments (clementine, artichokes, endive & tapenade) felt obvious and safe. Carrots Wellington with sunchokes and bluefoots, though theoretically brilliant was a low point. The carrots were cooked way past an inch of their young lives, and huddled together, shriveled and tired inside an over-buttered filo. A health-conscious diner expecting a vegetarian entrée option would be perturbed by the weightiness of this dish.
Duck with fresh ground cumin and fennel seeds pressed into its delightfully "lacquered" skin and served with a cranberry reduction and ginger-packed butternut purée was the loveliest duck dish in memory... not to be missed.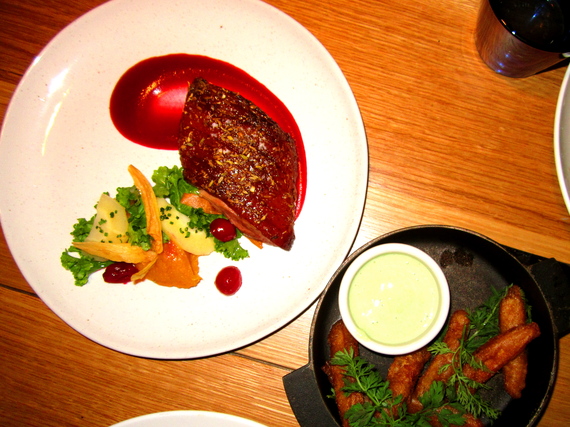 Anyone who's eaten with me knows I eschew sweets but I'll nosh on cheese until the cows come home. At Narcissa I ate both. A plate of creamy Landaff cheeses with stewed cherries, local honey and a rye-anise splinter of toast was perfect to ricochet off of the best carrot cake I've ever encountered. Poppyseed punctuated, moist with boozy shaved carrots, plump golden raisins and parsnip crisps, and a coil of cream cheese frosting that made it as irresistible, playful and astute as a child's abstract work of art.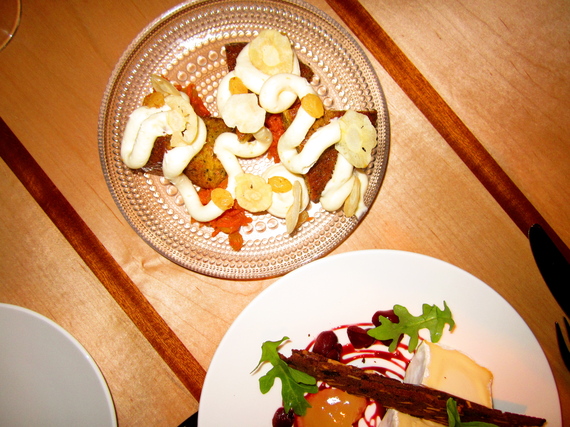 Narcissa charmed me in every way: excellent service, inviting atmosphere, wonderful food. I ran into no less than nine people that I knew there including chefs and restaurateurs, so it's officially a hot spot (as if there were any doubt). Go ahead and make that reservation, even if the first one you can get isn't until April; it's worth waiting for.
Narcissa
21 Cooper Square at 5th Street
Telephone: (212) 228 3344
Narcissa.com
Popular in the Community