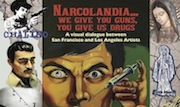 Narcolandia features a range of colorful imagery and graphic depictions of a dark subject: drugs and guns. Beyond the lurid, pulp-like prints and occasionally pun-heavy illustrations, the works of art in this collection highlight a disturbing phenomenon that's deeply embedded in cross-cultural ties with non-U.S. agencies -- that of a tacit and illicit exchange that's often overshadowed by the broader and less complicated issue of immigration.
Curators Harry Ortiz Liflan and Emelda Gutierrez selected the artists in Narcolandia because each of them has an individual connection to the issue of narco-fuelled violence, and collectively, they provide the catalyst for a highly necessary debate. Says Liflan:
The artists involved in Narcolandia know that an art show is not going to stop the violence or the corruption or the abuses of power or the loss of liberties. Narcolandia is not going to stop the insatiable consumption of drugs in the U.S., prevent straw buyers of guns from purchasing automatic weapons, or pave the way towards drug legalization on the federal level. It is only an acknowledgement that things are out of control. It is an attempt to make visible images that are relegated to the back pages of newspapers and the occasional international crime report. The show is an attempt to do something when the alternative is to do nothing. When artists don't know what to do about a problem, they make art.
Not in L.A.? Don't worry, we have a few images for you right here. For more, visit the original post on Pop Curious.
PHOTO GALLERY
Narcolandia
(All photos courtesy of the artists)
Calling all HuffPost superfans!
Sign up for membership to become a founding member and help shape HuffPost's next chapter