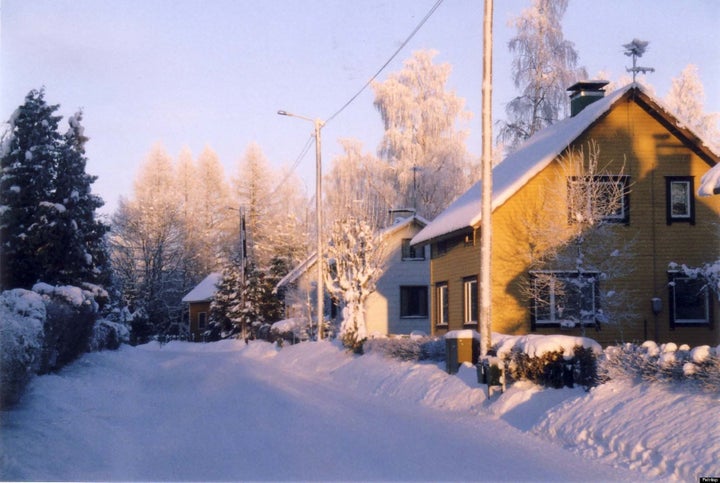 Alexi Zentner's short prose has been received with so much enthusiasm in recent years that his first novel (Touch, Norton, 2011) is being published simultaneously in seven languages. In "Trapline," a short story that won the Narrative Prize in 2008, Zentner plunges his hero, Patrick, into the harsh environment of the Far North, where every misstep threatens death. Everything that can go wrong does, until Patrick is forced to face his own character and beg for mercy.
He had not been thinking of death that morning when he came out of the woods and into the higher meadow, stopping to rest on a rough boulder. Out of the trees, the snow and the light were set to bake him, so he had stowed his parka and mittens in his pack and then stripped down to his shirtsleeves, wrapping his woolen sweater around his waist. Already two hours from home, he was making good time. He had kept the pack light. Two new wolf traps, some files and tools, a knife, a length of chain, cord, a bottle of whiskey.
There was enough snow that he could have run the dogs, but he was not sure he would have the opportunity to do the line on foot again before spring; more snow was coming soon, and Patrick was glad for it. He was in love with the snow, even on a day like this, when the weather was not fully ready to give in to winter, when the branches hung heavy with a steady drip, drip, drip of melt. The wind had started to turn, though, and he knew that by nightfall the temperature would drop. No need to wish for colder weather here. It always came soon enough. When it did, when the snow came powder and deep, he would be pressed to cover such ground without the dogs. On this day, though, the snow was hard pack, settled from the warmth.
He pulled a crust of bread from his pack and then shouldered the bag again. He had been keeping pace as if there was no snow at all, and he needed to keep moving if he wanted to get his traps set and baited and be home again before nightfall. He had already put in new leather and waxed the sled, but he knew that he would not sleep unless he had attended to it one more time; tomorrow he would start running the dogs in earnest, day in and day out through the end of the season.
Julia would be expecting to see him tonight as well. Her father wished she had chosen a man who cut trees, but Mr. DeBonnier had to admit that Patrick could keep her as well as any other man in Sawgamet. Between the furs and his work tending to the machinery in the mill, he had a steady income and enough set aside to start a family.
Mr. DeBonnier was a shopkeeper. Patrick was different. He liked solitude, liked making his own rhythm. He didn't want to be close in beside the other men. He had learned how easy it was to lose his temper, and killing a man out of anger was not a habit he wanted to keep. He had flown from the murders and tried to lose himself, but by an amazing grace he had found Julia instead.
The first murder had been a half dozen years ago in a warmer city of some size, and he was sure that if anybody bothered looking for him they would look south, so he had gone north. He had gone as north as he could, into the Yukon, and there, a few years later, he had killed another man; it was such a small amount of gold as to be laughable, except for the blood. This time he was sure that they would look for him, so he headed south a ways, once again leaving his name behind.
The transition had been hard, and he recognized himself now in some of the young men who came north in search of free land and fresh starts, men who were woefully unprepared for the savageness of the country. These were the men who would arrive in the fall, before the snow set in, thinking that they would be able to make sufficient shelter to get them through the winter. These were the men who disappeared into the trees and the vast whiteness and never returned.
Ahead of him, where the trees fell in again, he saw a rush of shadow, something quick and disappearing. He reached for his rifle before remembering that he had left it at the cabin. The thought made him angry. Leaving his rifle behind was something for a greenhorn. He did not want to fool himself; he knew that he could be one of those men who simply disappeared. He had learned about himself, about how hard he could push and for how long, but he had also learned what he could not do, and how even the hardest men sometimes beat themselves against rock as if they could break it open from the sheer force of will. He shook away the thoughts. He didn't have his rifle, but he had plenty of dried fish for the dogs and enough meat laid in for the winter, and he didn't need to hunt now, especially since he didn't relish the idea of dragging a travois loaded with game behind him.
At the entrance to the forest, he stopped and shrugged off his pack, putting the woolen sweater back on but leaving the coat in the pack. No sense getting too hot or too cold, he thought, slipping the bottle of whiskey into the breast pocket of his sweater, but as he went to put the pack on again he stopped and looked at the trail.
He had run the team a few times since the snow, readying himself for the daily habit that would be his and the dogs' once he set the traps, but there were tracks in the snow. The tracks came in from the river side and joined up with his trail. The half-melted sled ruts were not his, and though he was not the sort of man to know one set of sled tracks from another, Patrick knew where these came from. That damned Indian, Lawrence. He would have to have words with him again, and if he caught him poaching out of his traps again he would not just have words. This time he would kill the bastard and be done with it.
The Indian claimed that this trail had been his father's, but the line had been dormant for years until Patrick took it up two winters ago. As far as Patrick was concerned, if Lawrence had wanted to keep the trapline he would have already, not just jumped in once he had seen that there was money to be had for pelts again.
Patrick had spent a month the previous year wondering why the traps had been so light. He might have kept wondering had he not actually caught Lawrence with his hands still on the trap, bloody from the muskrat. He had told the story over whiskey at the Broken Barrel, and John Rondeau had said, "Caught him red-handed, heh?" and they had laughed at that one for a while, the men telling him that he would have been in the right to shoot Lawrence dead to the ground.
Patrick didn't want to admit that he had hesitated because he was afraid of the Indian. His first thought when he saw Lawrence there on the riverbank, hands covered in blood, was that Lawrence had been the muskrat himself, that he had been able to transform himself into an animal, and the trap had somehow broken the spell.
He did not like thinking of it even now--particularly now--as he stood at the threshold of the forest again. Patrick sometimes felt that something was watching him as his dogs ran the trail, as he bent over the harsh metal of his traps, the trees closing in on him, bowing around him. He had been caught in the woods at night more than a few times, huddling underneath a lean-to, the dying embers of a fire giving just enough light to blind him to anything farther away than his sled. Still, he would sleep well, the dogs burrowed around him, warmth and safety against a drop in the weather. But there were times, in the middle of the night, when he would sit up, bolt awake, the sudden silence of the forest ringing in his ears. During those times, he would wonder what was out there, what besides the chickadees and the minks lived in the forest, watching him through the pillars of light and shadow.
That day, when he had seen Lawrence bent over the trap, Patrick realized that the Indian was his night terror. Patrick braced himself for the Indian to shed his skin and take flight, but Lawrence had stood up and looked at him, terribly human, with guilt and the anger that guilt always brings with it. Lawrence had stared at Patrick before slowly bending over again, picking up the muskrat, and then stepping over to his waiting sled. He placed the carcass on top of a pile of other animals, no doubt also stolen from Patrick's traps, took a moment to lash the muskrat down, and then, without another look back at Patrick, mushed on.
The ruts from Lawrence's sled still held enough of their shape that Patrick was sure the Indian had come through just this morning. He was probably still out on the trapline, disappointed to see that Patrick had not set any traps this early in the season. Patrick supposed that he could have set traps before today, but he knew that he would be kept at the mill enough that there was no point; he did not relish having to remove half-scavenged carcasses.
His first thought upon seeing Lawrence's tracks was that he would wait, would confront the man in town, but now that he was among the trees he realized that would not do. It would have to be finished, Patrick knew, but even though he would settle it with his rifle, he wanted to do it in the cold and the dark of winter. Nothing watching but the chickadees and the mink. There would be no talk between him and Lawrence, no more talk of it in town. Patrick's name might come up when Lawrence disappeared, and then again when they found the body in the spring, but it would be in passing. A simple enough matter. The next time he came out he would burrow in with his rifle and take Lawrence as he passed. Cover the blood with fresh snow, load Lawrence's body on the Indian's sled, run the team a few miles away from the trap-line, dump him near a creek, cut the dogs free. Somebody would find his body in the spring, eaten out by wolves, or they would not find his body at all, but Patrick would not have to worry about it again.
He walked the trail quickly, stopping to set traps and occasionally have a drink of whiskey, covering ground. He thought a little of Julia, no doubt working with her father in the store this morning. Mr. DeBonnier had said that he thought this winter would be long and harsh--he put his faith in what the Indians told him about the weather--and he had salted in more than normal in his shop. Julia would be minding the front of the store while her father shifted and counted out his goods in the small warehouse that Patrick had helped him build over the summer.
He did not think Mr. DeBonnier was a particularly fine man. He was the sort of shopkeeper who counted pennies that he had yet to earn, and he kept a ledger for every other thing that had already passed his way. Still, Patrick did not question that the man was well suited for life as a shopkeeper. There had been news that a few men had been thinking of working picks and shovels in the hills again, and Mr. DeBonnier had put in some supplies for miners, a hedge for the sort of boom that Sawgamet had seen before. He was nimble enough to make more money from the men digging gold than the men digging gold would make for themselves. And Mr. DeBonnier was not a man too far above the earth. He stocked whiskey and other drink and Patrick was fairly sure that he had a quiet hand in the whorehouse. He would do well if there was another boom. And while they built the warehouse over the summer, Patrick remembered with every swing of his hammer that now that Julia was his betrothed, he was building a warehouse not just for Mr. DeBonnier but for himself.
He kept the whiskey in his breast pocket, the better to keep it warm. On a day like this, it would not matter so much, but he had heard of old-timers who had burnt their throats out by leaving liquor in their packs and drinking it on the kind of day when dogs froze to death. He took a swig and then laughed a little at the idea. It was such rotten stuff that he was not sure how he would tell the difference between the burn of liquor and the burn of cold. It was a joke, really. There had been days when he had forgotten and left his whiskey in his pack, and when it was cold enough, it had frozen up. He had never tried drinking it on those days, when the whiskey was part liquid and part ice, afraid of what it might do to him, but the real old-timers drank the sort of grain alcohol that would not freeze up at all.
Julia would frown at him, she would give him a word if she could see that he had a bottle with him on the trail today. Her aunt had been a tippler, and his habit of keeping whiskey had been the one thing that had given her pause when he asked her to marry him. He had promised her, told her that he was done with drink. He had lied about other things, but this was something he intended to make true; this was the last of his bottles. He was not a romantic or naive. He did not believe that they had fallen in love instantly. Sawgamet was a small town, and so many things seemed preordained. As much as Mr. DeBonnier would have liked a different son-in-law, there was not a man who was a better fit than Patrick. He was educated, and he had more money put away than any man who worked the cuts, one of the few men who could claim to be after something other than a good dowry. But even if he had only been intrigued by Julia the first time he met her, intrigue had turned to love.
He had come to the house to fix Mr. DeBonnier's hand pump, a luxury to have water in the house, but a fickle luxury at that. Patrick had only been in Sawgamet for a few months, but already he had been given the charge of the equipment at the mill. The foreman and the assistant foremen kept the saws and blades sharp, tended the horse and carts, but Patrick was the one who was mechanically inclined. While he did not need the money, the extra work was of the sort that he enjoyed. At Mr. DeBonnier's house, Patrick had quickly seen the broken pin, something that he could reshape himself or hammer out anew in a few hours' time if needed.
On the way out of the house, however, he had paused, standing by the partially open door to the parlor, his attention caught by the large bookshelves, burdened by nearly two hundred books. He had stepped inside the parlor, his hand already out and skimming along the bindings of the books, when he first heard Julia clear her throat.
"Oh," he turned, startled. "My apologies. I didn't mean to intrude."
She was lovely. He had seen her before, of course, but she had seemed younger, primped and frilled for church, her hand in her father's, but there, sitting on a chair in the parlor, in her simple dress, she looked of an age when she might think of marriage. She had her feet pinned up and curled beneath her legs, her hair loose around her shoulders, a book in her hands.
"You are a man of letters?" she asked, and he wasn't sure if she was teasing him.
"Not of late," he said. "I have no books of my own anymore."
Julia straightened up, clearly interested now. "But you did?"
He nodded. "My father was a physician and put great store by books. I learned my letters early."
"But you didn't follow after your father?"
"He died while I was still a young man," Patrick said, "and I had no other kin still living, so I came north and west." He didn't know why he said it, only that he didn't want to tell Julia the truth. It was true enough that he had no kin; he hadn't heard of his family in years.
"I'm sorry to hear it," she said.
He shrugged, but he was suddenly conscious of his rough clothing and wished that he had been wearing his Sunday suit. "I prefer it here, prefer the snow and the ice and the forest, but I do miss the books." He stepped close and peered at her lap. "May I ask what you are reading?"
She placed her fingers between the pages and closed the book. "Black Rock. By the Reverend C. W. Gordon. It's new. My father had it brought in for my birthday."
"I've heard of it but not read it," Patrick said.
"It's about us," she said. "Well, not about us, but about the idea of us, I should say."
"And is the idea what one would expect?"
"It's what one would expect of a religious man writing about the wild," she said tartly, "but not what one would want."
"And what would one want?"
She sighed and then placed the book on the polished table beside her. She smoothed her skirt and then stood, not at all flustered to have Patrick with her in her parlor. Patrick supposed she was used to the manners of the men of Sawgamet, was used to running her father's store when Mr. DeBonnier was unavailable. If anything, she was unused to a man who would show interest in the books on her shelves.
"I don't know," she said. "I suppose that if I knew what I would have wanted him to write, then I would have written it myself. I'd want it to be something else, though, something that I could feel."
"There aren't any words that I have read that can make you feel the wind and snow ripping at your face on a winter's night," he said.
She smiled at him with such small and tight lips that he knew she was deciding whether or not to think less of him because of his attempt to make her think him a poet, but after a small pause she allowed her mouth to relax and she reached to the mantel and picked up the glass lantern. "Would you like to see something?" she said, and suddenly her voice sounded quieter and shy, almost afraid. "It's magic."
He marveled at the transformations she had made in only those few seconds, realizing that she was unaware of the shifting of her face and voice. She looked at him eagerly, and he, relishing what felt like a hard-earned moment of control, waited just a breath before nodding.
She carefully placed the lantern on the side table, pushing a few picture frames around it to tunnel the light against the wall. She glanced at him, a quick, darting, peck of a glance, and then said, "You mustn't laugh."
She laced her fingers together and brought them in front of the lantern. At first he watched her fingers working, and then he saw that he was meant to watch the shadow on the wall. She let out a sound that was neither a grunt nor a sigh, fidgeting with her hands, and then suddenly the shadow transformed itself into a caribou.
"It's the migration," she said. The shadow dissolved and then reformed, something darker and substantial. A wolf. "The hunt," she said.
"How do you . . ." He let himself trail off.
Her voice no longer sounded shy, and he was not sure if she was teasing. "I told you. It's magic," she said. On the wall, the shadow wolf turned into a small, trembling bird that took a few tentative hops, then burst into flight, leaving only a beam of light.
When she left the room, he was unsure if he was meant to think of her as the wolf or the bird, but he knew that he wanted to see her again. While he did not need her father's wealth, it was welcome, and Julia would make a good wife and mother. She had been running her father's household since she was a girl, when her aunt had died, three or four years before Patrick came to Sawgamet. Patrick didn't know all of it--the men didn't gossip as freely around him as they might have if he had not been seeing Mr. DeBonnier's daughter--but when Mr. DeBonnier's wife died, her sister had stepped in with little hesitation, until she too passed, leaving him with the girl. On Patrick's subsequent visits, Julia had refused to repeat the shadow play, but it no longer mattered who was the wolf or who was the bird; what had started as a methodic courtship had turned into love.
He bent over to set another trap, but paused, his hand touching the metal. The forest had gone silent, something spooking the animals. Patrick crouched, thankful that he had chained this trap to a large enough pine to give him something secure at his back.
The sound came from his right, behind him on the trail, and though he could not be sure, he thought he had some ground between him and the animal. As he had the thought, he heard a low growl. A bear. He felt a surge of frustration at himself for leaving his rifle next to his cabin door, but there was nothing for it but to keep moving and to make noise. The bear would be satiated, ready to bed down for the winter, in no mood to tangle with Patrick unless they came upon each other unawares. He quickly set the steel trap, placing the pin and then stood up, whistling.
Now that he had identified what had caused the sudden quiet in the forest, Patrick felt better. He had four bear traps along the line; perhaps he would catch it before it took to its den. A bear pelt was worth good money, or better yet, it could be another wedding present for Julia, a blanket for their bed. She was not a woman who demanded much other than honesty and affection; he gave her the one and was trying with the other. He took another sip of his whiskey, ashamed, but then thought better of his self-loathing. When he finished this bottle he would buy no more. He had lied to Julia about only a few things, and though they were not insubstantial, they were in his past. If he stopped drinking he would have no more reason to lie to her. He would make a fresh start.
He kept whistling as he set two more mink traps along the river's edge, and then up the trail into the woods again. When he came to the next trap, however, he left off his whistling, and all thoughts of Julia were whisked away.
The Indian, he thought. The trap--which should have been lying dormant--was set, the teeth that he had filed so assiduously waiting to be sprung like an animal in wait, the chain wrapped and bolted around a tree like a tail. The trap was new, a steel-spring bear trap, one that he had purchased from Mr. DeBonnier over the summer. For a moment he wondered if he was mistaken, if he had somehow lost his line and stumbled upon someone else's trap--steel traps were not of his use alone--but the blaze he had put on the tree was still fresh and oozing sap, unmistakably his. He did not have time to think of anything other than the sudden pitch of anger before he heard the call and the first barks of the Indian's dog team.
Patrick scrambled off the trail, and then, barely thinking, he dropped his pack and pulled out the two wolf traps. He spread the jaws open, pushed the pins in place, and then quickly stepped back onto the trail.
He scooped out a handful of snow among the ruts that Lawrence's sled had left earlier in the day, along the sure path on which the dogs were mushing toward him. He placed the first trap in the divot, sprinkling enough snow over top that the Indian would not be able to see it if he was moving with any speed. He did the same with the second trap, and then, before the team came into sight, Patrick ducked back near his pack, crouching low behind a fallen trunk.
The first dogs passed over the traps, but the fourth or fifth hit one, and then another dog, and Patrick heard their sharp, high screams. He stood so that he could see more clearly. Lawrence was sprawled in the snow, the sled tipped over on itself. Two dogs frantically thrashed. They would soon start gnawing at the metal spikes in their legs. Another dog lay motionless on the ground, perhaps having gotten in the way of the sled. The leads and harnesses were tangled, and Patrick saw one dog leaving off into the forest, her harness snapped in the confusion.
For a moment, he hesitated. He hoped that Lawrence was dead, a broken neck or something worse, but the screams of the dogs had already turned into keening barks, and he could not help but think of his own team. The traps would surely lame the dogs; he would kill them quickly and be done with it. He looked over at the motionless Indian and realized that the same thing applied to Lawrence. Bash his head with a rock, bring the body, what was left of the dog team, the broken sled into town, and he could be the man who tried to help. He would say that Lawrence was dead when he came upon him. He would say that he had come across a bear earlier, and perhaps that was what had spooked Lawrence's team. Accidents happen, he would say, even to an Indian.
He left his pack by the fallen tree and stepped up onto the trail. He thought briefly of the knife in his pack, but he had already decided upon his course. A heavy rock and a sure hand, and it would appear as an accident.
He glanced over at the dogs. They barked at him and surged at their harnesses, but the tipped sled kept them anchored. The two bitches caught in the traps were of different temperaments, he noticed. One was already chewing at her leg, standing over a dark molasses of blood on the snow, the other lay whimpering and licking at the trap, as if it were something she could remove through worry.
He leaned over Lawrence and saw that the Indian was breathing the slow, deep breath of someone who was sleeping. He rolled him over and saw that there was a small gash on Lawrence's cheek and a dark, spreading bruise on the man's forehead. Perfect, Patrick thought, he would bash him on the other side of the head, near the temple, and then he would load the Indian on the sled.
Patrick bit off a scream. Something had moved inside of Lawrence's coat, near his breast, as if the Indian's heart were beating enough to bring itself out of its body. Patrick crouched over the Indian, staring at the coat, the frantic beating and high-pitched sound that came breaking from his chest, and again, all Patrick could think of was transformation. What shape did the Indian take when he was alone in the woods? Slowly, unaware of how he was gnashing his teeth, Patrick touched the bone-carved buttons on Lawrence's coat. He undid the top one, and then the next.
The burst of feathers knocked him backward, stumbling and screaming, and before he understood that it was a simple chickadee that had come bursting out of Lawrence's coat, Patrick had already caught his heel on the broken sapling. As he fell back, his hands behind him to break the fall, the name came to his mouth, mésange à tête noire, what the men in the cuts called the little chickadees. The bird brought luck, they said.
At first he thought he had broken his arm. It took a few moments for him to realize that the sound that he had heard, the metal tick and the terrible snap, was not his bone breaking but the metal jaws of the bear trap closing over his forearm. He rolled onto his side, trying to keep his right arm motionless against the trap but already knowing that it did not matter. Caught was caught, and all he could do now was pry himself out, bandage his arm as best he could, and make for Sawgamet. For a moment, through the pain, he had a pleasant thought of himself lying in bed for a day or so, tended to by Julia.
He could feel at least one of the sharp teeth pushing in bone, and he thought that perhaps his first impulse was not entirely wrong, that his arm was also broken. Carefully, he turned himself around, sliding one leg under himself so that he sat on the snow, his arm and the trap between his spread legs. He closed his eyes and tried to slow his breathing, suddenly aware of the liquor that he had been drinking, the sour taste rising up in his throat, and he tried to push it down. His arm felt wet and hot, though he himself was cold. He wished he had been wearing more than his woolen sweater.
He opened his eyes again, first looking down at the trap, surprised at how quickly the snow soaked up the blood that ran down his arm, dripped off his wrist. The trap was set tight, and he realized that he probably would not be able to press open the spring with one hand. The thought left him feeling almost relieved. The idea of straining against the spring and then having it clamp down tighter filled him with horror. Easy enough to pry off one of the trap's bolts with his knife. He reached back to pull his good arm from his pack strap and then stopped. His pack was not on him. He had left it by the fallen tree. He turned his head to glance at the chain that secured the trap, even though he already knew there was not enough length to allow him to reach his pack. In his movement, the trap shifted, tightening, and he let out a little hiss through his teeth. There was not much else to do, then. He reached out to the spring.
He wondered what a man unfamiliar with traps would do. Would he simply try to pry the two jaws apart? How long would a man struggle against those unforgiving teeth before he realized that they would not come undone unless the spring was compressed? Once that was accomplished the trap almost melted open, easy enough for a man with two free hands, but he was not sure if he could even wrap his hand around the spring, let along squeeze it shut with his left hand.
He had to reach across his body, letting out a sharp grunt as the trap ground against his bone, but though he was able to open his fingers wide enough, he found that he could not compress the spring with any discernible result. He shifted a little more and let a scream slip through his lips. Not quite kneeling, he placed one side of the spring against the ground and then pushed down on it. The spring gave a little, and for a moment he felt the teeth of the trap ease, but then the bottom of the spring slipped against the hard-pack snow, and the trap clamped down on his arm again.
He opened his eyes, disoriented, unsure if he had lost consciousness. In the dim and dappled shadows of the forest, his sense of time was fleeting. He looked again at the trap as if it were something alive and menacing, and for a moment he thought that the whining and barking he heard came from the trap, and not from the dogs still lashed to Lawrence's sled.
Patrick heard the creak of wood pulling leather, and he turned enough to see the Indian righting the sled on the trail. Lawrence took a leather cord and tied off the sled to a stout pine tree and then stepped over to his dogs. He yelled something, a deep almost barking sound, and the dogs quieted except for the two whose paws were caught in Patrick's traps. One of the injured dogs whimpered, while the other let out a slow growl, straining against the harness, as if she knew Lawrence's intent. Lawrence stared at the dogs for a moment and then turned to his sled and pulled out a sleek rifle that looked newly purchased.
The two shots were quieter than Patrick had expected, and both dogs fell still into the snow. Lawrence carefully stowed the rifle back in the sled and then walked into the pack. The dogs started to jump and yelp, but he barked at them again and they fell silent while he worked at the harnesses, releasing the two dead dogs. Only when Lawrence had set the carcasses on the sled and released the traps from his dogs' legs did he finally look at Patrick.
The Indian held both traps in one hand, dangling them by their chains, the cold metal clinking lightly. Neither man said anything, and after a few minutes it became clear to Patrick that Lawrence was not going to offer him help.
Patrick turned back toward the trap and once again wedged an edge of the spring against the ground. He could feel himself sweating despite the cold breeze that was now moving through the woods, and he wondered again where he was in the day, how long he had left until nightfall. It should not have been much past midday, but he was afraid that he could not trust his reckoning.
He pushed hard on the spring. The metal squeaked under his weight, and he had the clear thought that a new trap should not need oil so soon. The jaws relaxed enough for him to pull his arm away, but as he tried, he realized that his arm was held fast by a tooth of the trap lodged in bone. He tried to slide his arm back, even rocking it slightly despite the sickness that it brought upon him, but his arm did not release.
Patrick heard a soft crackle and looked up, realizing that it was the sound of laughter. Lawrence sat against his sled watching, smiling cruelly.
"I could help you," he said. "But then again, I don't suppose my dogs came across these traps by accident."
Patrick said nothing. Instead, he leaned a little heavier on the spring. If he could hold the spring open with his foot and slip the catch pin back in, he would be able to work the sharpened metal tooth out of his arm.
"If you get yourself out, I'll ride you back into town," the Indian said. "We'll call it even. How's that by you?"
Patrick didn't bother looking up. He carefully moved himself over so that he could plant his foot on the spring. Just having the jaws relax on his arm brought him a sense of clarity, and despite the coldness in his fingers, he was able to reset the trap.
He needed to rest. He lay down with his head on the snow, his arm still caught by the jagged tooth, but at least the trap was open. All he needed to do was wrest his arm away. He pulled the bottle from his breast pocket and took a drink of whiskey. It made him cough, but the burning felt beautiful. His voice, when he spoke, sounded like he was croaking.
"You want a drink?" he said, holding up the bottle so Lawrence could see it.
"Maybe later," the Indian said.
Patrick looked at the bottle. There was barely a finger's worth left at the bottom. No use saving it, he thought, and he swallowed down the rest of the bottle before tucking it back into the pocket on his sweater. The weight of the glass felt comforting.
He felt around his arm and realized that the tooth had gone clean through the bone. He could feel the sharp tip, just a nub really, pushing through the skin on the other side. His sweater was not ripped beyond mending, though with the blood he didn't think that Old Lee would be able to get it clean anyway. The thought made him smile a little. This was not the time to worry about what the Chinaman would do with his laundry.
He moved carefully, afraid of hitting the strike pin and tripping the jaws closed again, but after a few minutes of struggling, he was able to crouch over the trap, one boot on either jaw, his left hand under his arm, ready to pull. He took three quick breaths and then pulled. He could feel the metal squeak against bone, the shock of it coursing through his body, but though he strained against the trap, his arm stayed fast.
"Caught on bone there, is it?" Lawrence called over. He said it casually, as if they were talking over cups of tea. "Wonder if the steel bent a little. Might be hooked in there. You were an animal, I'd just cut the arm off and be done with it."
Patrick gathered himself and tried again, straining until he felt light, and then, afraid that he would stumble and trip the pan, he slowly unfolded himself until he was lying down, his arm still hooked on the trap. He laid his face sideways against the ground. The snow felt glorious against his skin, cold and welcoming.
He thought of Julia in the store. She would be thinking of him right now, he knew. She had told him that he would need to look through the catalog with her this evening, to choose fabric for curtains. She loved to tease him about domestic details, about preparing for their new cottage. He had promised he would build it in the spring, would have it well under way before their wedding. They might live with her father for a short spell, but he would give her a home. In truth, he did not mind looking through the catalogs with her. He enjoyed the sense of stability that the decisions gave him. Somehow, choosing a wardrobe or a new stove seemed like one way of leaving his past behind.
Though he just wanted to lie on the ground thinking of Julia, he pulled himself to his knees again. It had become almost dark in the forest, and he saw that the Indian was sitting on top of the sled, staring at him with some interest.
"You're awake. I wasn't sure," Lawrence said. "It's nightfall now. Time to go soon."
"Help me," Patrick said.
Lawrence coughed a little and then spit on the ground. He reached beside him and pulled up the pair of traps that Patrick had left on the trail. "I've been thinking that you were looking to have done with me."
"Help me, please," Patrick said, and he could hear how close he was to crying. "For Julia."
"She's a pretty lady, no doubt," Lawrence said. "She'll be sad to hear of your death." He dropped the traps onto the sled and then looked over at Patrick. "Why don't you give it another try? See if you can pull it out this time? The offer still stands. You get yourself out, I'll ride you into town."
Patrick looked up at the Indian, still sitting on his sled, only a dozen paces away, watching Patrick die in the cold and the dark. Oddly, Patrick found Lawrence's words igniting him like a torch. As he leaned over, preparing to put his first boot on the jaw of the trap, he felt the bottle slipping from his breast pocket.
He watched the bottle spin through the air. As it fell, it seemed to splinter into a thousand pieces of glass, shattering and then coming back together again before exploding into a cough of feathers and flight, a chickadee. But he knew he was wrong: it was not a bird. It was a bottle, nothing more. He had time to suck in a breath as he watched the bottle, whole and heavy, spin and hit the strike pin.
The jaws slammed home again, and it was almost worse than the first time. He screamed, letting the sound die out in ragged sobbing.
When he looked up again, he saw the Indian kicking snow over the bloodied tracks in the middle of the trail. Lawrence did not even glance at him. He unlashed the leather strap, stepped onto the runners of his sled, and called out to the dogs.
Patrick listened to the sound of the creaking wood and the barking dogs until it died away, and then he set himself down against the snow, waiting for the cold to overtake him. He shivered, hoping that it would come quickly.
He thought of Lawrence and what the Indian would say when he came to town, or if he would say anything. Most likely he would stay quiet, would stop somewhere to dump the bodies of his dogs and then lay low for a few weeks until nobody wondered anymore how Patrick had caught himself in one of his own traps.
Patrick wished he knew how long it would be before somebody came across his body. If it would be quick enough so that he would not be too taken by scavengers, if his body would still be recognizable. He did not want Julia to have to see him ravaged and torn. He was tired, and he could feel sleep coming upon him, but at the thought of Julia, he started awake.
He had not meant to, but he had pulled his arm back, and the sudden jolt shot through him so that he was alert again. He would try again, he decided, and though he could not stop himself from shivering, he pulled himself into a sitting position. It was so dark now that he could barely make out the shape of his own body. Carefully, he reached out and felt around his arm again, and as he did, whatever last hope he had faded away; the second snap of the trap had driven the tooth further through his arm, and he could feel the tip bent now. There was no way for him to pull it free.
He lay his head down again, but it hit something hard and smooth. With his free hand he pulled the empty bottle of whiskey from the snow. A full bottle would have been something. He would have been able to warm himself before he became so painfully, and then finally, numb.
He twisted carefully, rolling from his side to his back so that he would be more comfortable, and he clutched the empty bottle against his breast like a talisman. He felt his heart beating against the bottle, and he thought of the chickadee that had flown from the Indian's coat earlier that day. He would have liked to ask Lawrence about that.
Patrick relaxed and let the bottle rest on his chest. He closed his eyes and tried to even out his breathing. Perhaps he could fall asleep, and this death would be as simple as a dream. As he started to drift off, he thought of Julia hiking through the woods, looking for him, coming across him, the bottle of whiskey on his chest. One last disappointment. He held the bottle in his hand again, and then, as hard as he could, he flung it across his body and into the woods. There was nothing for a moment, and then the soft thump of the bottle falling into snow. The woods were silent for a few seconds, and then, until he fell asleep, he heard the night sounds again.
Calling all HuffPost superfans!
Sign up for membership to become a founding member and help shape HuffPost's next chapter