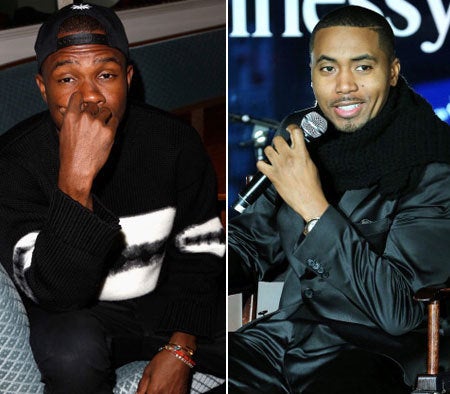 Last year Frank Ocean teased his fans' musical interest when he revealed that a track featuring Nas called "No Such Thing as White Jesus" was expected to appear on the MC's Grammy-nominated album, "Life Is Good." The collaboration was scrapped, however, due to a studio mishap.
Now it appears that the lost track will finally see the light of day, according to the song's producer, Hit-Boy. The rapper-beatsmith recently explained to MTV News that the music has been found following a mix up with Kanye West's engineer.
"It got mixed up with some drives that Kanye's engineers had, and they finally sent it back and I got the files now," he said. "Nas' manager reached out, and he's excited. I don't know exactly what's gonna happen with it yet, but that song is gonna be heard by the world one day."
"Me and Frank went in the studio a while ago and he just wrote the hook, just blindly, we just wanted to create," the producer said, explaining how the song came about. "He played it for Nas, and as soon as he played it he texted me and was like, 'Yo, Nas went crazy.'"
While the world anticipates the release of "No Such Thing as White Jesus," the two Def Jam labelmates are both up for a slew of nominations at this year's 55th Annual Grammy Awards, taking place Feb. 10 at Los Angeles' Staples Center.