Goes without saying, really, but Vice President Mike Pence is no MC Hammer.
MC made a name for himself in 1990 by reminding everyone of the things they could not touch (mainly, "this"). Pence, meanwhile, went to NASA's Kennedy Space Center in Florida on Thursday, and, upon encountering a piece of equipment marked "Critical Space Flight Hardware ― DO NOT TOUCH," did this: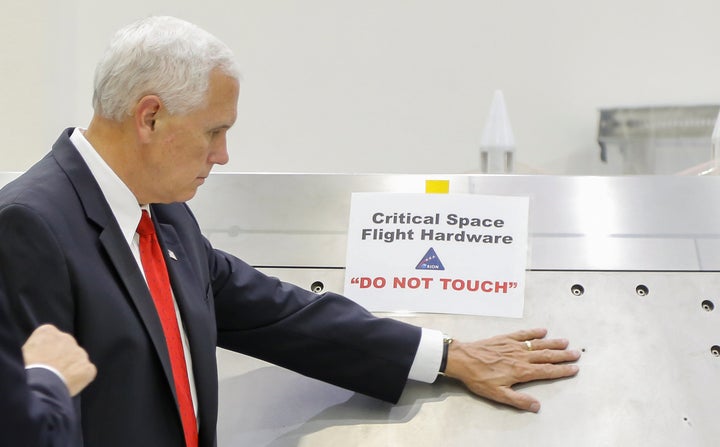 On Friday, Pence followed up on the gaffe that (metaphorically) sent Twitter into orbit, joking that Florida Sen. Marco Rubio (R), who accompanied him on the tour, peer-pressured him into it:
Apparently the veep has a habit of getting handsy, as he followed up on his original tweet with a humorous, photoshopped photo of him petting a porcupine:
NASA, good sports that they are, gave Pence a pass.
"It was OK to touch the surface," the agency tweeted Friday. "Those are just day-to-day reminder signs. We were going to clean it anyway. It was an honor to host you!"
"The signs are there as a day-to-day reminder, including the one visible on the titanium Forward Bay Cover for the Orion spacecraft," NASA spokeswoman Jen Rae Wang told HuffPost in a statement.
"Procedures require the hardware to be cleaned before tiles are bonded to the spacecraft, so touching the surface is absolutely okay," she added. "Otherwise, the hardware would have had a protective cover over it like the thermal heat shield, which was nearby."
REAL LIFE. REAL NEWS. REAL VOICES.
Help us tell more of the stories that matter from voices that too often remain unheard.
BEFORE YOU GO
PHOTO GALLERY
Twitter Tears Into Mike Pence's Many Science Fails With #PenceScience