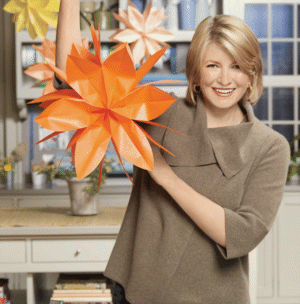 Martha Stewart indicates one of her redesigns
for the space shuttle's rocket boosters.
In its nearly 30-year history, the space shuttle program has seen exhilarating highs and devastating lows. The fleet has taken astronauts on dozens of successful missions, resulting in immeasurable scientific gains. Yet the Obama administration, in a policy document titled "No, We Can't!", has indicated it plans to terminate the costly program after the final launch this fall.
But as a reward for its astounding successes, and prior to its donation to the Smithsonian, the shuttle will be given a make-over by none other than the Queen of Re-Decoration herself - Martha Stewart!
"Many people are not aware of the fact that the space shuttle is the world's first reusable spacecraft," explained NASA spokesperson Leo Brereton. "And because it has been used over and over again for three decades, it's gotten somewhat run-down and is starting to show its age. Clearly, before it goes on permanent display for generations to come, it's time for a spring cleaning and a new paint job, so to speak, and who better to give it some world-class zing than Martha Stewart?"
Stewart, who is no stranger to confinement in small places herself, having served time in prison for lying to investigators about her sale of ImClone Systems stock, is excited about the challenge. According to Stewart spokesperson Arthur Stein, "Martha is deeply honored to have been chosen for this project and plans to devote herself 110% to the shuttle's re-decoration and giving it a more vibrant, exciting, fresh appearance." So far, said the insider, Stewart's plans for the shuttle include:
• Covering the shuttle's digital video cameras with hundreds of antique, silver-leaf mirrors
• Giving the rocket booster a cheery, orange floral pizazz
• Accenting the external fuel tank with a blossom lace vine tapestry design
• Arranging the temperature sensors in patterns of daisy hearts
• Transforming the crew's orbiter to embody the beauty of a sun-filled cottage at the beach, with painted woods, easy slipcovers, and light, vibrant colors that suggest casual, carefree travel.
The Obama administration has said it will rely on private space companies to ferry astronauts to the International Space Station. "If that becomes the case," added Stein, "we hope to contract with those companies to have Martha work her magic on the astronaut uniforms, and then, depending on her other commitments, to take a crack at re-decorating the International Space Station itself."
In a related story, Stewart's company has also recently been contacted by the Vatican regarding an "image consultation."
Popular in the Community