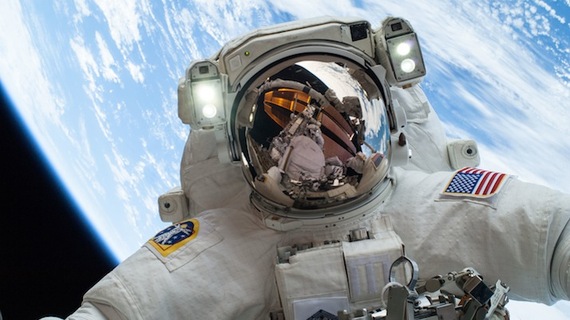 It's something that you've likely dreamed about doing throughout your life, but have you ever considered the reality of becoming a real-life astronaut? Well, now might be the time, because NASA just announced that it's recruiting astronauts for what might be one of the most exciting periods in space exploration history.
"This next group of American space explorers will inspire the Mars generation to reach for new heights, and help us realize the goal of putting boot prints on the Red Planet," said NASA Administrator Charles Bolden. "Those selected for this service will fly on U.S. made spacecraft from American soil, advance critical science and research aboard the International Space Station, and help push the boundaries of technology in the proving ground of deep space."
Of course, being an astronaut is no cakewalk, it's one of the toughest and most dangerous jobs in the world (read: solar system), which means that regardless of what the movie 'Armageddon' will have you believe, it's not for everybody. Serious qualifications are needed and those who are successful must be able to prove that they are physically fit enough to endure up to a year in space. But if you've got what it takes, the rewards could be remarkable, as Brian Kelly, director of Flight Operations points out, this could be your chance to play a major role in the future of human spaceflight.
This is an exciting time to be a part of America's human spaceflight program. NASA has taken the next step in the evolution of our nation's human spaceflight program - and our U.S. astronauts will be at the forefront of these new and challenging space flight missions. We encourage all qualified applicants to learn more about the opportunities for astronauts at NASA and apply to join our flight operations team.
Not that you needed convincing, but successful applicants could see themselves undergoing 6-12 month stints on the International Space Station or even travelling on NASA's Orion spacecraft to conduct experiments in lunar orbit. Much of this work will be working towards NASA's plan to see a manned mission to Mars become a reality, a quest which many see as crucial to the survival of the human race.
The idea of becoming an astronaut often feels so loftily out of reach that many who might be able to make the cut never actually put themselves forward. Contrary to popular belief, you do not need to be a trained pilot to become an astronaut, nor do you have to be an active member of the military. Current NASA astronaut candidates range from teachers to scientists to doctors to engineers, a fact that demonstrates the multitude of tasks that most astronauts carry out while on a mission.
That being said, there are a number of requirements you will have to meet in order to become successful in your quest for reaching the stars. Before applying, candidates must have one of the following:
- 3 years of related, professionally responsible experience
- 1,000 hours of in-command flying time in commercial or military aircraft
Those 3 years of related professional experience can come in a multitude of fields. The 2009 & 2013 graduating classes of astronauts consisted of people with backgrounds including Oceanography, Medicine, Engineering, and of course, the Military. It's also worth pointing out that there is no strict age limit for candidates. While the average age of successful astronaut candidates is 34, NASA has accepted candidates ranging from 26 to 46 years old.
If the idea of being an astronaut isn't attractive enough, there's also the remuneration. Currently, astronaut pay grades range from $66,026 to $144,566 per year, which isn't too shabby for doing your dream job.
If you think you've got what it takes, it's time to start getting everything in order because the process is getting underway in less than a month. Check out the application timeline below before getting more info at http://astronauts.nasa.gov/. May the odds be ever in your favor.
December 14, 2015
Vacancy Announcement opens in USAJOBS

February 2016
Vacancy Announcement closes

February-September 2016
Qualified Applications reviewed to determine Highly Qualified applicants. Qualifications Inquiry form sent to Supervisors/References and civilian applicants contacted by mail to obtain an FAA medical exam.

October-December 2016
Highly Qualified applications reviewed to determine Interviewees

February-April 2017
Interviewees brought to JSC for initial interview, medical evaluation, and orientation. Interviewees will be selected from the Highly Qualified group and contacted on a week-by-week basis.

May 2017
Finalists determined

June 2017
Astronaut Candidate Class of 2015 announced

August 2017
Astronaut Candidate Class of 2015 reports to the Johnson Space Center
Calling all HuffPost superfans!
Sign up for membership to become a founding member and help shape HuffPost's next chapter