WASHINGTON -- NASA has some projects in the works when it comes to space exploration, but they're no big deal: Just grabbing an asteroid and throwing it at the moon, sending people to Mars and laying the groundwork for permanent human settlements in the solar system.
"Our architecture is designed for long-term human exploration of our solar system, including the goal of human missions to Mars," William Gerstenmaier, an associate administrator at NASA, said Wednesday during testimony before the Senate Commerce Subcommittee on Science and Space.
The hearing, called "From Here to Mars," focused on intermediate space missions being planned as steps toward long-duration space travel. One possible mission is to a near-Earth asteroid, Gerstenmaier said. Not only is NASA working on sending a manned spacecraft to the asteroid, but then, through the use of robotic technology, scientists are also looking at ways to knock the asteroid -- or possibly a boulder from the asteroid -- into an orbit around the moon to collect samples from it.
Gerstenmaier was clearly excited about that project. He said that while it may not be as flashy as a manned expedition to Mars, it's the kind of mission that gets kids and the public reinvigorated about space exploration and NASA's projects.
"We're going to grab a piece of the solar system, we're going to deflect it around the moon and insert it into a distant retrograde orbit around the moon where our crews can go visit," he said. "To think we're moving a piece of the solar system for our use that will allow us to learn skills and techniques that we need to push the human presence into the solar system, that's a pretty awe-inspiring statement."
Of course, budget cuts mean smaller projects have to play out before asteroid bumping and manned Mars trips, but NASA is hoping to have the Mars trip underway in the 2030s. The agency's near-term plans include using the International Space Station (ISS) for demonstrations aimed at ensuring the safety of crews on long-duration spaceflights, and partnering with the commercial sector for transporting people and cargo to space stations.
Sen. Bill Nelson (D-Fla.), who led the hearing, lamented that NASA has to scale back its groundbreaking work because of budget woes. President Barack Obama only extended the ISS budget through 2024, and in the meantime, across-the-board sequestration cuts are underway. The next round of those cuts is expected to take a toll on NASA missions.
"Sequester is part of the budget for the next eight years, unless we can change it," Nelson said. "There are some of us in bipartisan discussions right now that are trying to change that. But limited funding is a reality over the course of the next several years."
Gerstenmaier conceded that budget struggles can make people feel "so jaded," but said he tries to focus on the good work that NASA is doing now, instead of thinking about all the other projects it could be doing.
"It's like buyer's regret, right? When you order your food in the cafeteria and you look over and see what somebody else has ordered, and immediately what's in front of you isn't appetizing enough," he said. "I think we have to ignore that a little bit and look at what we've got in front of us and what this country can do, and not be ashamed of what we do."
Before You Go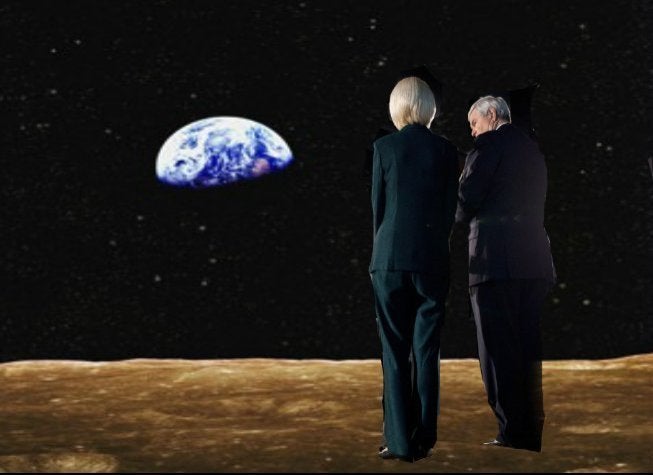 Newt's Vision For Life On The Moon
Popular in the Community