In NASCAR races, usually it's the cars that come out battered and bruised ― not the drivers.
A violent brawl between two men Sunday led to a nasty pileup of yellow jumpsuits alongside a Las Vegas race track as M&Ms driver Kyle Busch tried to pummel Pennzoil driver Joey Logano.
Instead, Busch, 31, was seen being dragged away from his 26-year-old adversary with a bloody forehead. Video showing him flailing around in the arms of two men was later compared online to a child throwing a tantrum.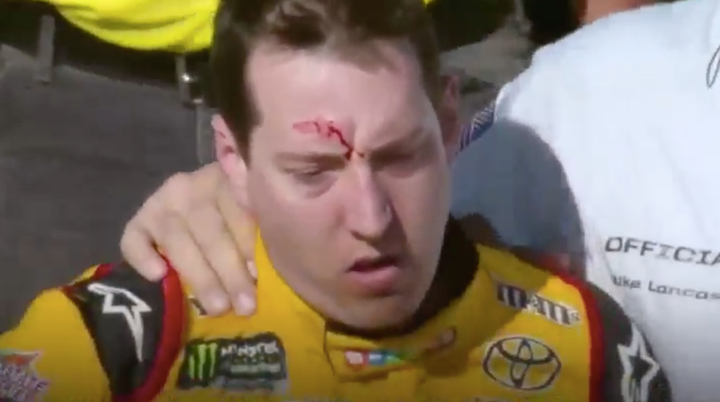 As if the tussle didn't already resemble a scene out of grade school, an overjoyed announcer enthusiastically waved his arm in the air while hollering, "Fight! Fight!"
The violent skirmish was set off when Logano's car bumped Busch's vehicle off the track while neck-and-neck in the final lap of the Kobalt 400 at the Las Vegas Motor Speedway. 
But Busch told NASCAR, "He flat-out just drove straight in the corner and wrecked me."
"He's going to get it," he added.
Neither driver won the race. As for who won the fight, that seems to be up in the air.
Enthralled NASCAR fans shared play-by-plays and different angles of the brawl in hopes of dissecting the scene. Some were more original than others.
Whatever way you spin it, sometimes you've gotta cross over the anger bridge and come back to the friendship shore. It's just a sport, right?
Calling all HuffPost superfans!
Sign up for membership to become a founding member and help shape HuffPost's next chapter
BEFORE YOU GO