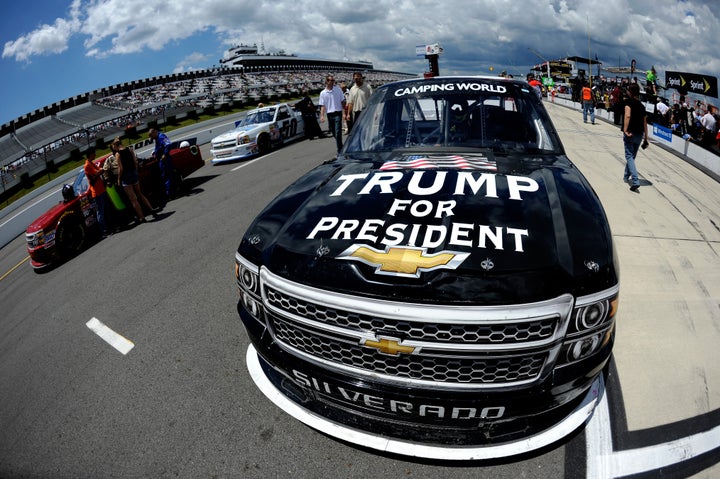 In July, NASCAR decided not to return its annual postseason awards banquet to a Donald Trump-owned resort in Miami after the business mogul called Mexican immigrants "rapists" and "criminals" in the speech that launched his presidential campaign.
But Monday night, the stock car racing organization's CEO, Brian France, appeared on stage at a Trump campaign rally in Valdosta, Georgia, to endorse the Republican front-runner. 
Three current NASCAR drivers -- Ryan Newman, David Ragan and Chase Elliott -- and retired driver Bill Elliott joined France in endorsing Trump.
A NASCAR spokesman maintained in July that the organization was not taking a position on Trump's comments, but instead made the decision to move its event based on "what we heard from our sponsors and our partners and what we feel we should be doing." Camping World, the sponsor of NASCAR's truck series, had reportedly urged the organization to relocate the awards banquet.
France made his personal position clear Monday.
"Mr. Trump is changing American politics forever and his leadership and strength are desperately needed," France said in a statement released by the Trump campaign. "He has had an incredible career and achieved tremendous success. This is what we need for our country."
In the summer, Trump slammed NASCAR and ESPN, which also moved events away from Trump resorts after his comments, for their decisions.
But he hailed the endorsements of France and the other drivers on Monday, saying he was "proud to receive the endorsement of such an iconic brand."
Trump has not backed off his racist and xenophobic comments about Mexicans and other groups since an assortment of sports leagues and organizations -- including NASCAR, the PGA Tour, ESPN and NBC -- broke ties with him or moved events last summer. If anything, he's gone even further: In December, he called for banning Muslim immigrants from entering the country.
On Sunday, Trump refused to denounce white supremacist groups and David Duke, the former Ku Klux Klan leader who has supported Trump's campaign, during an appearance on CNN, though Trump later said he had spoken out against Duke at an earlier press conference.
Calling all HuffPost superfans!
Sign up for membership to become a founding member and help shape HuffPost's next chapter